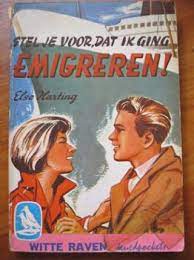 The book is in Dutch – translated as "Imagine if I emigrated" – and is written by Else Harting and illustrated by Hans Borrebach. The book was published by West-Friesland in Hoorn, Netherlands, in 1954.
The book revolves around the theme of emigration, specifically targeting older girls as the intended audience. It explores the concept of moving to a new country and the challenges and adventures that accompany such a decision. The story likely aims to provide young readers with an understanding of what it would be like to emigrate and adapt to a new environment.
Else Harting is the author of the book. Unfortunately, there is limited information available about her or her other works. Hans Borrebach (1903-1991), on the other hand, is a well-known Dutch illustrator who collaborated with various authors on numerous children's books during the mid-20th century. His illustrations are often characterized by their whimsical and detailed style, captivating young readers and bringing stories to life.
"Stel je voor dat ik ging emigreren" offers an imaginative and informative narrative that introduces children to the concept of emigration in an accessible and engaging manner.
See also: 1954 Een literaire doorsnee