Written by his daughter Wilma Summerville
Kornelius Berend Lumkes ( 26/2/1911 to 13/7/1984) son of Willem Lumkes was born in Groningen, Netherlands. His parents were old at his birth and his only sibling was 16 years older. His family were quite affluent and had a large grain farm. The house was luxurious, having marble floors and they employed servants. Kees was brought up with a large influence from the staff.
Kees went to a boarding school and became a horticulturist, and spent some time in Germany as an apprentice. He later started his own nursery business.
During the war, he met his girlfriend Rudje Hoekstra, later called Ruth. He was riding on a train coming home from work when it was attacked by the Germans. He hid under the seats but was seriously injured in his buttocks. He was later told that this was the only part of a body that could sustain that degree of injury and survive. Fortunately he did survive. Ruth searched everywhere for him and eventually found him in a hospital in Groningen. His survival was greatly aided by Ruth bringing him fresh food and milk.
They were married and due to the war and lack of habitable accommodation, they lived with Ruth's family.
Kees could not see a future in war torn Holland and considered his options, particularly those as far away from the war zone as possible. His options seemed to be Canada, South Africa and Australia. On consideration, Canada was too cold, South Africa had racial problems, so that left Australia. At this time no countries were taking migrants, and he found out that to shift to Australia he would be required to assure authorities that he had employment and accommodation. He met an Australian boxer in Holland and told him his situation. The boxer assured him of both, and filled in the appropriate paperwork.
Kees gathered all their possessions and packed them in large boxes. They sailed on the "Volendam" , a troop ship that had just been converted back to a passenger liner. It was the first passenger ship to leave Holland after the war. This was 1948. Kees dressed himself, Ruth and their 2 children in traditional Dutch costumes, complete with clogs. The Dutch media was alerted and they featured in the local newspaper. The voyage took 6 weeks and on arriving in Perth, Kees dressed himself and his family in the traditional Dutch costume again. The Perth news media heard of this and their story and photos were published . By the time the family arrived in Melbourne, their destination,  they were treated as celebrities and again were featured in the local news papers. They were also treated to a night in a local top line hotel.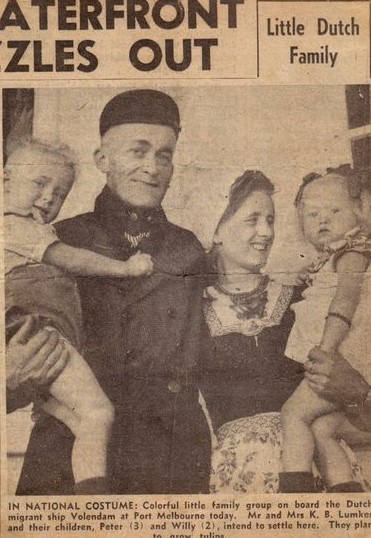 Life was not easy in Australia either. Many essentials were rationed and materials scarse. Kees had a job in an electrical parts factory in Melbourne. The accommodation they were offered by the boxer in NL was at Kinglake, about 60 km away. They had no car or public transport, so Kees had to stay in Melbourne all week and go back to his family only at weekends. This was most difficult for them as Ruth did not speak English and was living in a remote town with 2 infant children. The locals were kind to her and invited her to their homes and also gave her a radio so she could learn English.
Kees then worked for Mr Cees Tesellaar in his farm in Silvan, and worked at a fruit preserving company during the evenings.
Kees then imported the first tulip bulbs in Australia and rented an acreage property close to Silvan.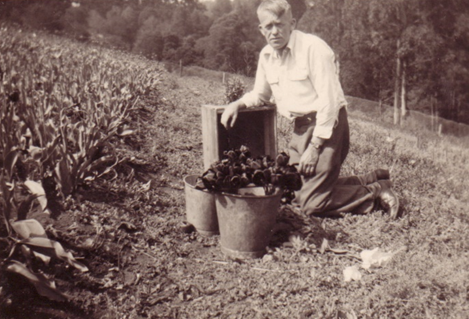 After a few years they purchaced a very steep 7 acre property at Kallista in the Dandenong ranges. It was virgin undergrowth and needed clearing. The blackberries were over 3 metres tall and were very difficult to remove. However the soil was very fertile and well drained quite conducive to growing tulips.
Kees conluded that to succeed in Australia you needed to have your own business, otherwise he would be better off in Holland. He built a family home on the Kallista block and then some glasshouses to grow indoor plants. Business boomed. He was able to support his whole family and purchace investment properties and a holiday house.
Kees was very progressive in his outlook and often flew back to Europe to see the latest market trends and technology. He concluded that to survive in his business he had to either stay small or go for broke and expand. In 1970's, a 10 acre property at Monbulk was purchased where Kees constructed a hi tech state of the art nursery with trolley systems and computer controlled watering and heating. He employed 35 people in the nursery.
Kees also employed an accountant to be an advisor, and employed a sales team for marketing. These characters were not reputable and committed white collar crime against Kees and the business, ending with the business being put into recievership.
Kees and his family moved to Queensland to live on a 10 acre property he had there, and as he was in his late sixties he virtually retired. The property became too difficult to maintain and without help decided to sell it and move to a townhouse close to a shopping centre, which would ensure that Ruth would be able to survive.
Kees was still very active and spent a lot of time in the shopping centre evangelising and ministering to people. He also did courses in public speaking and typing.
Kees had a strong faith in Jesus Christ. In the early days in Australia he became an elder in the Dutch Reformed Church and even helped with the building of the their first RFC in Australia at Mt Evelyn.
He was always seatching for more of The Lord and came across a pentecostal group. He was later filled with the Holy Spirit and enjoyed a closer relationship with Him. He enjoyed telling people about The Lord and was very bold in his approach! He continued this until his passing. He died from a massive heart attack after having a severe case of influenza.
Kees had a modst difficult life, from riches to rags, rags to riches and riches to rags. If you met him, you would never forget him. He had a twinkle in his eyes, a great smile and hearty laugh. He loved world politics and had a very positive but stirring outlook on life. He loved travel and visited many countries over the years.
Truly a unique gentleman, a likable character full of life!