This article is written with the assistance of Richard's wife Lyn she also made the photo selection below. Lyn is a photo librarian and has been doing this for 60 years.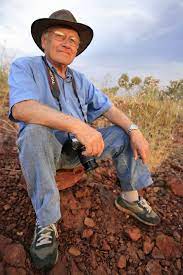 Richard Woldendorp was born in Utrecht, Holland on the 1st January 1927, and lived for some time in Leeuwarden and later went to Borculo boarding school, where he studied Graphic Design. After the war, at the age of 20, he joined the Dutch Army and after 6 months training he applied to go to Indonesia. He was stationed in Bencoolen in Sumatra for 3 years. After his discharged, he migrated to Australia, arriving in Fremantle, W.A. in January 1951. Initially he worked as a house painter.
On a holiday back to Holland in 1955, he bought a camera to record his trip. And so began his love of photography. He went on to become a landscape photographer, eventually becoming well-known for his stunning images of the Australian landscape from the air. Since 1964 he has had numerous solo exhibitions throughout Australia and overseas, and his work is found in many state and private collections. He has published 28 books with his last The Tree published in 2018 and his final aerial landscape book, Out of the Blue in 2013.
Richard has received numerous awards for his work. The main ones being: 1982 he was awarded the IAP Professional Photographer of the Year, in 2002 inducted into the ACMP Hall of Fame, in 2004 W.A. State Living Treasure Award and in 2012 the Order of Australia 'for service to the arts as an Australian landscape photographer'.
Richard died In Perth in April 2023 at the age of 96.
The following selection of his work was made by Lyn.
Top left: Ant Clearings, east of Mt Newman, Western Australia (2003)
Top middle: Lake Dumbleyung near Wagin, Western Australia (2005)
Top right: Aerial over Lake Moore, Western Australia (2007)
Middel left: Tidal flood plain with Arthur River, Gulf of Carpentaria, Northern Territory (1998)
Middel middle: Top Curtis Island, Cape Capricorn, Queensland (1997)
Middle right: Forrest River, Kimberley, Western Australia (2003)
Bottom left: Lake Austin, Western Australian (1995)
Bottom right: Scrub land with small rivers, Murchison, Western Australia (2004)
For a larger collection of images of his work see his website: Website
See also: