Jan (John) Zevenboom born in 1822. He arrived in Melbourne from Amsterdam in 1856 his profession was listed as brush-maker. He travelled straight on the gold fields, but apparently was not lucky enough to become rich.
He settled in Melbourne taking up his trade as a brush-maker. It turned out to be the first brush making works in the Southern Hemisphere.
The Zevenboom brush manufacturing business, was first established in Fitzroy in the 1860s and was moved by the early 1870s to Little Lonsdale Street West. In 1879 they also required premises at 333 Elizabeth Street,
In 1936, the Zevenboom brush manufacturers replaced a brick workshop and warehouse at 276 and 278 Little Lonsdale Street with a three-storey factory. Zevenboom Lane gave the company access to both their Little Lonsdale and Elizabeth Street properties. Following the sale of the Zevenboom properties in the mid-1950s, the Little Lonsdale Street warehouse was occupied by shirt makers Phillips Shirts; this building is also extant and located in the precinct.
Zevenboom Lane was named in 1916 (picture above), it reminds of the place where Jan had his brush business.
In 1871 John Zevenboom was elected a member of Berwick Shire Council, and later Melbourne City Council . He was also listed as a justice of the peace.
Later he became vice-consul for the Netherlands Government in Melbourne.

He died in 1898 at the age of 76
The brush company Zevenboom that he founded was a hundred years later- in 1970 – taken over by the South Australian Brush Company (Sabco). They in turn were taken over in 2009 by the American Libman Company.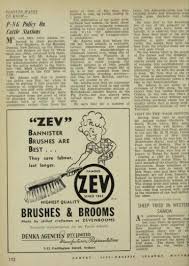 A catalogue of the Zevenboom brushes is held by the National Library in Canberra
Statement of Significance – City of Melbourne
Zevenboom Lane is a blind alley, servicing the rear of nos 315 – 329 Elizabeth Street in the northern
section of the precinct. Its interwar character, in part, derives from the intact elevation of former the
Phillips Shirt (previously Zevenboom Brush Manufacturers) factory along its western side and the rear of
properties to Elizabeth Street to its east. The former shirt factory is a straightforward, three-storey
interwar factory incorporating some modest Moderne detailing to its façade and presenting a face brick
elevation to the laneway.
Original window openings to the lane incorporate streel-framed windows and concrete lintels. On the
opposite side of the laneway and at its northern termination a number of simple brick elevations
illustrate the back-of-house activities of the Elizabeth Street premises