HNLMS Evertsen (F805) (Dutch: Zr.Ms. Evertsen) is the fourth De Zeven Provinciën-class frigate of the Royal Netherlands Navy. It together with 5 other nations is particiapting in naval excercise to the north of Australia.
The four De Zeven Provinciën-class frigates are highly advanced air-defence and command frigates in service with the Royal Navy of the Netherlands (Koninklijke Marine). This class of ships is also known as LCF (Luchtverdedigings- en commandofregat, air defense and command frigate).
The ship is named after Admiral Johan Evertsen (1 February 1600 – 5 August 1666).
At age 18, he was made captain of a ship. He fought near La Rochelle in 1625 and in 1626 and 1627 in a campaign against the Barbary Coast.
Between 1628 and 1636, he distinguished himself while fighting the Dunkirk corsairs. His greatest successes were in 1628, when he prevented the Dunkirkers from intercepting the captured treasure fleet of Piet Heyn and in 1636, when he captured corsair Jacob Collaert. He also played an important part in the Dutch victory in the Battle of the Slaak against the Spanish.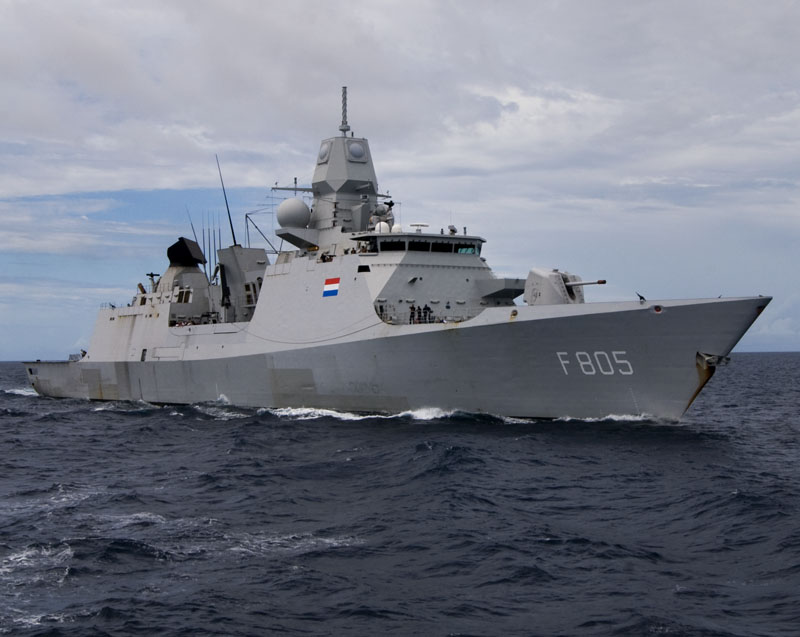 For more information on the naval exercise and the other participants in waters to the north of Australia click here.