The Dutch Republic has sent representatives to foreign lands since 1584 and it was the first country to regulate consular services by statute. After the restoration of Dutch independence in 1813, consular services were revived in 1814 (with additional regulations in 1846 and 1874). The Netherlands was among the many countries to sign bilateral treaties on admission of consuls to colonies (1855). Primary tasks include: to protect Dutch shipping and trade, to represent interests of Dutch subjects overseas, to monitor compliance with commercial treaties, to issue travel documents and visa and to attend to varied requests and protocol.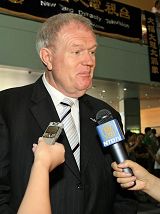 King Willem III of the Netherlands appointed Mr J.C. Heussler as Consul for the Colony of Queensland, a position he held for 40 years. Mr J. Clark replaced him in 1905 followed by Mr F.H. Hart Jr in 1935. There have been several Vice-Consuls, such as in Thursday Island (because of pearl fishing), Townsville and Brisbane. Mr N.S. Pixley served as Consul during the 1948-1973 period, followed by the Netherlands-born geologist Mr B. Haites (1974-1976) (Mrs I. Haites contributed an article to this publication) and Mr G. Morris (1977-1988). Brisbane had a career-consulate from 1988 to 1992 when Mr T.H. Bouwknecht, who was initially Vice-Consul to Mr Morris, became Consul (see below). His successor, Mr W.J. Hilgeman, was recalled to The Netherlands in 1992 and Queen Beatrix of the Netherlands subsequently appointed Mr K. Kuiper to (honorary) Consul in 1993. Later that year he accepted exequatur from the Australian Government with jurisdiction throughout Queensland.
The following story is written by the than Consul for Queensland the Hon. Hein Bouwknecht (June 2000)
Far away from everything – Hein and Erica Bouwknecht
When in September 1987, the Ministry of Foreign Affairs at The Hague informed me that I was to be transferred Brisbane I was not overly happy. Australia was not on my preferred list of postings. Frankly, I did not know a lot about this 'Down Under' nation. When we arrived at Melbourne airport in late November 1987, my wife and I had for some moments thoughts like: "My, oh my, are we far away from everything we know!" However, once we were in the hotel in Brisbane and had looked around a bit, we realised things were not too bad. We settled into a rented house in Philip Street, Hawthorne, and soon started to feel at home. The house was a typical Queensland weatherboard home, high on wooden stumps, corrugated iron roof and walls of Australian hard wood. The view over the Brisbane River and the City area was beautiful. Eventually we came to understand Queenslanders in general and Dutch Australians in particular and said to ourselves that we were happy to be in the capital of Queensland.
I arrived as Vice-Consul and later became Consul. One of our initial tasks was to improve the relationship between the then Honorary Consulate and the Dutch immigrants. It was a gratifying challenge and both my wife and I liked it very much to work with my expatriates. The Dutch clubs in Queensland, from South to North, as well as many individuals not belonging to the clubs invited us. It gave us an opportunity to get to know many of the Dutch Australians and we listened to their stories of adventure on arrival in this country. It made us realise the bravery, perseverance and courage of the Dutch who had left the Netherlands or the then Dutch East Indies, or came here via other countries, with only a few of their personal belongings. They went to a country they did not know, with a language which many of them did not speak or fully understand, while they were very, very far away from all they had left behind. It all made a big impression on us.
We were always well received by the Dutch clubs and its members went out of their way to make our stay as pleasant as possible. We learned many things during our sojourn in Queensland about the people, the land, the distances and the different flora and fauna.
Apart from the normal consular work, I was involved with the establishment of the Federation of Netherlands Organisations in Queensland and with the preparations for the building of the Prins Willem Alexander (retirement) Village. An interesting experience was the conversion of 'Honorary Consulate' into 'Career Consulate' and the subsequent move to the new consular offices, which were then situated at North Quay. I also became a member of the Brisbane Bon-el Club and attended several dinners of the Dutch Alumni Group.
After we left Australia for Madrid, we realised how we had come to love Queensland and the people we knew there, and how we missed it all. After some years, we heard that the Brisbane consulate was to be closed and we were sad to hear that. When we were informed that Mr Kasper. Kuiper had been appointed to Honorary Consul of the Netherlands in Queensland, we were quite pleased, as we believe that Queensland deserves Dutch consular representation.
Published in Our Story in 2001