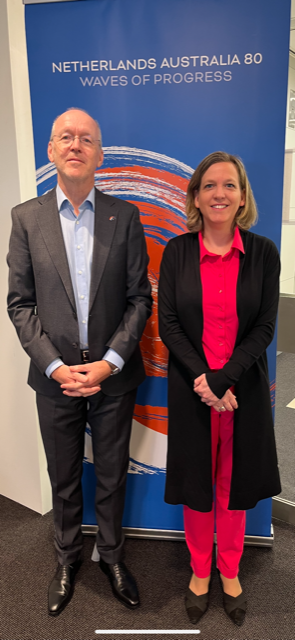 The team at the Netherlands Consulate General in Sydney welcomed the new Consul General, Hugo Klijn, and new Deputy Consul-General, Meike de Jong.

Consul-General Hugo Klijn is also Head of Economic affairs, Trade and Investment in Australia. Mr Klijn has been working for the Dutch Ministry of Foreign Affairs since 1990. In The Hague his jobs included regional and thematic departments, with a special focus on multilateral security issues and Eastern Europe. His foreign postings were to Moscow (Russia), Belgrade (Serbia), Brussels (Belgium, NATO) and Vienna (Austria, OSCE). Mr Klijn studied contemporary history at Utrecht University and holds a Master in Public Administration. He speaks Dutch, English, French, German and Russian. He is married to Maja Lajkoski, and they have three children: their daughter Elena (24) resides in London/UK, while their sons Roman (18) and Anton (16) have travelled with their parents to Sydney.

Meike de Jong is the Deputy Consul-General and Head of Consular Affairs and has been working for the Dutch Ministry of Foreign Affairs since 2006. She was previously posted at the Dutch Embassies in Kiev (Ukraine), Accra (Ghana), London (UK) and worked as policy advisor at the Department of Consular Affairs and Visa Policy at the Ministry of Foreign Affairs in The Hague. Ms De Jong studied European studies with a specialisation in public administration and migration. Areas of expertise include migration, consular affairs, visa policy, EU cooperation. She is dedicated to provide good consular services to Dutch citizens in Australia. In her new role at the Consulate General in Sydney, she will also work on economic diplomacy and trade promotion. She is here with her Dutch partner Martijn Wichgers and two children: their son Dían (13) and daughter Amélie (11).

Both Hugo and Meike are looking forward to get acquainted with the Dutch people and companies in Sydney, and around Australia.
Their focus is on continuing to build on the strong people-to-people links and support the Dutch-Australian economic relationship.

The DACC wishes them an enjoyable time getting to know Sydney and Australia.