Dutch-born Bakker has floristry in his blood. His father was a fourth-generation tulip farmer and Joost and his three brothers grew up surrounded by flowers on their property.
Bakker started his own floristry business in the '90s, choosing to use natives on large scales, arranging them with recycled receptacles such as big glass acid jars, and re-writing the 'daggy' image they'd accumulated in the '80s. "When I started using them people saw them in a new light I suppose," he muses. "My style is quite loose. I don't imitate nature. I don't try and recreate a plant. My designs are deliberately human-made." By 2005 Bakker was designing abstract and eco-savvy floral installations for premium marquees at Melbourne Cup.
With good soil and plant-matter always on Bakker's brain, by the 2000's he began combining floral-artistry with investigations in environmental activism and eco-entrepreneurialism. His first Greenhouse by Joost 'living' restaurant project popped-up in 2008 in Melbourne's Federation Square with iterations in Sydney and Perth following. In 2012 he opened Australia's first zero-free restaurant, Silo, later morphing it into Brothl, a broth-kitchen, with a closed-loop composting system.
Building on those earlier visions, Bakker has continued to campaign for sustainable, bio-favourable design and living, but in the last decade, several large-scale design projects have stalled or been cancelled on account of unsympathetic bureaucracy. Happily, the Greenhouse story is set to come full circle later in 2020, with the unveiling of Bakker's latest undertaking at Federation Square. But the new Greenhouse deviates from the format of its predecessors. Source.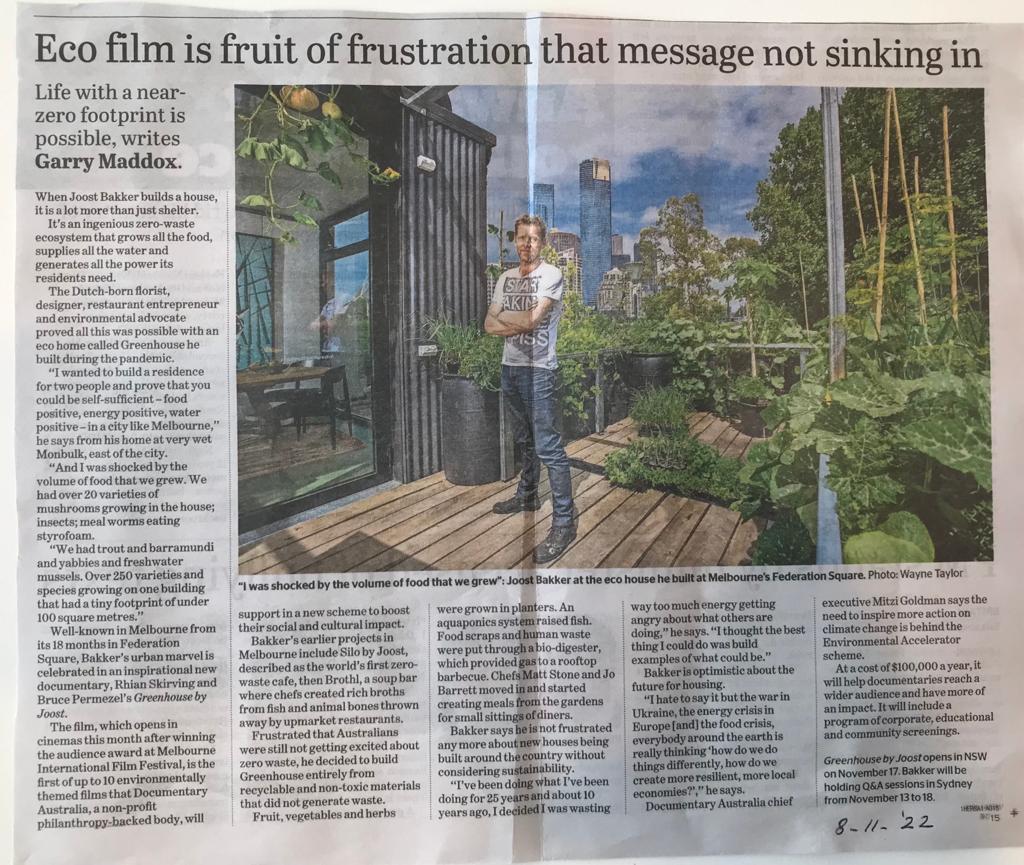 More info:
Joost Bakker on why zero-waste living is the future