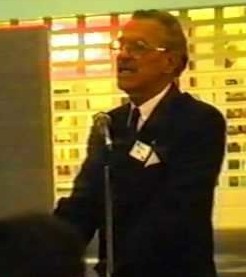 Roelf Vos was a successful Australian businessman and philanthropist, born on a boat in Bergum (later Burgum), the Netherlands, on 4 October 1921. During World War II, he was involved in the Dutch Resistance and had to hide from German forces. After the war, he opened a drapery store in Oude Pekela and married Harmina Catharina 'Miep' Nieboer in 1946. Concerned about future conflict in Europe and a desire for adventure, the family emigrated to Ulverstone, Tasmania, in 1951, settling with the help of local people and Tasmania's relatively large Dutch expatriate community.
Vos began working as a builder's labourer during the day and at a cannery in the evenings, while Miep managed the household. He eventually opened a gift shop in Deloraine. Soon afterwards he acquired another shop in George Town. Around 1958, he rented a small shop in Launceston, a milk bar which he converted into northern Tasmania's first self-service grocery store.
By 1969, Vos was operating eight supermarkets in Launceston, each with a car park and a combined turnover in 1969 of $3,500,000. In December 1969, he purchased two Moran & Cato shops in Ulverstone and Devonport for $250,000, and was hoping to open two new shops, one of which in Burnie. He ultimately had thirteen supermarkets. At its heydays his organisation employed 500 people.
He was also the driving force behind the establishment of Statewide Independent Wholesalers, a buying group that helped cut prices for its members. Vos sold his supermarkets (colloquially referred to as Vossie's) to Woolworths in 1982 but retained the stores' freehold and name.
Coincidently Engel Sypkes emigrated to Australia in that same year and actually arrived on the same plane. He also started a retail chain in Tasmania and the two became fierce competitors.
Vos turned to property development and created Grindelwald, a Swiss-inspired village and holiday resort in the Tamar Valley, north of Launceston. The project was commercially successful, and Vos' family members joined him in the business. He was a deeply committed Christian and an elder of the Reformed Church of Launceston. Vos was also a generous benefactor and supported various groups, including Rotary, the Clifford Craig Medical Research Trust, and the Queen Victoria Museum and Art Gallery in Launceston.
Roelf Vos passed away on 2 December 1992, survived by his wife and six children. His memorial service was attended by over a thousand people.
See also: