Willem Paling (1 September 1825 – 27 August 1895) was born in Woerden, near Rotterdam. He was an accomplished Dutch violinist and composer. He was the son of music publisher and piano builder Jan Hendrik Paling and Aagje Paling.
He moved to Sydney in 1853 followed by his brother Richard Jan Paling. He married Mary Anna Maney, after her death he remarried to Anne Leeder.
Upon his arrival he started as a concert violinist. He wrote the Sydney Railway March on the opening of the Sydney-Parramatta Railway (26 September 1855). He also became a music teacher at Springfield College in Darlinghurst.
As a concert soloist he performed with the Sydney Philharmonic Society. He founded the New South Wales Academy of Music, a European-style conservatorium. In the following years he continued to influence the music world in and around Sydney. He was the director of the Philharmonic Society and the organist of the Sydney Choral Society.
He used his music reputation to start a business importing European musical instruments (W.H. Paling & Co) with a starting capital of 480,000 guilders. The piano trade flourished steadily. He had to expand and relocate to George Street in Sydney (currently Paling Lane). He opened branches in Toowoomba (1884), Brisbane (1888, closed in 1986!) and Newcastle (1892).
He became a wealthy man and philanthropist. Melchior's music guide mentions that he donated a bell to the town hall of Petersham (1886, demolished 1938) as well as a church organ for the Royal Prince Alfred Hospital. He was involved in an asylum for neglected children and made a donation for a rehabilitation center (Carrington Aged Care).
He was also very active in many other parts of the community. He was a Justice of ye Peace (1872), a founding member and director of Mercantile Mutual Insurance Co (from 1879) and a member of the Royal Society of New South Wales (1880).
He lived in Petersham where he built two villas The Lodge and Woerden. From 1876 to 1879 to 1889 he was alderman in Petersham and was the third mayor of that municipality during 1881-1882.
He undertook many trips to Europe for business as well as pleasure. His last voyage ended November 1894 due to ill health. He died the following year. He was buried at Waverley Cemetery, Sydney.
The picture in the first post below is not of Willem Paling, it appeared in the Dutch Australian Weekly (DAW) of 25th of May 1950′. It is the picture of Johannes Brahms. The confusion occurred as the Paling firm used that image frequently in advertisements for concert programmes.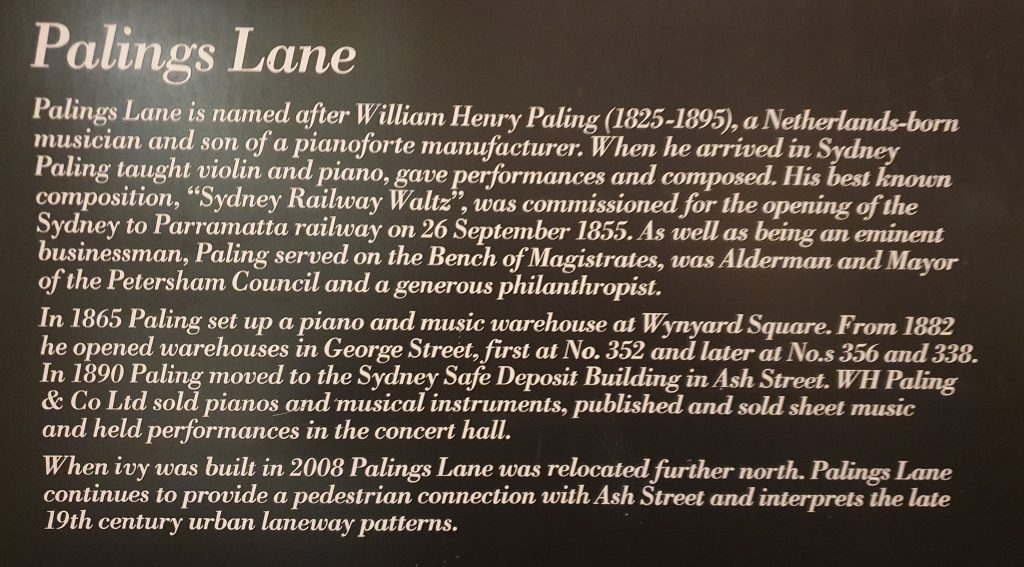 There are over 100 items on Paling in our archives (Advertisements, Photos, Sheet music covers. Search for Paling on our site.