Marijke Greenway is an achiever, in different countries, South Africa and Australia, and in quite different fields. Her story is exceptional in many ways.
She was born in the Netherlands in 1943, in Halfweg/Zwanenburg, close to Amsterdam, the fourth child of six in the Van den Boogaard family. Two of the children (Thea and Hans) suffered from asthma, so the parents decided to move to a drier and sunnier climate and migrated to South Africa in 1953. Marijke lived there for 35 years before re-migrating with her husband John Greenway and three children to Sydney, Australia, in 1988.
Marijke was 9 years old when she left the Netherlands. She had a very loyal school friend Willie, with whom she kept a lively correspondence going for years, even up to the present. This was recently published in book form, Letters of Longing. Apart from the letters themselves, Marijke's commentary on 'my thoughts looking back' is included in the book. There is also an account of her employment with a trampoline manufacturing company and her participation in the South African and international trampoline sport. Part of this essay draws on the book, but most of it is the result of recent talks with her and interviews on SBS radio with Anneke Boudewijn on her extensive art work in Australia, later in life.
Upon arrival in South Africa, five of the six children were sent straight to a convent boarding school at Potgietersrus, Northern Transvaal. At a very young age she was known at school as 'the artist' on account of her gifted drawing ability. She was encouraged by the nuns to enter art competitions and win some prizes, but apart from that, her talent for drawing and painting remained undeveloped. After five years at boarding school Marijke went to Wits Tech College, Johannesburg, where she did her Matric in 1960 and gained five distinctions, including a distinction in shorthand 140 wpm.
It was at that College that she met Ron Munn, who was the American Trampoline Champion, and she got totally hooked on the very new sport of trampolining.
Financially the large migrant family was finding things tough, so university or art college was not an option for Marijke. As she was trained as a stenographer in both official languages, English and Afrikaans, she soon found work with solicitors and later worked for Shell Chemicals. After this, she was asked to come and work for the newly established Ron's Trampoline Suppliers. In 1962 Marijke was invited to join a national representative team of six champions to perform at an agricultural show in Bulawayo (then Southern Rhodesia) little knowing that her future husband-to-be John was in the audience. Although her parents had reservations about her participation in the sport, on account of the physical dangers associated with it, Marijke was selected to represent South Africa at the First World Championship in London, participating as a 'Springbok' in 1964 at the Royal Albert Hall. She came third overall and in 1965 she was selected again for the 2nd World Championships in London, when she gained first prize in the Consolation bracket.
Due to pressure from her parents, she decided to give up the sport and so she travelled extensively around Europe during 1965, Belgium, France, Spain, Yugoslavia, Switzerland, Austria, Italy, Germany and the Scandinavian Countries, as well as working for a while in the KLM kitchen at Schiphol. Back in South Africa she met her future husband, John Greenway, in 1967. The pair was soon engaged after knowing each other for only 100 days, and they were married after another 100 days. Formerly of Bulawayo, Rhodesia, John had moved to South Africa in 1963. He was a professional lithographer by trade and the couple worked and lived for some time in Durban. However, John developed a growing interest in the bakery and patisserie business that the Van den Boogaard family was extensively involved in. Marijke's sister Thea had married a baker from Utrecht, Wim Verhoogt and they set up the first bakery in Edenvale, 'De Backery'. For six months, John went to work in each of the family's bakeries to gain experience and then the couple opened their own shop in 1967 in Krugersdorp on the West Rand, 'Die Backhuys.' Marijke worked with John in the bakery, doing accounts and running the shop, as well as being mother to their three children: Michelle,Warren, and Kim. During this period there was little time for Marijke's art work although she became inspired in 1983 when she saw a book by US artist Charles Reid, on watercolours. She was able to do a 14-day workshop with him that influenced her work greatly at a later stage in Australia.
By the early 1980s, John became increasingly concerned about the growing hostility and violence that characterised life in South Africa. Marijke's brother Gerard and his family emigrated to Australia in 1986 and her father left for Australia in 1987 to marry again in Australia after Marijke's mother died. By then the Australian Consulate in Pretoria was so overwhelmed by emigration applications that it took two years for John and Marijke to get approval, even though the demand for pastry chefs was high on the immigration list. John was sponsored by Aussie Pies who offered him employment.
John and Marijke arrived in Australia in July 1988 by plane. It had been a tearful, sad departure from Krugersdorp and South Africa, especially for the older children, 16 and 18 respectively. However, circumstances on arrival in Australia were favourable for their remarkably quick settlement, as they were able to stay in her father's house in Castle Hill for six weeks, as he was away in Holland and have the use of his car. Her brother Gerard was living and working in Castle Hill as well. Marijke soon sensed that they had really made the right decision 'look, John, the houses don't have fences' and she thanked John for his persistence with the move. John went straight into his work with Aussie Pies. Castle Hill was then the right place for the couple, as a new shopping centre, Knight's Bridge, had just opened and a shop space for a bakery was still available. Although it was small (67 square meters), they applied for it and succeeded. And so the fit-out of the bakery proceeded with Marijke running around bakery suppliers and their bakery opened on 29th November 1988 and was an immediate success with the growing population of Castle Hill. They had been in the country only four months and felt their future was secured.
Meanwhile Marijke approached the local Art Society and produced some paintings, which sold well and she began to make a name for herself in Australia. She became the watercolour teacher for the Castle Hill Art Society for the next 11 years and entered as many exhibitions as possible, winning many awards. Pastry cooks work terrible hours and so the shop was sold in 1999 when the couple retired to Pearl Beach. She was then just 57 and an amazing new artistic future was about to begin as she transferred her energy to artistic productivity.
Marijke joined a group of 'en plein air' artists on the Central Coast and painted with them every week, getting to know the area. She then started the SHOWOFFS exhibition in the Pearl Beach Hall in 2004 with her friend Pim Sarti and locals and this exhibition runs every second year over the October long weekend. She has also exhibited at the Gosford Regional Gallery Foyer exhibitions with watercolours from Greece, which exhibition she took to the Greek island as well. Marijke followed this up with her second exhibition in the Gosford Gallery, 'Train Frame,' which showcased the train journey along Mullet Creek to Hawkesbury River station.
Since 2008 she has exhibited every year with a major two week solo exhibition in the Palm House, Royal Botanic Garden, Sydney, her focus being trees, water and the outback.
2008 For Love of Trees
2009 Heartbeats of trees
2010 Waterways, Bush and Beaches
2011 Sunburnt Country
2012 The Painted Outback
2013 Country of my Longing
2014 Pools of Delight
A brochure describes her approach as follows: 'The artist sets up her easel in a studio created by the landscape, rocky reds and spinifex green, ancient hills of gold and pinks, ghostly gums, red bull dust, colour seen and felt, the country of her longing, The Painted Outback.'
To make these exhibitions possible Marijke travelled extensively with husband John. I heard her talk about this in the interview she did with Anneke Boudewijn on SBS radio. Over three months they drove 18,703 km, camping in a tent at 45 places and had with them 40 rolled up canvasses. John had his track bike with him (bike riding he has done all his life, also in South Africa and Rhodesia).
I spoke with her about all this. She said: "I am an 'en plein air' painter, one who is positioned in front of the subject to be painted. The paintings are often done in the sunset, and because that doesn't last all that long, the colours have to captured fast and the painting itself is done quite quickly as well. Most of the paintings done in this way are nearly completed in that time and are finalised at home later".
Anneke in her interview mentioned there was a lot of red and orange in her paintings. Rocks are also painted orange sometimes, no doubt the result of sunset conditions. Uluru (Ayers Rock) is a typical example of that effect, isn't it? So this last decade is really a special dimension of her life. She said in the radio program: "My life is exciting and full of adventure. I would like to go travelling again to go painting. It is as if I stood still when I turned 50 and remained 50 for a long time after …..I feel free".
She also runs workshops for Art Societies and some of her students have achieved acclaim and gained awards, but she is not chasing prizes as much as in the earlier days when she had to achieve recognition to get known. She also said in the SBS interviews that "every painting needs something that the viewer can identify with, a line that they can follow, a theme. I try to make something special out of something ordinary, like boats, which I paint because I like to paint their reflections.
At the time of writing in 2014, Marijke had just returned from Norfolk Island where she was the tutor for a week long painting expedition. John also went, hired a bike and managed to gain a cycling award there in a triathlon.
"How did it go?", I asked. "It was great there," she said. "I am going back in February, it was beautiful, quite different from Australia in many ways, not many beaches. The cliffs drop directly into the sea there. My first painting was of Emily Bay and, funny enough, I just had an inquiry from a lady whose husband proposed to her in Emily Bay!"
This was followed by the SHOWOFFS 2014 exhibition with her friend Pim Sarti during the October long weekend, when it is always busy there.
The magnificent view from their comfortable house overlooking Lion Island and Palm Beach, and Pearl Beach altogether , seems particularly conducive to a lot more artistic productivity.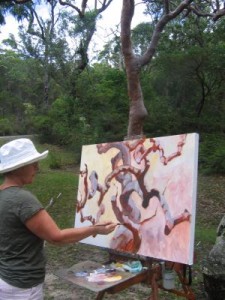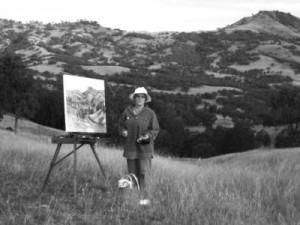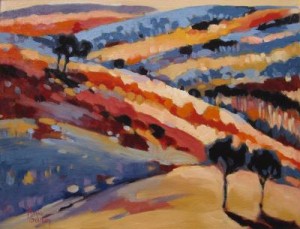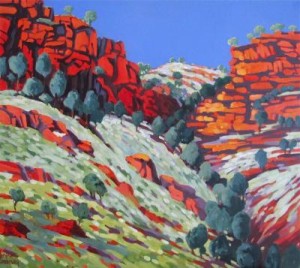 For more information, see Marijke Greenway's website.
Collated by: Klaas Woldring, 2014.
Funded by: Your Community Heritage Grants, The Department of the Environment, Canberra.
Interview Series 2014: organised by Dr Nonja Peters, History of Migration Experiences (HOME), Curtin University, Perth Western Australia.
First published on Daaag