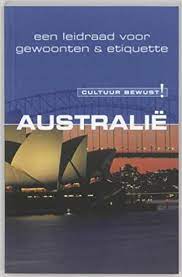 Cultuur bewust Australië is a Dutch translation of Culture smart! Australia, a guidebook for travelers to Australia that covers the customs, culture, etiquette and national characteristics of Australians. The book is part of a series called Culture smart! that aims to help visitors understand and appreciate different countries and cultures. Author: Barry Penney, published by Elmar in 2005.
Australian Culture
Australian culture is a mix of British, Aboriginal, and other influences. The country's indigenous people, the Aboriginals, have inhabited Australia for over 50,000 years. The British arrived in Australia in the late 18th century, and their culture has had a significant impact on Australian society. Other influences on Australian culture include the Chinese, Italians, Greeks, and Vietnamese.
Australians are generally friendly and laid-back, but they can also be direct and blunt. They are proud of their country and its natural beauty. Australians enjoy outdoor activities such as hiking, camping, and surfing. They are also passionate about sports, particularly Australian Rules Football, cricket, and rugby union.
Etiquette and Customs
It is important to be respectful of Australian customs, such as not drinking alcohol in public before noon. Australians also tend to dress casually, so it is best to avoid wearing formal attire unless you are attending a special event.
Things to See and Do
There are many opportunities to experience Australian culture, such as visiting the Sydney Opera House, seeing a kangaroo, or going surfing. Here are some other suggestions:
Visit the Great Barrier Reef, one of the world's most beautiful natural wonders.
Great Barrier Reef, Australia
Great Barrier Reef, Australia
Explore the Outback, a vast and rugged region that is home to many unique animals and plants.
Go wine tasting in the Barossa Valley, one of Australia's premier wine regions.
Relax on one of Australia's many beautiful beaches.
Tips for Travelers
Pack for all types of weather, as Australia can experience hot, cold, and rainy weather all year round.
Be sure to bring sunscreen, sunglasses, and a hat.
If you are planning on doing any outdoor activities, such as hiking or camping, be sure to bring the appropriate gear.
It is a good idea to learn some basic Australian phrases before you go.
Be sure to tip service staff, such as waiters and taxi drivers.
Australia is a safe country, but it is always a good idea to be aware of your surroundings and take precautions against crime.