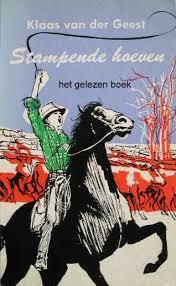 Achter stampende hoeven. Tom Hoekstra als veedrijver in Australië. Published in The Hague by Kramers, [1954] (in 1961 reprinted as Stampende hoeven. Tom Hoekstra als veedrijver in Australië). The book is in Dutch and written by Klaas van der Geest.
Stamping hooves. Tom Hoekstra as a cattle herder in Australia
Tom Hoekstra is a young man who dreams of a better life for himself and his family. He comes from a poor family in Adelaide, Australia, and he knows that he needs to find a way to make more money if he wants to help his parents. He decides to become a cattle herder, and he sets out for the Australian outback.
The outback is a dangerous and unforgiving place, but Tom is determined to succeed. He works hard and learns the skills he needs to be a good cattle herder. He also makes friends with the other drovers, and he learns about their lives and their culture. Over the years, Tom becomes a successful cattle herder. He earns enough money to send his parents back to the Netherlands, and he even buys his own property in the outback. He is a respected member of the community, and he is known for his hard work and his generosity.
Tom's story is a reminder that anything is possible if you set your mind to it. He came from a poor family and he had no formal education, but he was able to achieve his dreams through hard work and determination. His story shows that we can overcome any obstacle if we never give up. Klaas van der Geest does an excellent job of telling Tom's story. He brings the characters to life and he paints a vivid picture of the Australian outback. The book is full of adventure and excitement.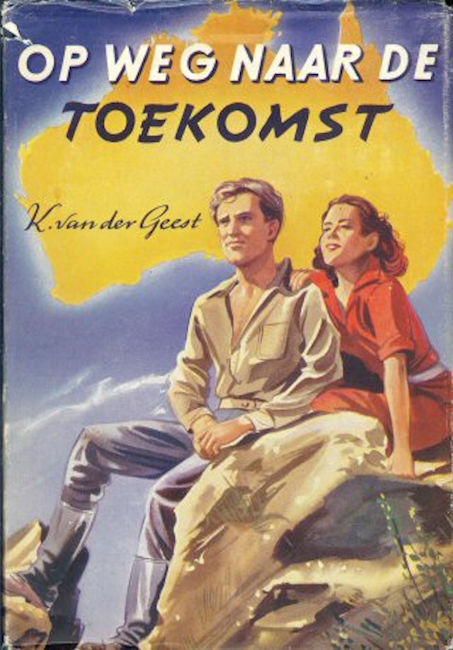 In 1954, he also published novel based in Australia: Op weg naar de toekomst – De ervaringen van een Friese boerenfamilie in Australië (Towards the future – The experiences of a Frisian farming family in Australia).
Here is a fragment in Dutch from the audio book.
Klaas van der Geest
Klaas van der Geest (1903-1964) was a Dutch sailor and writer known for his socially critical regional novels and children's books. He was born on November 27, 1903, in Schiermonnikoog, and passed away on October 10, 1964, in Zwolle.
Van der Geest was married twice. He had two children from his first marriage to Bernarda Antonetta Schut. After their divorce in 1940, he married Aaltje Nathans shortly afterwards. During the war, they lived in Groningen, and an ancestry study was conducted on Aaltje in the years 1942-1943.
Politically, van der Geest and his first wife were active members of the Communist Party in the years leading up to World War II. In 1934, his wife served as treasurer of the local chapter of the Communist Party in Den Helder. Van der Geest himself was described in a report by the Central Intelligence Service 1919-1940 (CID) in 1939 as an enthusiastic communist who attempted to establish a communist cell in Curaçao.
In 1951, van der Geest was part of a cultural delegation invited by Moscow. He wrote about his experience in the magazine "Free People," revealing that he had become aware of being used for propaganda purposes by Moscow. This led to him being portrayed as a traitor to communism in a series of articles in the newspaper "De Waarheid," which was not well-received by the communist movement.
Van der Geest attended nautical school and worked as a mate on deep-sea vessels. Due to the economic crisis of the 1930s, he became unemployed and focused on writing during this time. He wrote his novel "Gezegend is het land" (Blessed is the Land) on his houseboat while it was moored in the Orange Canal near Schoonoord. In 1950, he received the D.A. Thieme Prize for this book, which caused controversy among the local population.
In his novels, van der Geest often depicted the lives of people facing hardships and setbacks but managing to build a better life. His experiences as a sailor provided inspiration for his adventure novels and children's books. He wrote about the struggles and hopes of the less fortunate, exploring themes of poverty and the resilience of individuals in regional settings.
Van der Geest's work reflects a socially critical perspective and sheds light on the challenges and triumphs of everyday life, often with a focus on the lives of marginalized individuals. His writing contributes to the understanding of Dutch society during the mid-20th century, capturing the essence of regional communities and the struggles they faced. Biography in Dutch – Wikipedia