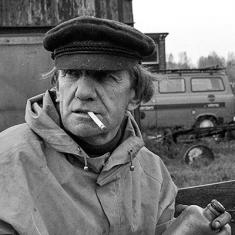 Joop Waasdorp was born in Amsterdam in 1917. He grew up in Zaandam and Amsterdam. After three years of HBS (a type of secondary school in the Netherlands), he worked at various jobs, including as a journalist for United Press. During the Second World War, he was involved in the resistance movement. In 1943, he was arrested and sent to a forced labor camp in Bremen. After the war, he worked as a translator for Associated Press. In 1950, he quit his job and went to France to work on a film adaptation of his screenplay The Scarecrow. The film was never made.
In 1956, Waasdorp emigrated to Australia. He lived in Australia for six years, working as a shearer, crabber, and lumberjack. In 1962, he returned to Amsterdam. He worked as a freelance journalist, a writer, and a translator. He translated several books by George Orwell, including Down and Out in Paris and London.
Book: Het naakte leven
After he returned back to the Netherlands he published a number of publications about his Australian memories in Podium, he made his debut in 1965 with his first collection, Het naakte leven (The Naked Life. Immediately his talent for storytelling was recognised. His stories are characterised by a disillusioned vision of life, but with humor as a lifeline, an aversion to weightiness and pomposity and a strange sense of observation.
In 'St. Helena' (by which Waasdorp means Australia) the narrator has hired herself out as a servant to Tom and Mary, who run a very messy farm. He has very ambivalent feelings for those two; He calls Tom "the preacher" because he is constantly describing his ideas about humanity and politics while Mary toils all day and is never seen without something in her hands. The title story is a logbook about a stay on a French island where an idealistic doctor formed a small nude colony years ago. "They lived a strict vegetarian life and played a flute in caves". In 'Krabben' the narrator is a crab catcher on an island off the Australian coast. There are so-called hookers, who pull the crabs out of the mud passages in the mangrove forests with a hook attached to a handle, and there are so-called potters, who take wicker baskets filled with bait into the water. The area is famous for its crabs, but its catchers earn very little and enjoy no prestige. The collection also contains nine shorter stories.
Het naakte leven (The Naked Life) is a collection of autobiographical stories. The book was first published in 1965 by Meulenhoff in Amsterdam. It is a collection of twelve stories, in which Waasdorp tells about his experiences in Australia and a French island where he encounters a nudist colony. The book has been reprinted twice, in 1970 and 1979.
Het naakte leven was well-received by critics. It was praised for its honest and vivid portrayal of Waasdorp's experiences. The book won the Marianne Philips Prize in 1974.
Waasdorp died in Valencia, Spain, in 1988. He was 71 years old.