Carl Van Nieuwmans (also known as Carolus Joannes Nieuwmans) was a Dutch-born Australian artist who was born in 1931 in The Hague. He studied at the Haagse Academy of Visual Arts in the Netherlands and after his arrival in Australia in 1950 at the Sydney Technical School.
Van Nieuwmans travelled extensively throughout Australia before – in 1959 – settling in Alice Springs . The following year he became the founding vice-president of the Central Australia Art Society. Here he also purchased Rex Battarbee's house and gallery to use as his home, studio and gallery. He is known for his depictions of the Australian landscape, particularly the deserts and rock formations of the outback.
In 1981 he moved to Adelaide. He held several exhibitions and won awards for his work, including an exhibition titled "Red and Yellow" held at The Hague Exhibition Centre. The exhibition was opened by the Australian Ambassador C.T. Moodie and was attended by Dutch art lovers, the Belgian Ambassador, the wife of the British Ambassador, members of the Ministry of Foreign Affairs, Dutch businessmen and the Hague press.
The Dutch press of the day reported his use of color (red and yellow) to be unbelievably exaggerated in comparison to the gloomy and soft tones of the Dutch landscape and not a true representation of the natural light in Australia. Nevertheless, he was hailed as the "Rembrandt of Australia".
Carl Van Nieuwmans was also the only artist to have an exhibition at the Sydney Opera House. His works can be found in private collections and galleries throughout Australia and the Netherlands. He passed away in 2009.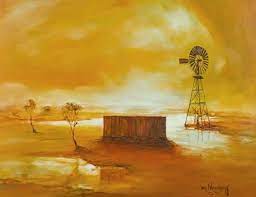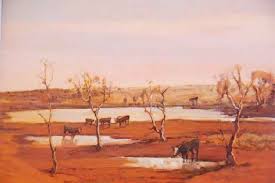 See also: