Henricus Marie (Harry) den Hartog (1902-1984) was a Dutch-born artist who emigrated to Australia in 1923. He is known for his contribution to the development of cubism in Australia.
Den Hartog was born in Rotterdam, Netherlands, and studied art at the Rotterdam Academy. After completing his studies, he moved to Paris to continue his training and was heavily influenced by the cubist movement that was popular in France at the time.
In 1923, den Hartog moved to Australia and settled in Sydney. He quickly established himself as a leading figure in the local art scene, introducing cubism to Australian audiences and inspiring other artists to experiment with the style. He held several solo exhibitions in Sydney throughout the 1920s and 1930s, and his work was also exhibited in group shows in Australia and abroad.
Den Hartog's early cubist work was characterized by bold, geometric shapes and vivid colors, and he often used everyday objects as subjects. Later in his career, he also explored other styles, including surrealism and abstraction.
Den Hartog continued to paint and exhibit his work well into his later years, and his contribution to the development of modern art in Australia is widely recognised.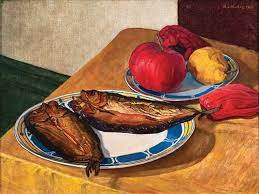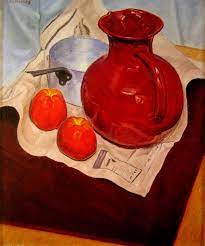 See also:
Jan Hendrik Scheltema Dutch-Australian Painter (1861-1941)
Dutch-Australian painter Henry Leonardus van den Houten
Jacob Carabain Dutch-Belgian artist living painting in Melbourne – 1885