Graham Gosewinckel was born 24 February 1930.
Brief overview of his career
Educated Royal Melbourne Institute of Technology (ARMIT).
Joined Overseas Telecommunications Commission Australia 1947,
Supervising Engineer 1962-67, Director of Planning 1967-73,
Assistant General Manager, Corporate Services 1973-80,
Senior Assistant General Manager, National Satellite System 1981;
General Manager and Chief Executive, AUSSAT Pty Ltd 1981-86,
Managing Director and Chief Executive 1986-92.
Fellow of the Australian Academy of Technological Sciences and Engineering 1986;
Director, Satellite System Management Unit, Post and Telecommunications Department 1979-80;
Foundation Chairman, INTELSAT Planning Committee 1974-75, which was formed to consider longer term issues relating to Australia's overseas telecommunications services and traffic requirements.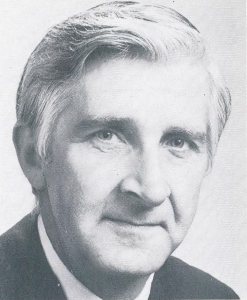 The highlight of his career was that he was appointed by the Government as the inaugural CEO of Aussat Pty Ltd, the Australian satellite telecommunications company, from 1985 to 1988. During his tenure, Aussat launched two satellites, Aussat A1 and Aussat A2, which provided telecommunications services to Australia and the Asia-Pacific region. The company was later sold to Optus Communications.
I had several meetings with Graham discussing the possibilities of using the Aussat satellites to create broadband competition.
After leaving Aussat, Gosewinckel went on to serve as the CEO of several other telecommunications companies, including TelstraSaturn Ltd and Vodafone Pacific Ltd. He was also a member of the board of directors for several other companies, including the Australian Rail Track Corporation, the Australian Maritime College, and the Australian Institute of Company Directors.
Gosewinckel passed away in 2013 at the age of 66.
Paul Budde
Graham was a descendent of William Gosewinckel (born c.1824) he married an Irish immigrant in 1859 and he became a partner in a cafe at the corner of Swanston and Bourke Streets in Melbourne.