Two Dutchmen, both passed way, members of the same extended family, yet three generations apart, made a noticeable contribution to Australian culture, by just going about their business.
The artist Jan Hendrik Scheltema migrated here in the 19th century, and the other was his great-nephew Cas Jeekel, who just visited and worked for a few weeks in Australia; both highly active and relevant to Dutch-Australian history and culture.
Jan Hendrik Scheltema (JHS), by his relatives known as Hendrik, Hein and later Henry, never Jan) (1861, The Hague – 1941, Brisbane) was the youngest child of Lieutenant-Colonel Nicolaas Scheltema (1810–1901) and his second wife Anna Maria Scharp (1819–1887). They had seven children together, all born in The Hague, four reaching adulthood, two girls and two boys. The family then lived in Haarlem and Rotterdam and from there moved to Gouda when Jan Hendrik was fifteen years old.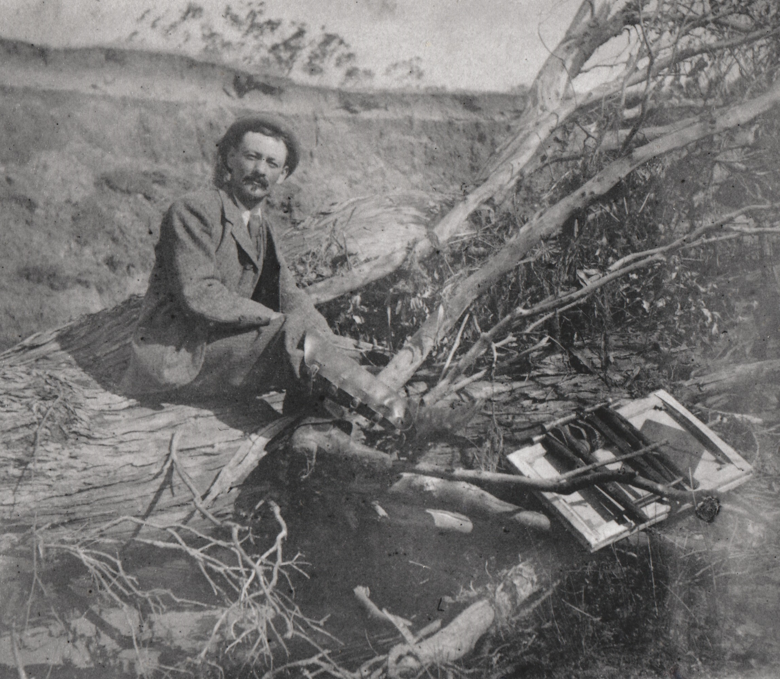 JHS took private painting lessons from painter Johannes Bergsi (1834-1910) when he lived in Rotterdam and during 1879, also from Johannes Jacobus Bertelman (1821-1899), Gouda's drawing master and career painter, but only after the King's Art Scholarship Committee had replied to Hendrik Scheltema's application "try again the following year". JHS took it as an encouragement rather than a rejection. Bertelman ran the Town's drawing course and was one of the founders of the Gouda Museum, together with Ds. J.N Scheltema, another relative of JHS. JHS's father Nicolaas wrote the museum's first catalogue.
After JHS had been granted a scholarship for 5 years, subject to submitting progress art each year, he followed painting courses at the academy in The Hague for two years, where he had several teachers, including Cornelis Stortenbeker, who may have been influential in his cattle painting technique, and at the Rotterdam Academy for about half a year under Jan Striening (1827-1923).
He then left for Antwerp where he was also some time enrolled at the academy and was some years in the studio of Karel Verlat (1824–1890). In JHS' Dutch and Belgian time his private commercial work was predominantly portraiture. The picture of the girl with the orange dress below was made by him in Belgium and is known as the Portrait of Maria Christina Boone.
Most of his work is still owned privately and preciously appreciated by families on their loungeroom walls, but also by 24 public collections in Australia, Britain, the Netherlands and New Zealand. In the Netherlands this includes the portraits of Johannes van 't Lindenhout, of Ds. Carel Steven Adama van Scheltema at least twice, and his first wife Hendrika Jacoba Stokhuijzen. These works are in the collections of the Museum Het Valkhof in Nijmegen, in the Amsterdam Museum and in the Museum Catharijneconvent in Utrecht. The Rijksmuseum in Amsterdam owns an etching made by Scheltema entitled "Seated Woman in an Interior" and the National Gallery of Australia also owns a JHS etching and a landscape painting by him.
Scheltema sailed to Melbourne, Australia on 7 July 1888 aboard the French ship SS Oceanien, from Marseille, after his mother had passed away the previous year. He had his first studio in Sydney Terrace in Wellington Parade, Melbourne, where he lived the first year. He had some 20 different home addresses during the half century he lived in Australia, living often in boarding houses, later mostly in his own premises. On arrival he soon joined the Victorian Artists' Society with whom he exhibited several times. In Australia, he changed his painting subjects from portraits to painting landscapes and especially landscapes with an emphasis on foreground cattle. In Melbourne, his work was soon displayed in the same exhibitions as artists like Charles Conder, Arthur Streeton, Tom Roberts and Frederick McCubbin.
From 1889 to 1893 JHS had a contract with the wealthy painter Charles Rolando, whose health had deteriorated and who required some assistance in his studio to keep painting and teaching in his up-market art classes. It allowed JHS to get to know the Melbourne art world, at the same time surviving the 'land boom depression', which had soon hit the Victorian economy. There are even a few works the two artists collaborated on and both signed, where the landscape setting was said to be designed by Rolando and the staffage, including the animals were inserted by Scheltema. He did not repeat that sort of arrangement with another painter as, so he wrote, he was not comfortable with it in the end. They organised some joint exhibitions themselves, sometimes also inviting a few other artists to join them. Rolando died in 1893, after which JHS still kept teaching art classes for Rolando's wife Frances together with her brother George Webb (1861–1949) for another year.
In 1895, the National Gallery of Victoria bought his "Driving in the Cows". In 1898/1899 JHS made a trip to the Netherlands, via Italy and painted in Belgium, Switzerland, and Tunisia. The works he made during this trip were exhibited and sold upon his return to Australia, including some which were bought for Dunedin, New Zealand. Also, around 1910 he made another trip to Europe and also painted in Scotland, England and his native Netherlands. His 1911 solo exhibition in Melbourne was his most successful, where 88 works including from that overseas expedition were exhibited and 71 sold. The success brought him another problem: investment.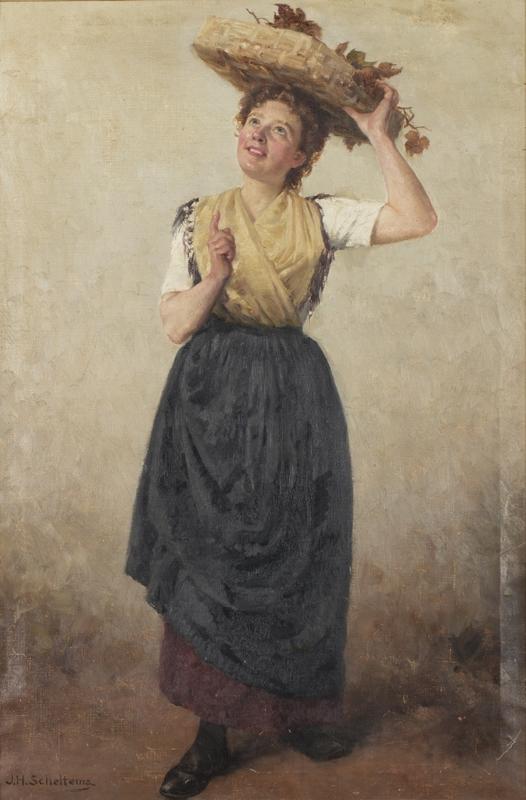 The full-length portrait of Edith Baily Smith 'as an Italian fruit seller' is in the collection of Art Gallery of Western Australia. He married her more than two decades later mid-1917. Their son, Nicholas Herbert was born on 22 June 1918. Scheltema was naturalised as an Australian in 1935. Edith, who played the piano, composed and published an Australian patriotic song, 'Loyalty', in 1939. Scheltema and his wife retired to Queensland in the late 1930s to support their son in purchasing and operating a sawmill at Palmwoods, Queensland in 1938, for which Edith kept the books. The mill was paid off before Scheltema died at Brisbane General Hospital late in 1941 and his remains were buried at the Toowong Cemetery. Edith died in March 1947 and was also buried there. Nicholas lived in Rabaul, New Guinea, when his mother died; he died in May 1952 of tuberculosis and was buried in the Brisbane Lutwyche Cemetery.
Scheltema's great-nephew, Dr. C. A. W. Jeekel, during his 1979 Australian Expedition studying millipedes in Eastern Australia, also assessed the art literature there, because of what he knew about the brother of his grandfather. The scientist was not impressed, when he found certain encyclopedia errors about JHS. He left his business card at the counter of the NGV, in case they wanted some correct details about the artist. 16 years later he was contacted for same by the NGV. Dr Jeekel, in his retirement, typed out the letters JHS had sent home, which the Dutch family had kept for three generations and deposited (in Dutch) only those of the typewritten letters dated up-to 1898, under the title "With Martenhair brush and Pallet Knife; the life of Dutch-Australian painter Jan Hendrik Scheltema (1861–1941)" (translated title) in the Netherlands Art History Institute RKD (Rijksbureau voor Kunsthistorische Documentatie) in The Hague.
Canberra resident Peter Reynders, when looking for information about JHS in recent years, also chanced upon the same errors in an encyclopedia entry on JHS, which made him decide to do a bit of research. He identified the pre-1898 letter transcription in the RKD, and asked them to be scanned by the State Library of Victoria, which he then translated. That early part of the letter collection in turn revealed to him, in Dr. Jeekel's Introduction to it, that there were many more JHS letters, somewhere in that family. But where?
He found them by ringing all (about 20) people in the Netherlands in the internet's white pages with the name Jeekel, as Dr Cas Jeekel had died. It resulted in him receiving a postal address of the retirement village of Dr Jeekel's widow, supplied by a distant relative. Mrs Jeekel, i.e. Cas' wife, it turned out after further communications, had meanwhile also passed away, and the letters and some JHS paintings had been inherited by her son Mr Gerrit ter Beek of Assen (from her first marriage) with the passed on desire of both Dr Jeekel and his wife, for those to be placed in a publicly accessible place. That was not easy in the Netherlands, as JHS was not well known there, certainly not famous.
Peter travelled to the Netherlands and met Mr. ter Beek and he found the total manuscript collection of about 800 letters by JHS and managed to bring them back to Australia at Mr. ter Beek's request.
He also organised that the 18-piece art collection by Scheltema that had been kept by the family in the Netherlands, was accepted by the Gippsland Art Gallery (GAG) as a gift from its heir Gerrit ter Beek, provided the GAG paid for their air transport and insurance. The GAG agreed, having organised community-based means to fund the transport etc. Then it exhibited them: the first exhibition of only Jan Hendrik Scheltema paintings since 1911! The 2020 exhibition was titled: 'The Lost Impressionist' and included the overseas paintings and the iconic JHS work 'Early Morning Gippsland' which the gallery had purchased in recent years for $36.000. Given his access to the information in the letters, Peter was asked by GAG Director Simon Gregg, to assist preparing for it as some kind of absentee text maker/curator, for the exhibition, where also Ms JoAnn McGreevy, an experienced book editor, who had edited Peter's translation of the letters in the SLV, lent a hand. Scheltema was one of the first European artists of note to often frequent Gippsland in the late nineteenth century, where he painted, plein-air, some of the region's historical images. This recent exhibition also included portraits, such as that of JHS' father and interior scenes from JHS' Dutch time.
Unfortunately, the exhibition was cut short because of the Covid pandemic.
There is an episode in a letter from JHS where he wrote having been asked by the Dutch Consul to become a committee member to help import Dutch Art. We discuss this elsewhere.
Table Talk article
The following article from 1888 provides more insights into the early years of Scheltema' career.
It has to be noted that the reporter of Table Talk wrote that Scheltema's study subsidy from the King was granted AFTER he had already studied in the Hague and was taught by Mr Striening in Rotterdam. This should have been BEFORE he studied there and may have been a misinterpretation of his information. The scholarship granted to Scheltema by the subsidy committee of Dutch King William III was for the years 1880 to 1884 inclusive and comprised of respectively 350, 450, 500, 500 and 300 guilders for those five years. The publication called "CXXV, 125 jaar jonge schilderkunst. De Koninklijke Subsidie 1871-1996" published by Waanders, Zwolle, October 1996 makes that clear. Scheltema's letters confirm that.
This article was compiled by Paul Budde, in consultation with Peter Reynders.
Seal of approval from cattle breeders.
Text from the OFFICIAL NEWSLETTER OF THE BEEF SHORTHORN SOCIETY OF AUSTRALIA, August 2017 on the inside cover page. On the cover the following picture of a painting of Scheltema owned by one of their members was displayed:
Summer Pastures, (1861-1941) J.H. Scheltema
This artist painted, mainly in Victoria in the late 19th century and the early 20th century. Within this era, Beef cattle in Australia were mainly of the Beef Shorthorn Breed, accordingly most of his works featured Beef Shorthorns or Beef Shorthorn crosses. He was undisputedly considered to be the finest painter of Cattle ever in Australia. Although most of his works featured cattle, he painted the occasional work featuring horses or sheep.
The DACC is very interested to hear from people who have further information on Hendrik Scheltema, his paintings or other activities in Australia.
See also:
Jan Hendrik Scheltema Wikipedia
Dutch artist who migrated to Australia as a great landscaper – Jan Scheltema
Dutch-Australian painter Henry Leonardus van den Houten
Jacob Carabain Dutch-Belgian artist living painting in Melbourne – 1885
Henri Benedictus Salaman Van Raalte curator Art Gallery of South Australia (1881-1929)
Early cubist artist Harry den Hartog (1902-1984)