In 1950, a group of Dutch immigrants arrived in Tasmania and established a settlement in the town of Kingston, located about 12 km south of Hobart.
The settlers were mostly from the province of Groningen in the Netherlands, and thus the – now defunct – settlement became known as "Little Groningen". It has been absorbed by the town of Kingston. They had their own building company; the Australian Building Corporation.
The Dutch settlers faced many challenges in adapting to their new home, including a different climate, unfamiliar customs and language, and a shortage of housing and other resources. However, they were determined to make a new life for themselves and worked hard to establish a thriving community in Kingston.
The settlers brought with them many aspects of Dutch culture, including their language, cuisine, and customs. They established a school, which taught English, and organised cultural events such as festivals and dances. Over time, the settlement grew and prospered, with many of the original settlers becoming successful tradespeople, and business owners.
The first Reformed Church of Australia
After much wrestling the Reformed Church of Kingston (Tasmania) was reluctantly established in a veil of tears in 1952. Its name was chosen to make clear the desire to integrate into the Australian community it was based on the principles of orthodox Reformed theology so that its members were predominantly former members of the Gereformeerde Kerken in the Netherlands.
As Dutch migration to Tasmania continued in the 1950s and 1960s, Reformed Churches were established in Ulverstone, Penguin and Hobart. Since the 1970s, the ethnic diversity of its membership has increased.
The Calvin School, another first was opened in January 1962 with an enrolment of 77 primary students.
In1961, the Dutch were the largest on-English speaking group in Tasmania. 'Little Groningen' was the only true Dutch group settlement in Australia.
Today, Kingston is a vibrant suburb of Hobart, and while much of the Dutch influence has faded over time, the legacy of the early settlers is still evident in the town's architecture, street names, and cultural heritage. The Kingston community remains an important part of Tasmania's multicultural heritage.
Book: Maintenance and nurture of culture the establishment of the Reformed Church of Kingston
By: Kees Wierenga
"After writing a draft of this paper twice, it has become increasingly clear to me that the object of the study is about some Christians.  It is neither useful or correct to view them as Dutch people, or as an ethnic group.  The facts show, overwhelmingly, that this group of people were constantly motivated to live a Christian life, and that their Dutchness was incidental.  Essentially, this story is a description of a group of people, some of whom were born in the Netherlands, seeking to know their God, to establish a relationship with Him, to express that relationship in their daily lives, and to rejoice in the saving work of their Lord and Saviour.
This lifestyle impacted the general host community. It was never about assimilation, Dutch into Tasmanian, but of joining with the locally born and bred to discover God, to build relationship with Him and each other, and together to build the Kingdom of God so that all might find salvation and eternal life. They believed that being Reformed was to constantly measure their lives against Scripture as they endeavoured to conform to their Saviour. Being Christian meant, amongst other things, assisting those in need. This was why members of this group were involved in the Resistance during the occupation of the Netherlands in the second World War.
The studies that have been made to date of this group typically focus on the cluster in Kingston and make conclusions about all Dutch migrants in Tasmania  The previous studies have observed a group of people with some commonalities – a group of people who all spoke the same language, honoured the same Queen, shared a fairly common history and geography.  These characteristics have been assumed to make them all Dutch.  Thus, all of the description, discussion, studies, analyses, reports and theses which have focussed on these migrants from the Netherlands, have focussed on their Dutchness.  This includes trying to discover the unique aspects of Dutchness which differentiates them from Australian.  This course of action fails to deal, or to deal comprehensively, with several issues – religion, language, geography, motivation and behaviour." Information and book orders: Irene Wierenga iwiereng@utas.edu.au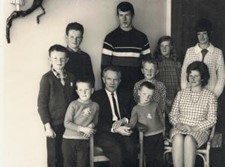 See also
The Dutch Australian Society "Abel Tasman" Inc.
Elly Schuth: Voyage to Kingston, Tasmania