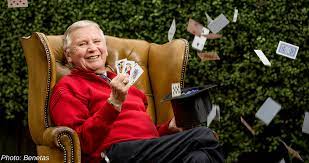 Rids van der Zee was a Dutch-born magician who immigrated to Australia in 1954. He was born in the Frisian town of Franeker, in 1923.
Van der Zee was a skilled magician who specialised in close-up magic and sleight of hand. He performed under the stage name "Rids the Flying Dutchman" and was known for his charming stage presence and engaging performances.
After immigrating to Australia, van der Zee quickly became a popular figure in the country's magic scene. He performed regularly at events, theaters, and corporate functions, and he was known for his skillful use of cards and coins in his tricks.
Van der Zee passed away in 2003 at the age of 80, but his legacy as one of Australia's most talented and beloved magicians lives on. He was known for his generosity and willingness to share his knowledge and expertise with other magicians, and he was highly respected within the Australian magic community.
Book: The Juggler – 1980
The Juggler by Adele Davies titled "Rids the Flying Dutchman: A Life of Magic and Adventure" (published in 2012).
The book tells the story of van der Zee's life and career, from his childhood in the Netherlands to his immigration to Australia and his rise to fame as a magician. It includes anecdotes and stories from van der Zee's performances and travels, as well as interviews with friends and colleagues in the magic community.
The book also explores van der Zee's passion for magic and his commitment to mentoring and supporting other magicians, as well as his personal life and the challenges he faced as an immigrant in a new country.
See also:
Beaumaris man finds long lost magician friend through Bayside Leader