Henricus Alexander Theodorus (Henri) Le Grand, was born on May 10, 1921, in Zevenaar, the Netherlands. His parents were Petrus Egidius Hubertus Le Grand, a laborer of French-Dutch descent, and Elisabetha Antoinetta van Haren.
Henri studied art and ceramics at the Instituut voor Kunstnijverheidsonderwijs te Amsterdam from 1938 to 1942. He gained practical experience with Emile Regout, a potter in Maastricht, and at the Goedewagen factory in Gouda. He was also a sculptor, and his interest in sculptural form influenced his pottery throughout his career. He became a member of the Dutch Guild of Potters and used its seal on some of his work. Henri married Hendrika Engelina Rademaker in Amsterdam on May 11, 1944, and they had five children before getting divorced.
In 1950, the Le Grands emigrated from the Netherlands to Sydney, Australia. Henri worked various jobs until 1954 when he was appointed to the staff of East Sydney Technical College. In 1955, he was naturalised as an Australian citizen. The following year, he became a part-time ceramics teacher at Canberra Technical College, where he was later appointed chief art teacher in 1961. Henri was known for his restrained use of glaze for decoration and simple, strong, and elegantly shaped pots. He designed a kick-wheel suitable for children, which was produced commercially.
He produced his own clay bodies and used clay from Black Mountain, Canberra, often mixed with commercial bases and other ingredients, to create a medium for his students' work. He experimented with clays and minerals found near Yass, New South Wales, and even brought clay from the Northern Territory. Henri's work was exhibited extensively, beginning with the Fine Arts Exhibition of the Melbourne Olympic Arts Festival in 1956. His work received favorable reviews, and he became known for his use of local clays and minerals and native timbers for firing.
In 1968, Henri married Jean Margaret Bastin, a library officer. Due to poor health, he retired from teaching in November of that year and lost interest in pottery. Instead, he turned to restoring vintage cars. Henri was appointed M.B.E. for his services to the arts in 1969, and a retrospective exhibition of his work was held at the Canberra Theatre Gallery the same year. He died of a heart attack on November 29, 1978. Henri's work is represented in the National Gallery of Australia, Canberra, and other public collections.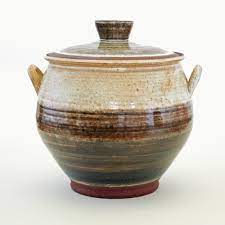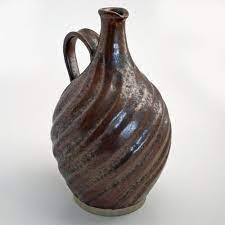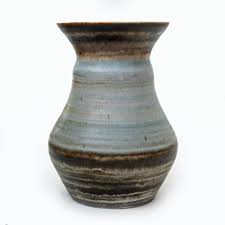 See also:
Identifying Australian Pottery 1960s to Date
An Australian pottery jug by Henri Legrand (1921 – 1978)
National Gallery of Victoria, Melbourne