Project save at least one of the Dutch Houses
In 2021 a request was made to put some of the Dutch Houses on the Brisbane Heritage List
Simon Cole who nominated the above mentioned heritage listing added the following information
I have written a history of that precinct up to the current Cornerstone Living Development and put it on my website. I am involved in the community garden at The Corner and am keen to see the Dutch House next door utilized as a history cafe. I am about to complete a history of Cornerstone Living itself. I would like to encourage your members to share and SIGN THE PETITION to save these cultural
Latest News: ABC Radio interview with Simon Cole. To listen, go to 2:44:00 ~ 2:55:30 (11 mins and 30 seconds). https://www.abc.net.au/brisbane/programs/afternoons
History
After WWII, there was a severe housing problem in Brisbane, especially with the enormous influx of migrants. There were not enough builders and trades people nor enough building materials. The Australian Government reached out to other countries for assistance both for building houses and skilled people.
Among the countries that responded was the Netherlands. The project was led by Willem Schumacher, he brought to Australia 73 skilled laborers and trades people and for that time a novel building system, using concrete blocks which were produced onsite. For that purpose, he even brought the machinery with him to produce the concrete blocks.
His Dutch company (J.Krap) had already build 900 of such houses in the Netherlands. During 1952/53 his company Concrete Buildings Pty ltd build 300 houses in Coopers Plains, Brisbane between Boundary Rd, Throughton Rd and Breton Road.
This area is now under development and most of the houses have been demolished and replaced by apartments. I have made pics of the last 20 or so of the surviving houses, some are already empty and ready for demolition.
Paul Budde
Figure 1 – Coopers Plains 2020 – Several Dutch Houses are still standing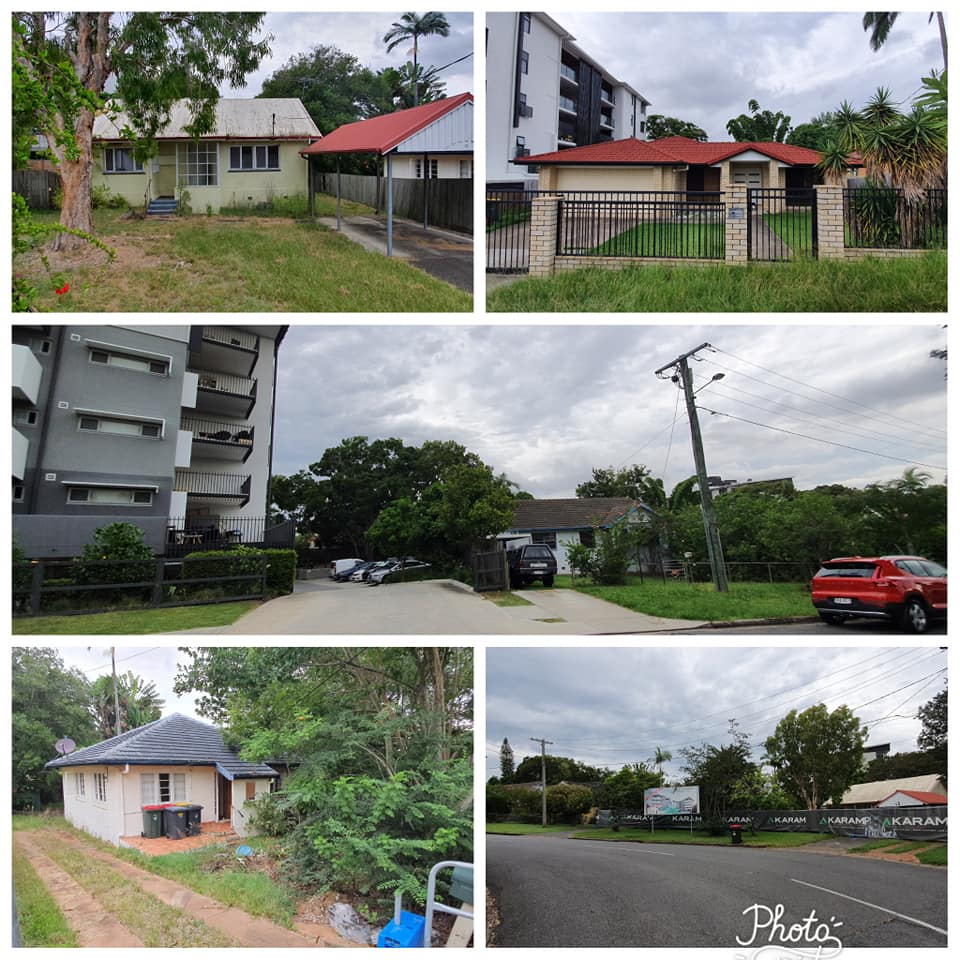 Figure 2 – Dutch Houses still standing in 2021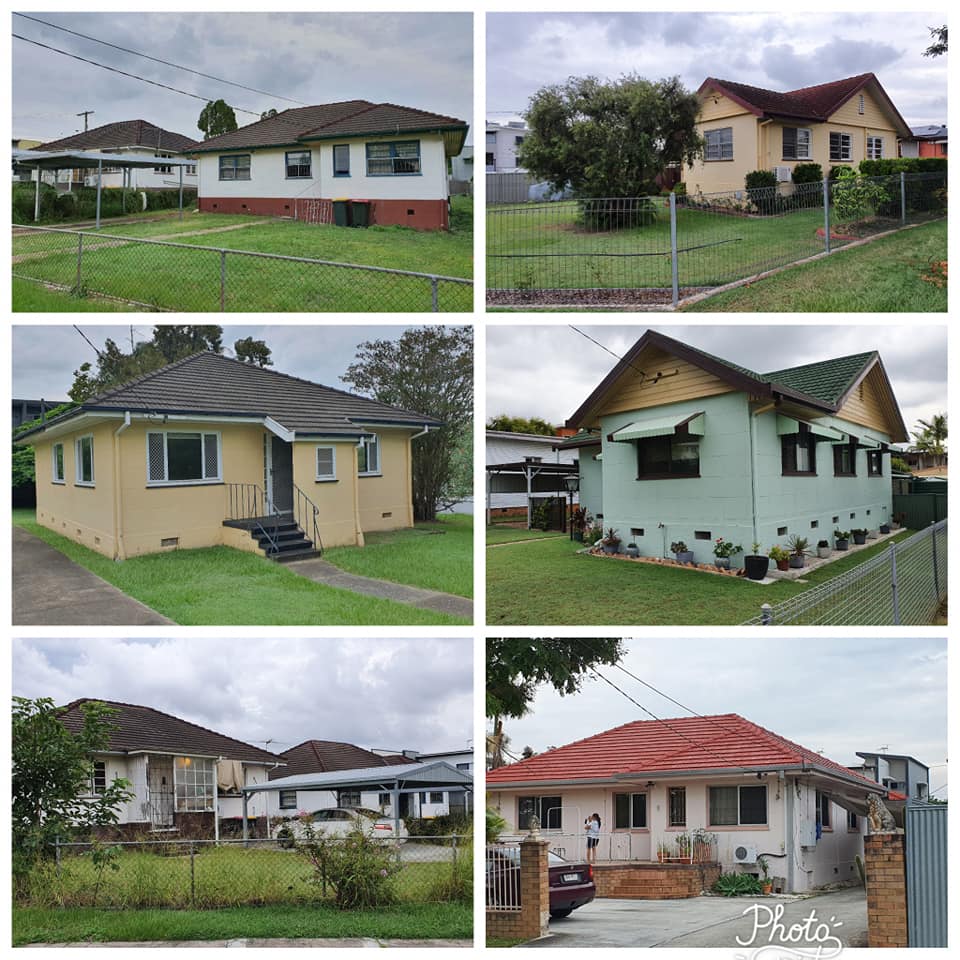 Figure 3 – Dutch Houses still standing in 2021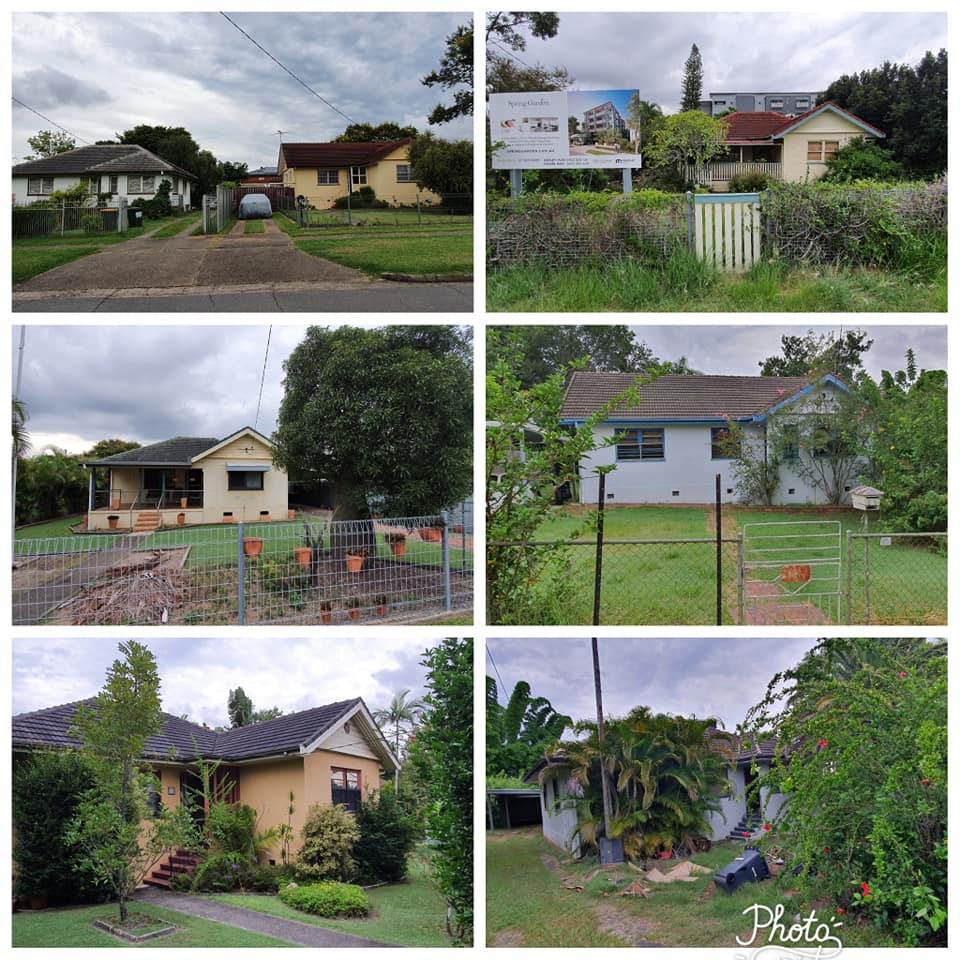 Figure 4 – Dutch Houses still standing in 2021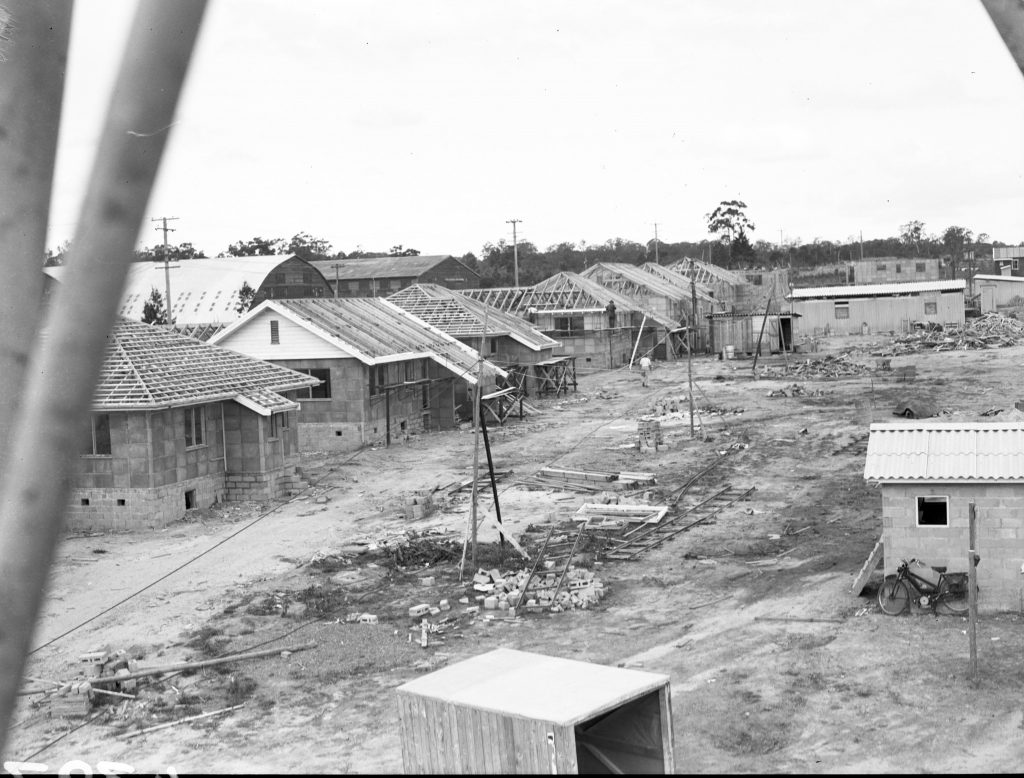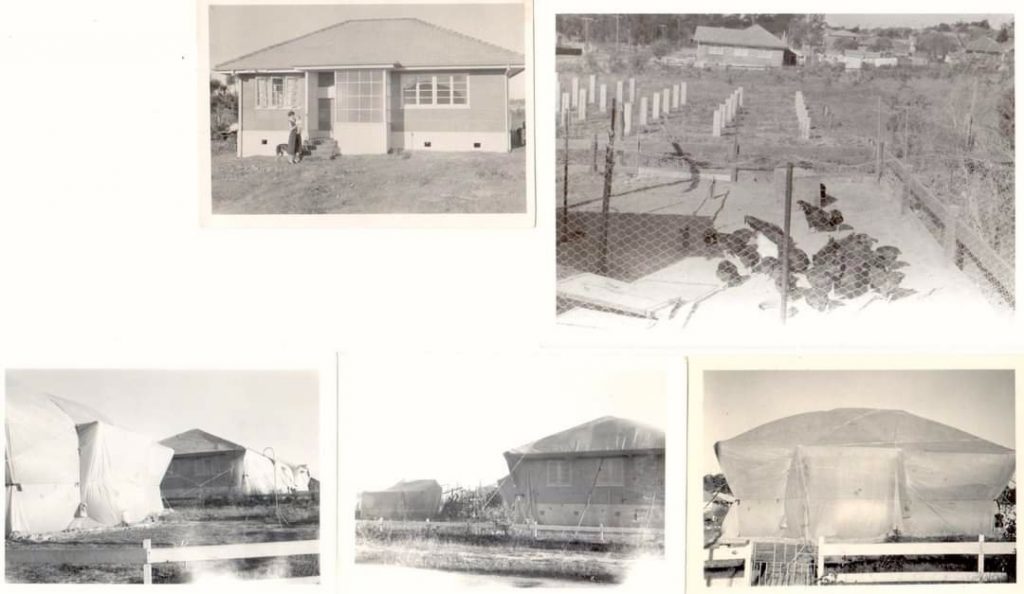 We are very interested to hear from people with personal stories. They might be from early Dutch migrants or their children. People who live or lived in these houses and from people whose families were involved in the building of these house. You comments can be made on the Coopers Plains History Group website (see under Recent Posts in the right hand list).
Dutch Newspaper clipping from the 1950s
The following articles and pictures provide further background on the history surrounding the Dutch Houses.
Figure 6 – Arrival of the Dutch company 26-10-1951
Figure 7 – Dutch article: the company Concrete Developments handed out copies of the Dutch Weekly. 26-10-1951.
Figure 8 – Baby is Louise van de Elzen born in May 1952. Source his younger sister Jennifer Mary Seaton.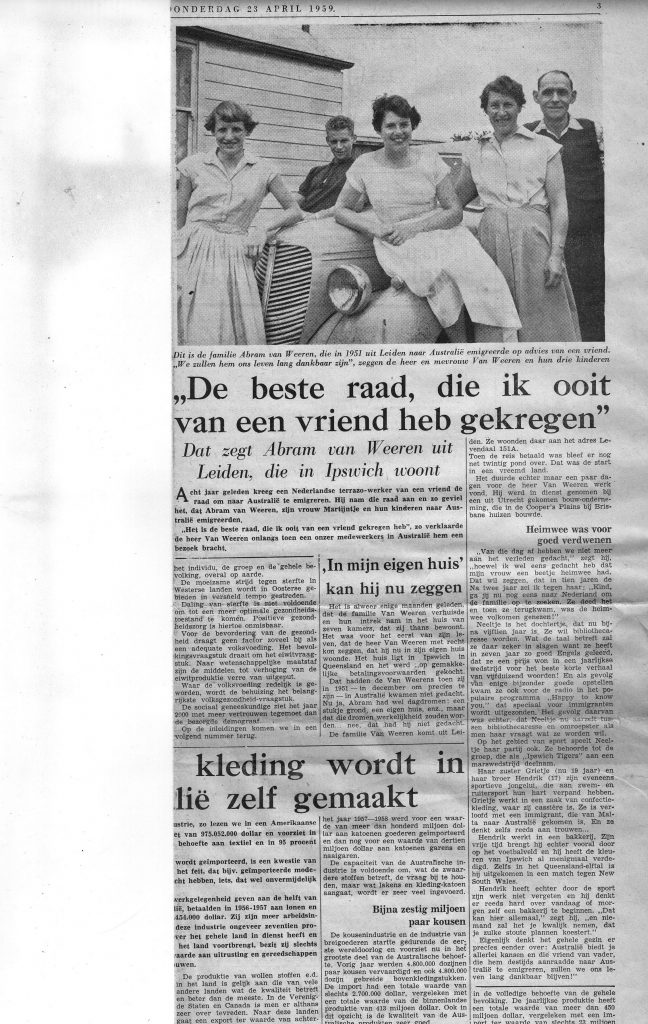 Figure 9 – Abram van Weeren (Coopers Plains). He worked at the Dutch company that build houses in Coopers Plains. 23-4-1959
SBS TV Clip
SBS TV Clip Dutch Houses Coopers Plains – Remnants of a bold post-war Dutch social housing project in Brisbane is being demolished to make way for a major redevelopment.
UPDATEDUPDATED 23/12/2015, BY STEFAN ARMBRUSTER
Dutch houses – built in the 1950s to provide affordable housing in Brisbane – are making way for a major redevelopment of Coopers Plains.
More than 300 houses were built by about 100 Dutch migrant workers, who brought with them almost all the materials and their families from Holland.
The Dutch project was considered a solution to Brisbane's post-war housing shortage of 17,000 homes, and the lack of materials and labour.
Fred and Marijke van Breemen still live in the Dutch house her parents first rented in 1953.
"This is Dutch history," said Fred.
"You used to be able to say, 'the Dutch houses', and people would know," adds Marijke.
Straight out of the 1950s, the Dutch-designed prefabs were made of concrete but untested in Australian conditions.
The Dutch company, J Krap Building Contractors, brought a whole concrete factory, roof tiles, timber floorboards, windows, doors and even the kitchen sinks from Holland. Only the concrete was sourced locally.
The Queensland government commissioned the construction of 1,000 houses in a joint venture with an Australian company Concrete Developments.
Just over 300 were built before the company hit financial troubles because of the cost of construction.
"They're really quiet a significant historical aspect of Coopers Plains, unfortunately we've lost a lot in the last few years," said Beryl Roberts, a Coopers Plains historian.
"Basically, it was housing commission, and it was affordable housing for people on low incomes."
One hundred houses were initially allocated to the Dutch workers and their families.
Fred van Breemen's family migrated to Australia in 1954 and his father worked in the concrete factory.
"There were quite a few Dutch around and there are still a few around here," Fred said.
Marijke's father bought their house in the 1970s and then sold it on.
"That's the reason I met Marijke. Her dad said, 'Would you like to buy this house?', and I said, 'Yes please', because I knew what the history was, the Dutch houses are solid," Fred said.
Today only a few dozen survive, with most demolished and being replaced by high-density townhouses and units.
Dutch houses were not fit for Brisbane's climate. A Courier Mail newspaper review in the 1953 said they were too "compact", lacked "imaginative design" and "natural light". Many also suffered from concrete cracking and rising damp.
"It's not so much there's something wrong with them it's just age," said local MP Peter Russo about the social housing. "They were built about 60 years ago and they're way past their used by date."
Six decades on, Brisbane's population pressures are driving the redevelopment of Coopers Plains.
The old housing commission estate on state government land has been sold off to developers to provide a mix of social, low-cost and private housing.
"They tell us there will be about 8,000 to 10,000 people living here in the next 10 years," Beryl Roberts said.
Much of the van Breemen house is still in original condition, but with the timber floorboards now polished and an extension out the back.
"This room is still original, we've added a cupboard, but it's still got its old ceiling in just like in 1953," Fred proudly said on a tour of the house.
"This door is still the same, the old doorknob is on there, I haven't changed them yet," he adds, turning the squeaking old brass handle.
Some things have changed, including the installation of air-conditioning.
"I used to have to hose the front of the house down to cool it down," Marijke said laughing.
None of the Dutch houses are heritage listed. Some in private hands will survive, like the van Breemen house.
"They want us to sell it, they want us to move out, they want to pull it down, we just don't want to leave," Fred said.
"We're happy here," adds Marijke.
Comments from readers:
I grew up in Macdevitt St Coopers Plains in a Dutch house also my grandma lived in the same street for over 40 years. They were the best houses strong and well built. Kristy
My mother sold her Dutch house on Boundary Road Coopers Plains 5 years ago (2017) .. she is 82 . Her parents were original tenants in the house . I loved our Dutch house . Kerry
Book
Last but not least, Alfons Vernooy has written a book on the Dutch Houses of Coopers Plains.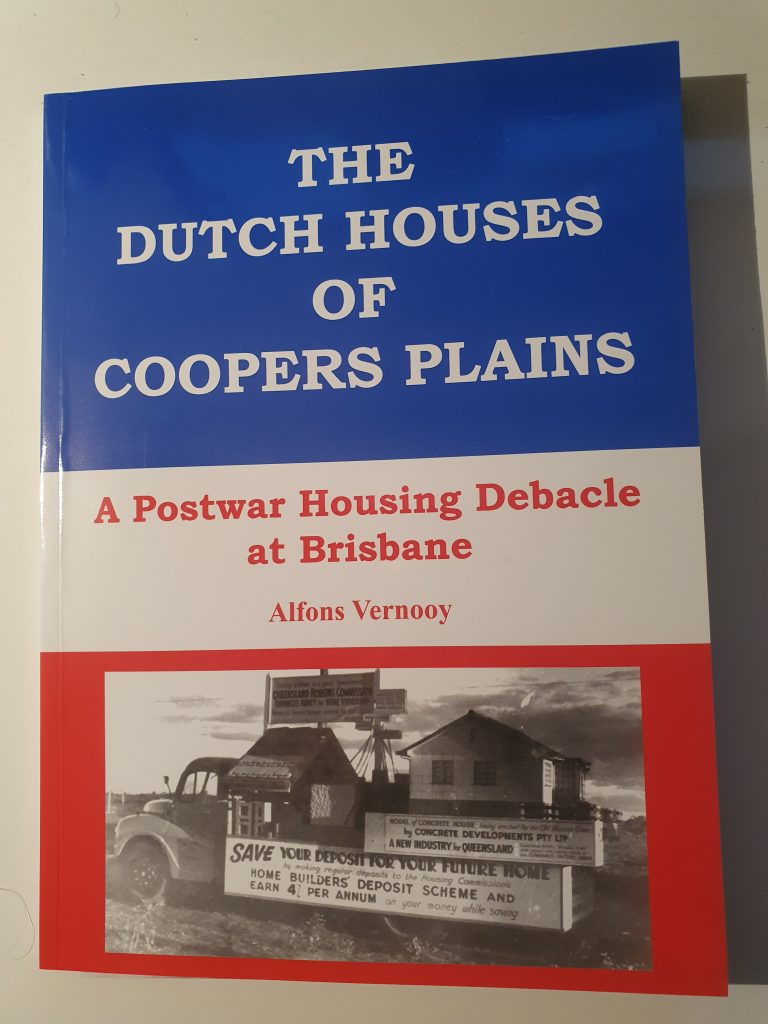 Other Dutch builders and architects from those times
There were other post-war Dutch architects as well.
The Dutch-Australian Architect John van den Broek designed some beautiful modest little houses in the 1950s. 8 Bernecker St Carina being one and 30 Fleetway St Morningside being another. They are each only two bedroom, and originally had landscaped gardens designed by his wife, Barbara van den Broek who also designed the Qld Cultural Centre gardens for Robin Gibson.