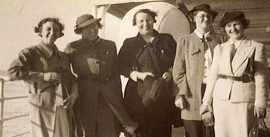 The Grail was started in 1921 as the Women of Nazareth by Fr. Jacques van Ginneken, a Dutch Jesuit. He felt that many new possibilities were opening up for women and that a group of lay women, unconfined by convent walls and rules, could make an immense contribution to the transformation of the world. By 1939 the Grail had become a colourful movement involving thousands of young women in the Netherlands, United Kingdom and Germany, challenging them to deep personal and spiritual commitment. The movement was inspired by the spirituality of the medieval Grail legends.
The Grail came to Australia in 1936 with the arrival in Sydney of five Dutch Grail members, Lydwine van Kersbergen, Judith Bouwman, Brigid Huizinga, Patricia Willenborg and Frances van der Schot. Others followed later Therese Langemijer, Helen van Cleef and Elizabeth Somers.
They had been invited by the Catholic bishops who expected that they would build a youth movement of young women here as successfully as they had done in the Netherlands.
Geographically, socially, politically, culturally, Australia was markedly different from the Netherlands. Even so, the Grail movement, based in Sydney, had speedy success among girls in Sydney, Melbourne, Brisbane, Adelaide, regional centres in NSW, Victoria and Queensland, and in New Zealand.
By 1944, several Australian bishops had set up youth movements under the direction of the clergy and the Grail movement declined.
The Grail in Australia is part of an international movement and community of women who share the same vision. They are diverse in age, ethnicity and experience, in different life situations, and with a variety of gifts and skills.
Women are drawn to the Grail for different reasons: some seek contemplative practices, some seek community, some are drawn to activism.
The Grail also offers the opportunity and context for women who feel a personal call to dedicate their lives to God in the world. After a period of discernment and particular preparation for this, they make a formal act of dedication, in which they freely undertake to live simply and in celibacy in a spirit of community, available with all their personal resources for the mission of The Grail.