William Lodewyk Crowther was a Tasmanian politician who served as the 14th Premier of Tasmania from December 1878 to October 1879. He was born on April 15, 1817, in Haarlem, Netherlands, and later moved to Hobart, Tasmania, where he pursued a career in medicine and became a prominent surgeon.
Crowther's political career began in 1866 when he was elected to the Tasmanian Legislative Council. He later served in the Tasmanian House of Assembly, where he was appointed as Premier in 1878.
Despite his political accomplishments, Crowther's legacy is marred by his involvement in the removal of Indigenous remains. In 1869, he and a group of men exhumed the body of William Lanne, believed to be the last full-blooded Aboriginal Tasmanian male. Crowther had Lanne's skull sent to the Royal College of Surgeons in London for preservation, an act that was widely criticized as disrespectful and unethical.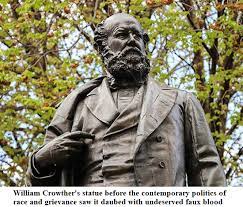 Crowther died on April 12, 1885, in Hobart, Tasmania. His legacy continues to be debated and his role in the removal of Indigenous remains remains controversial.
In 2018, a statue of Crowther was erected in Franklin Square in Hobart, which sparked controversy and protests from Indigenous Tasmanians and their allies. The statue was ultimately removed in 2020, following growing pressure and a public petition.
See also: