Christel van der Laan is a contemporary jeweller based in Perth, Western Australia. She was born in 1963 in Son en Breugel, the Netherlands, and moved to Australia in 1981. She graduated from Edith Cowan University in Perth with a Bachelor of Arts in Contemporary Fashion and Jewellery Design in 1998. She also completed a short course at the Royal College of Art in London in 2000.
Van der Laan works with various materials, such as ceramic honeycomb, powder coated silver, mother of pearl, and found objects, to create poetic and thought-provoking jewellery pieces. She draws inspiration from her Dutch heritage, her Australian surroundings, and her family's artistic background. She aims to establish connections between people and the natural world, as well as foster a sense of unity among individuals through her jewellery.
Van der Laan has exhibited her work extensively both in Australia and internationally. She is represented by the Stanley Street Gallery in Sydney. She is also a member of the Jewellers & Metalsmiths Group of Western Australia. She participates in the 12 x 12: The International Art Jewellery Project, a collaborative venture where 12 artists from different countries create 12 pieces each over 12 months, inspired by a common theme.
Here are some of her most notable works:
The Honeycomb Collection: This collection is made from ceramic honeycomb, a material that is typically used for soldering on a jeweler's bench. Van der Laan carves the honeycomb into intricate shapes and then combines it with other materials, such as silver, gold, and mother of pearl.
The Found Object Collection: This collection is made from found objects, such as buttons, beads, and pieces of metal. Van der Laan carefully selects these objects and then combines them in unexpected ways to create unique and eye-catching pieces of jewelry.
The Landscape Collection: This collection is inspired by the natural world. Van der Laan uses materials such as wood, stone, and shells to create pieces that evoke the beauty of the Australian landscape.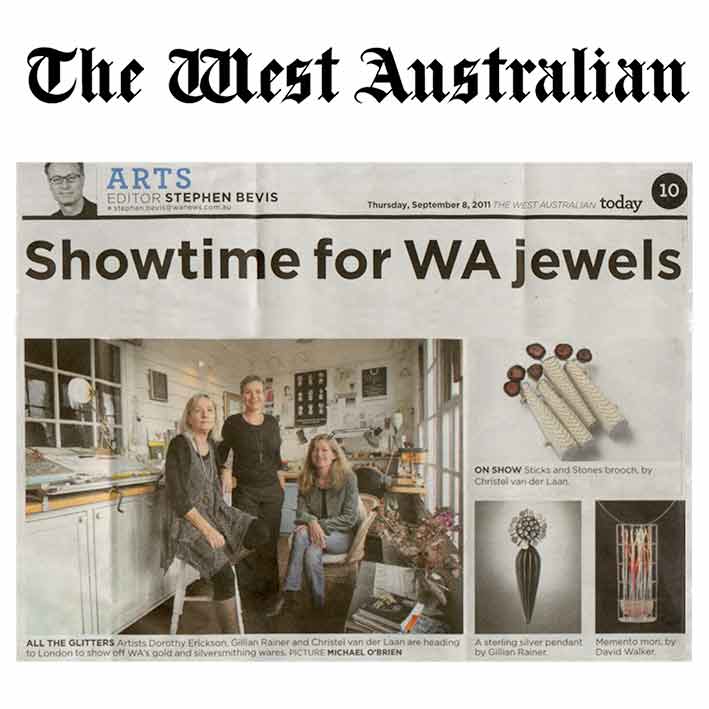 Van der Laan is a passionate advocate for the arts and has been involved in a number of initiatives to promote Australian jewellery design, including the creation of the Jewellery Design Festival in Perth. She is a member of the Australian Design Centre's Design Advisory Board and has won numerous awards for her work, including the National Contemporary Jewellery Award in 2003 and 2005. Her work is held in private and public collections around the world, including the National Gallery of Australia, the Museum of Applied Arts and Sciences, and the Art Gallery of Western Australia.