Mathieu Smedts was a Dutch journalist, writer and resistance fighter who became famous as the editor-in-chief of the political weekly magazine Vrij Nederland. He was born in 1913 in a small village in Limburg, a Catholic province in the south of the Netherlands. He wanted to become a priest, but failed and studied English literature at the Catholic University of Nijmegen and then in London. There he worked as a correspondent for various Limburg newspapers.
During World War II, he joined the resistance and helped hiding Jews and allied pilots. He was betrayed and arrested by the Nazis in Belgium in 1942 and sentenced to death, but his life was spared by some love poems he had written to a German woman. He spent the rest of the war in prison camps in Germany, until he was liberated by the Russians.
After the war, he worked for de Volkskrant, a Catholic newspaper that later became more progressive. He was sent to Australia in 1954 to report on the life and conditions of the Dutch emigrants who had moved there after the war. He wrote about their struggles and successes, their culture and identity, their hopes and fears. He also compared the bleak and rationed life in post-war Europe with the prosperous and free life in Australia.
Australië, nieuw vaderland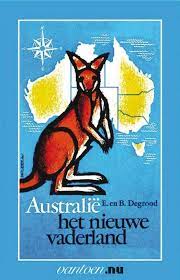 He published his first book, Australië, nieuw vaderland (Australia, New Homeland), in 1955. It was based on his articles and interviews with Dutch settlers. It was well received by critics and readers, who appreciated his vivid and honest portrayal of Australia. The book was published by Het Parelsnoer in Voorhout, Netherlands, and by 't Groeit in Antwerp, Belgium. It had 224 pages and was part of a series called De wereld rond met Mathieu Smedts (Around the world with Mathieu Smedts).
Smedts left de Volkskrant in 1955 after a conflict with the Catholic Church over its ban on cooperation with socialists. He became the editor-in-chief of Vrij Nederland, a magazine that had become a voice of critical journalism and progressive politics. He stayed there until 1969, when he resigned after a dispute with some of his staff.
Smedts wrote several other books, mostly about his travels and experiences around the world. He died in 1996 in Amsterdam at the age of 83.