Henricus Leonardus van den Houten (The Hague 1801- Melbourne 1879) was a Dutch-Australian painter, lithographer, and art teacher. He developed a passion for art at a young age. He studied painting and honed his skills under the guidance of renowned Dutch artists, specialising on portrait paintings. He worked in Leiden, Utrecht, and possibly England.
In 1853 seeking new opportunities and inspired by the allure of the Australian landscape, van den Houten made the decision to immigrate with his family to Australia. Arriving in the land down under, he was captivated by the unique and diverse natural beauty of the country.
He was one of the first professional artists to settle in Melbourne, and he quickly became established as a portrait painter. He also painted landscapes, genre scenes, and historical paintings. His work was influenced by the Dutch Golden Age painters, as well as by the Barbizon School.
His paintings often depicted sweeping rural landscapes, serene coastal scenes, and the rugged outback. His use of light and shadow, along with his keen eye for detail, brought his landscapes to life, transporting viewers into the heart of Australia's natural wonders.
Van den Houten was a founding member of the Victorian Academy of the Arts, and he served as its president from 1866 to 1867. He was also a teacher at the National Gallery of Victoria, and he played a significant role in the development of art education in Australia.
As a Dutch Australian painter, van den Houten bridged the influences of his Dutch heritage with the new inspiration he found in his adopted homeland. His paintings reflected a unique fusion of styles, capturing the spirit of both his European training and the untamed beauty of the Australian landscape.
Henricus Leonardus van den Houten left a lasting legacy in the Australian art world. His works continue to be admired and celebrated for their contribution to the representation of Australia's natural heritage. Through his art, he not only immortalised the landscapes he encountered but also contributed to the cultural fabric of his adopted country. Van den Houten's work is represented in many public collections, including the National Gallery of Victoria, the Art Gallery of New South Wales, and the National Portrait Gallery of Australia. He is considered one of the most important early Australian painters, and his work is highly prized by collectors.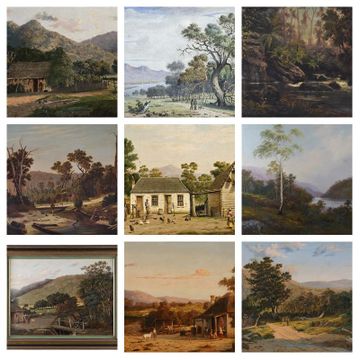 See also: Design and Art Australia