The Emigratie Commissie was a committee of the Nederlandse Vrouwen Comité (NVC – Dutch Women's Council).
The Emigration Commission of the Dutch Women's Council, was an organisation in the Netherlands that focused on assisting women and families with the process of emigrating to other countries. The committee operated during the mid-20th century, particularly in the post-World War II era when emigration from the Netherlands was a significant phenomenon.
The Emigratie Commissie aimed to provide information, guidance, and support to individuals and families considering emigration as a means to improve their lives or seek new opportunities abroad. They provided advice on various aspects of emigration, including choosing a destination country, understanding the emigration process, and the challenges involved in resettling in a new country.
The committee worked closely with other organisations, government agencies, and immigration authorities to facilitate emigration procedures and ensure the welfare of emigrants. They organised informational sessions, seminars, and meetings where prospective emigrants could learn about different countries and their respective emigration policies. The committee also assisted with practical matters such as documentation, financial arrangements, and connecting emigrants with resources and support networks in their destination countries.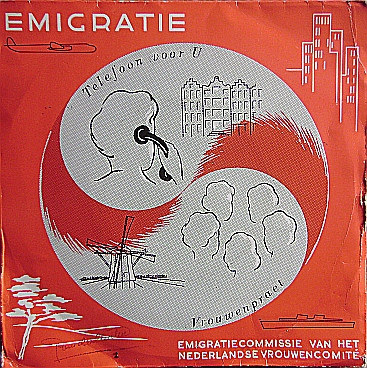 During the 1950s and 1960s, when the Netherlands experienced a significant emigration wave, the Emigratie Commissie played a crucial role in providing guidance and support to Dutch women and families seeking a new life abroad. Their efforts contributed to the emigration of thousands of Dutch citizens to countries such as Australia, Canada, the United States, and New Zealand.
Nederlandse Vrouwen Comité
Nederlandse Vrouwen Comité (NVC – Dutch Women's Council) merged in 1972 with the Federatie voor Vrouwelijke Vrijwillige Hulpverlening to form the Nederlandse Vrouwen Raad (NVR) . The NVR was a federation of women's organisations and were responsible for publishing books and reports on various topics related to women's issues, such as emigration, education, employment, health and human rights. The Council was also involved in international cooperation and advocacy for women's rights.
Here are some of the NVC's's most notable publications: