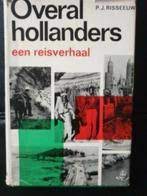 "Overal Hollanders" by Pieter Johannes Risseeuw (1901 – 1968) is a historical account of Dutch migration and settlement around the world, focusing in particular on Australia. The book was published in 1965 by Bosch & Keuning N.V. in Baarn, the Netherlands.
In "Overal Hollanders," Risseeuw traces the history of Dutch migration from the 16th century to the mid-20th century. He describes the reasons why Dutch people chose to emigrate, including economic, political, and religious factors. He also discusses the challenges that Dutch immigrants faced in adapting to their new countries and cultures.
The book devotes a significant amount of attention to Dutch migration to Australia. Risseeuw provides detailed information on the history of Dutch settlement in Australia, including the first Dutch explorers who visited the continent, the establishment of Dutch communities in cities like Sydney and Melbourne, and the role that Dutch immigrants played in the development of Australian society.
"Overal Hollanders" also discusses the contributions that Dutch immigrants made to various aspects of Australian life, including agriculture, industry, and the arts. Risseeuw highlights the cultural and economic connections between the Netherlands and Australia, and argues that these connections have helped to strengthen the relationship between the two countries.
Brief bio on Pieter Johannes Risseeuw
Pieter Johannes Risseeuw (1901-1968) was a Dutch journalist, writer, and historian. He was born in Goes, a town in the Dutch province of Zeeland. After studying Dutch literature and history at the University of Utrecht, he worked as a journalist for various newspapers, including the daily newspaper "De Telegraaf." During World War II, he was involved in the Dutch resistance against the Nazi occupation and wrote for an underground newspaper.
After the war, Risseeuw continued his career in journalism and also began writing books. He wrote about a variety of topics, including Dutch history, emigration, and literature. He was particularly interested in the history of Dutch emigration and wrote several books on this subject, including "Overal Hollanders" (Everywhere Dutch), which focused on the Dutch community in Australia.
Risseeuw was also involved in various cultural and historical organisations, including the Dutch Historical Society and the Dutch Literary Society. He received several awards for his contributions to Dutch journalism and literature, including the prestigious Tollens Prize in 1959.
Pieter Johannes Risseeuw passed away in 1968 at the age of 66.