Petrus (Piet) Wilhelmus Johannes Willemse was born on 13 July 1933 at Liessel, Deurne, Noord Brabant, Netherlands to Johannes Jozef Willemse (b 27.01.02 d 27 Oct 1944) and Francina Petronella Wilhelmina Spreeuwenberg (b 30 Nov 1906 D April 1968).
Piet was second child, oldest son. There were 10 children. Piet survived Diphtheria during the war but a younger brother died from the disease.
The family ran a mixed dairy farm.
On the last day of fighting in this area during WW2, as the Germans were retreating, the family moved from house cellar to barn cellar (or the other way) when a bomb hit the house and killed Piet's father and a younger brother. At the time, Piet's mother was 7 months pregnant. The family moved to her parents farm before being acquiring a farm at Ysselsteyn, next door to the Slangen family.
Lena Maria Josepha Theresia Slangen was born on 4 November 1934 at Linne, Limburg, Nederland to Joannes Cornelis Slangen (b22.10.1905 d 17.06.2001) and Maria Odilia van Montfort (b14.03.1910 d 02.01.200).
Lena, known as Leny, was the oldest of 11 children.  Her family had a dairy farm.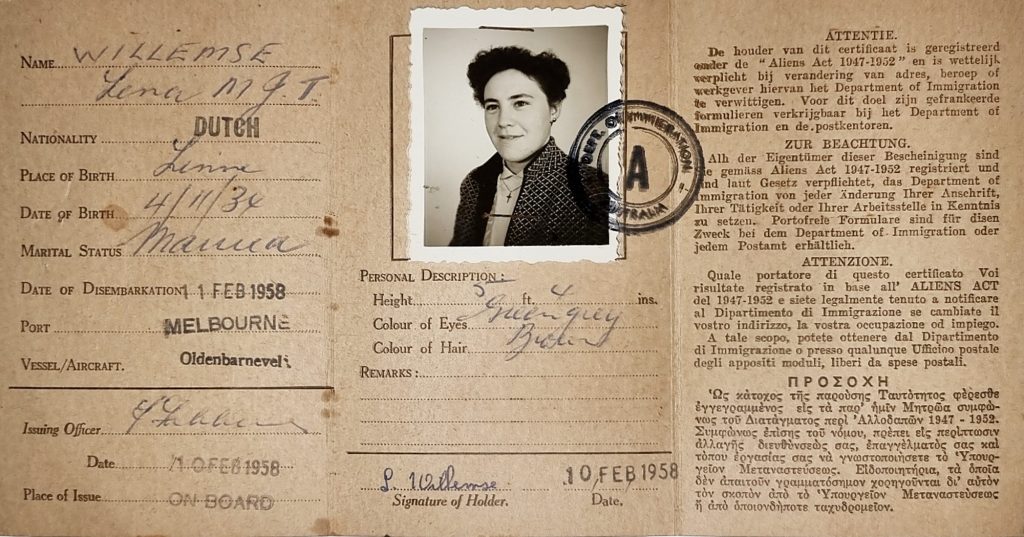 Piet and Leny schooling was very limited about 6 years of primary education before working on their parents farms. Both families were strict Catholics. They met each other as neighbours post war. All neighbours helped each other on their farms.
Courtship was strict with curfews after dances to be home immediately afterwards. Any time together usually had younger siblings tagging on.
Leny's father always said she had to be 23 before she could marry. She turned 23 on 4.11.57 and for the next 3 weeks the "bann"' were read at the local Church before they married on 26.11.57. Possibly the civil ceremony was the day before.
Piet had worked at local mushroom farm for 6 months as he was interested in growing mushrooms but not in Netherlands. Their families tried to talk them out of emigrating to Australia and arranged for them to use another family member farm to grow mushrooms locally. They did not change their mind.
Australia was looking for people. There was a lot of promises for new immigrants. A sister of a friend had already emigrated. The application for an Assisted Passage to Australia was dated 3.10.57 (before the wedding). They had already done the medical and language courses.
The ship Johan van Oldenbarneveld was supposed to leave Rotterdam in December 1957 but wasn't full yet so didn't depart till 9 January 1958. On first night, all the passengers, except three including Piet) were seasick. Even the Captain was seasick!
Although they shared a cabin with another couple, Leny spent most of the 6-week voyage in hospital for seasickness. She learned several months after landing that she was pregnant with twins.
The disembarkation was in Melbourne on 11 February 1958. They were to be met by their sponsor (sister of a family friend) but they didn't show, so Piet and Leny were sent by train to Bonegilla Immigration Camp where they stayed for 2 weeks before leaving and travelling to other family friends in Brisbane (Ellengrove).
They lived in their friend's family garage until Leny learnt she was pregnant. Then moved into a share house in Spring Hill, where they met another Dutch couple who also had recently migrated to Australia. They became lifelong friends.
In an interview on 4th October 1998, with Beryl Miller for the Australian Mushroom Growers Association for the History of the Mushroom Industry in Australia, Leny said "We came to Australia to grow mushrooms and we came February 1958. We thought the Netherlands was too small. We arrived in Melbourne and were in a camp (Bonegilla) for 2 weeks before we came to Queensland and my husband worked first at the brickyard in Rochedale before we started to grow mushrooms a in 1960"  
Piet also worked at Turners Nursery while building the mushroom farm from second hand materials and while growing mushrooms, and the family.
After 11 years in 1968, Leny returned to Netherlands to visit family and attend the ordination of her brother as a Priest. Piet only returned twice before his death in 1979. They both traveled to attend several Mushroom Conferences around the world.
After Piet died in 1979 at the age of 46, Leny with 3 youngest children travelled to Netherlands for a visit. She also returned several times in later years and sometimes family come to Australia to visit.
Leny died in 2005 at age of 70.
See also: SJW Mushrooms
​