Republished with permission from Baking Business. Original article: https://bakingbusiness.com.au/five-minutes-with-jeroen-dutchy-hulleman/
Dutchy's Bakehouse on the Sunshine Coast not only has a unique product range, with traditional recipes brought over from a long family history of baking in the Netherlands. We spent five minutes with owner Jeroen 'Dutchy' Hullemen and found out a lot about work-life balance.
When did you come to Australia?
We went backpacking in October 2004. I lived in Henley Beach, close to Glenelg and worked at a bakery called Tasty Bakehouse, and that's where I learned to make pies for the first time.
What made you decide to stay?
I went to New Zealand and worked in a bakery there as well, called the French Bakery in Christchurch. Then I flew to the Sunshine Coast, bought a push bike and found a job. Every day I jumped on my pushbike and went to work like you do in Holland. I worked there for three months and then the guy – he was Austrian – said, "Do you want to stay in Australia?" I said, "yeah why not?"
A year later I went to Melbourne and went to the Grand Prix and went to the Belgian Club after the race and met my wife there. Eighteen months later we were married, pregnant and started Dutchy's.
And now you have two bakehouses?
Yes, we bake everything in Sippy Downs and then we drive everything fresh to Brightwater every day.
Were you a baker before you came to Australia?
Four generations! My brother has a big bakery just outside Amsterdam, with five stores he supplies and a staff of 75.
What types of traditional Dutch products do you make?
The most popular one is a beef croquette; it takes about three days from start to finish. We make bikkies called pepernoten and other bikkies called speculaas. Because it's Christmastime now we make Christmas stollen, almond rings and almond logs. We make sausage rolls the Dutch way – it's a different shape and different filling – and we make vanilla slice. I make it the way my brother makes it but I think it's still nicer than my brother's!
Has your family been over to visit?
Yes, I send photos to my parents and they're quite proud of what I'm doing here. They came over for my wedding and my dad has been one more time and my mum three more times, because my daughter – she did ballet and she plays the cello – my mum's quite proud of her.
Tell us about how you can have a bakery and still have a life:
In Holland, you're not allowed to work more than 38-night hours a fortnight. Business owners really have to invest money, so the bakers still have time for family, to take the kids to school, and have dinner and stuff. I've been nightshift for 30 years now and look; I start at two o'clock or three o'clock, I've got two people starting at one o'clock, but they finish at eight or nine o'clock at night. All the bakers have a nice time, all the staff like each other, we all work for each other and it's a nice team.
I've sorted out the work-life balance.
How do you find your staff?
I've been importing bakers from Holland; I've probably imported 12 in the last five years. I take them in my home and look after them with my wife and my daughter for three or four weeks then we find them a place to stay, we help them buy a car, show them around the Sunshine Coast – take them fishing and four-wheel-driving – make them feel at home and meet our friends and family then they put their heads down and bums up to work for me. They're backpackers on a working holiday, so they're allowed to work for me for six months. That's been working well. It keeps me having a life with the family.
Do you have a Dutch expat community?
Yeah, I'm still in touch with some of my suppliers and teachers and people in the bakery industry back in Holland and they're always looking out for me.
What do customers like the most from your traditional Dutch products?
The Oliebol, which is a Dutch doughnut. They're a New Year's thing in Holland – my brother bakes about 60,000 on New Year's Eve – but I don't do that much.
Tell us about your brush with Dutch royalty:
It's been four years since the Dutch King and Queen came to Australia. They travelled to Perth and Melbourne and Brisbane, and I deal a bit with the Dutch Consulate. They said, "You need to come and meet the King and Queen", and I said, "yeah, whatever," – you know, I'm only a baker, what would they want with a baker? But they said they'd put me on the VIP list.
I had to fill in a form, but I forgot about it, then I got a text message from the consulate saying didn't you get the invitation? So, me and my wife filled it in on a Sunday afternoon, and then I got a phone call from the embassy in Canberra. They said, "We got your form but it's a bit late – it closed two weeks ago". But they put us on the VIP list and said we must come.
So I rang my grandma – she was 96 at the time – it was the middle of the night and she was so excited. I'm pretty much the only family member that met the royals. It was pretty amazing!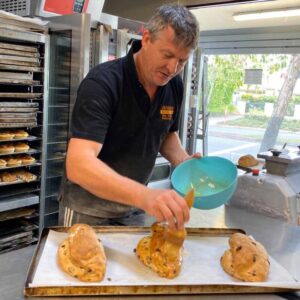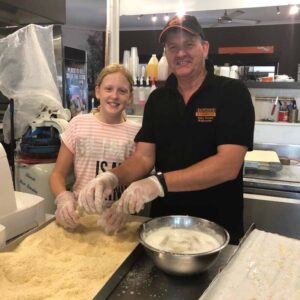 Website:
http://www.dutchysbakehouse.com.au/