Henri Benedictus Salaman Van Raalte (1881-1929) was a talented etcher born in Lambeth, London. . His father, Joel Van Raalte, was a Dutch-born merchant and his mother, Frances Elizabeth (née Cable), was English.
He studied at prestigious institutions such as the City of London School, St John's Wood Art Schools, and the Royal Academy of Arts schools, and later became an associate of the Royal Society of Painter-Etchers and Engravers.
In 1910, he migrated to Western Australia with his brother and married Katherine Lyell Symers on July 6, 1912, at the Claremont registrar's office. They settled in Perth in 1914, where he founded the Perth School of Art by 1920.
Van Raalte is considered a pioneer of Australian etching, specialising in aquatint and drypoint.
His work was imaginative and expressive, often conveying a sense of mood and emotion. He was appointed curator at the Art Gallery of South Australia in Adelaide in 1922, where he developed and catalogued the large print collection. However, he had ongoing problems with some members of the gallery's board, and in 1926, he resigned and retired to Second Valley on the coast with his family, where he struggled with financial stress and alcoholism.
In 1929, Van Raalte tragically took his own life. He was buried in the nearby Bullaparinga cemetery. In December of that year, a memorial exhibition of his work was held in Adelaide.
Despite his short life, his work had a significant impact on print-making in Australia during the inter-war years and can be found in most state galleries, the National Gallery of Australia, the British Museum, and many private collections.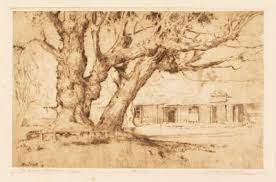 See also:
Jan Hendrik Scheltema Dutch-Australian Painter (1861-1941)
Dutch-Australian painter Henry Leonardus van den Houten
Early cubist artist Harry den Hartog (1902-1984)
More info: