Antonie (Anton) Frederick Kool was born Feb 6 1920, Zevenhoven, The Netherlands and he died Dec 14 2002, Sydney, Australia
Written by Helen Kool (one of Anton's daughters)
This is a short biography and includes anecdotes that I find interesting. If you would like to add some of your own please go ahead. I have done my best to get the dates correct but I am missing quite a few, please add if you know more than I do.
Anton was born in Zevenhoven on the February 6, 1920 and the family later moved to Leidseweg 147, Voorshoten. Anton was the first born child of seven children to Arie Kool (1895 – 1979) and Grietje Lam (1897 – 1995?)
Anton was a studious child and after he did his chores he would read or study. He had a close relationship with his father, and they often played chess together. Anton was the first person in his family to go to university and he studied economics, but his studies were curtailed with the start of WW11 when he entered military service. I think it was a great disappointment to my father that he was never able to complete his formal education.
Anton didn't speak a lot about his experiences during the Nazi occupation of The Netherlands but here are a couple of stories he did tell.
At the time of the German invasion of the Netherlands Anton was stationed in Den Haag. On the morning of the invasion on 10 May 1940 he had some duties which took him out of the barracks, just as an air raid commenced. He managed to find safety in an air raid trench, but the barracks took a hit and several of those in his unit lost their lives.
Towards the end of the occupation he went back to live the family in Boxtel. A story he told was that one day in order to escape being caught in the crossfire between the Germans and the Americans he managed to lift a manhole cover and waited out the shooting below ground. Not knowing when to come up he waited some more until he heard a tapping on the manhole and he was told that it was safe to come out. He was hoping that it would be the Americans who were left standing but to his disappointment it was the Germans.
In 1948 Anton went to Indonesia for several years as part of the post-independence "peace keeping forces". His position involved responsibility for transport. One time the jeep he was in was hit by a Bren Gun Carrier and the jeep rolled landing Anton and the jeep in a ditch. He was taken to hospital with a broken nose, but the outcome was that he met Emma van Norden (Emmy), his future wife, who was working in the hospital as a nurse. After returning to the Netherlands, they married on 14 December 1955. After the war there appeared to be very limited opportunities in The Netherlands, and they decided to emigrate to Australia. Emmy had plans of her own to move to New Zealand but possibly due to Anton having his younger brother Cor (who immigrated in 1949), and his great uncle Nijs van Kool already in Australia they decided to come to Sydney in 1956.
On the Oldenbarnevelt to Australia
They left the port of Rotterdam on 11 January 1956 at 16:30 to start a new life with their possessions packed into two travel chests and with their hopes of finding freedom to make a good future together packed into their hearts. The boat they came on was the Johan van Oldenbarnevelt and Anton taught English to other passengers on the voyage over.
On 31 January 1956 there was a diner onboard the Johan van Oldenbarnevelt "Ter gelgenheid van de verjaardag van H..KH Kroonprinses Beatrix" with the following menu: Beatrix Soup, Kippenpasteitje a la Reine, Kalfsbiefstuk Princesse, Brique a l'Orange, fruit.
On board there was a shop "In De Winkel wan Sinkel is alles te Koop", deckchairs and a cinema where they watched "Man on a Tightrope" and "Call me Madam". For classical music entertainment they went to the Smoking Salon and listened to a concert with music by Ravel, Bruch and Tchaikowsky.
The ship made several port stops enroute. They came ashore in Port-Said, Aden and their first landing in Australia was in Freemantle where they took the bus to Perth. They also had a stopover in Port Melbourne.
Finally, they arrived in Sydney at 11 am 16 February, 1956. As they came through the Heads and into Sydney Harbour they saw to the north something white flapping in the distance. What they saw were the wingbeats of unfurling sheets. Anton's brother Cor and his friend Rinze held up white sheets from the balcony at Cor's house in Sirius Cove, Mosman which had a view of Sydney Harbour and they waved these sheets to welcome Emmy and Anton into Sydney Harbour. And yes they saw these sheets from the boat.
Life in Australia
When they arrived in Australia, they stayed with Anton's brother Cor and his wife Daphne in Mosman. Anton joined his brother's building and construction business. They briefly lived in a unit in Musgrave St, Mosman but shortly after bought the house at 2 Illawarra St, Mosman where they both lived until they passed away. When they first moved into the house it was in disrepair and Emmy protested that she would prefer to live in a caravan than in that house. They never lived anywhere else and raised their two children, dogs, cat, birds, guinea pigs, mice and a goat in that home.
At the time they arrived in Sydney there was a government policy of assimilation in Australia and the Dutch community, whilst identifiable was good at assimilating. Emmy and Anton were somewhat different to some of their friends as they were advocates for the Dutch community and strong supporters of multiculturalism not assimilation. Anton always thought of himself as a Dutchman living in Australia.
Anton a leading figure in the Dutch community in Sydney
From when they first arrived in Australia, Anton and Emmy quickly became involved in supporting and helping to create opportunities for the Dutch community to be part of a multicultural Australia.
August 1962 Anton became treasurer of Nederlandse Vereniging in Sydney and a year later the chairperson of the organisation.
One event that Anton always thought of as a lot of good fun, but also great for public relations between the Dutch community and the broader Australian community, was the arrival of Saint Nicholas. For some years Anton did the full hair and makeup and donned the complete Saint Nicholas outfit for this pageant. It would start early in the day with a visit to the makeup artist which took several hours, after which he was driven in a van, to accommodate Saint Nicholas's mitre, to Blues Point. A friend had a red speed boat which was used to transport Anton/Saint Nicholas in an appropriately traditional way to the International Terminal at Circular Quay. He was welcomed there by a large crowd with Dutch music and songs. He then mounted a white horse, riding side saddle of course, and had a police escort to the Town Hall. There he was formally welcomed by the Lord Mayor of Sydney. Sometimes the process didn't go smoothly. One-time the seas were a little rough and he almost fell in the water when disembarking. Another time things went a little array as the horse was very unsettled and became impossible to ride. A quick-thinking support person managed to hail a passing red MG sports car (open top to accommodate the mitre) and for a small cost the driver chauffeured Saint Nicholas to the Town Hall.
Anton was also involved in and very supportive of the Dutch Festival, instigated by Henk van der Weide in 1982, which he thought of as a wonderful way for the Dutch community to celebrate and to bring all things Dutch to the broader Australian community. It was held at Fairfield Showground and proved to be a very popular festival not just for Dutch people. There was a special visit from Queen Beatrix and Prince Claus in 1988 and Anton welcomed them to the Dutch Festival.
Anton was incredibly proud of being presented with the Oliver van Noort medal on 22 July 1988. This was in honour of his work over the years contributing to the Dutch community in Australia (see press clipping below).
Anton's many activities and recognitions:
30/04/1974 Ridder in de Orde van Orange-Nassau
Chairman of Federation of Dutch Societies for 35 years give dates
President of the Netherlands Society in Sydney
Vice chairperson and chairperson of the Queen Wilhelmina Dutch Australian Benevolent Fund
1978 Vice chairperson and chairperson of the Juliana Village
NESWA representative at the Australian Veterans and Defence Services Council
Premier of NSW Community award
Honorary membership of the Neerlandia Club
Juliana Village joined the board in 1978 and became vice-chairperson of the Juliana village Association. Resigned as Chairperson of the Juliana board in 2002
Abel Tasman Retirement Village. Founding chairperson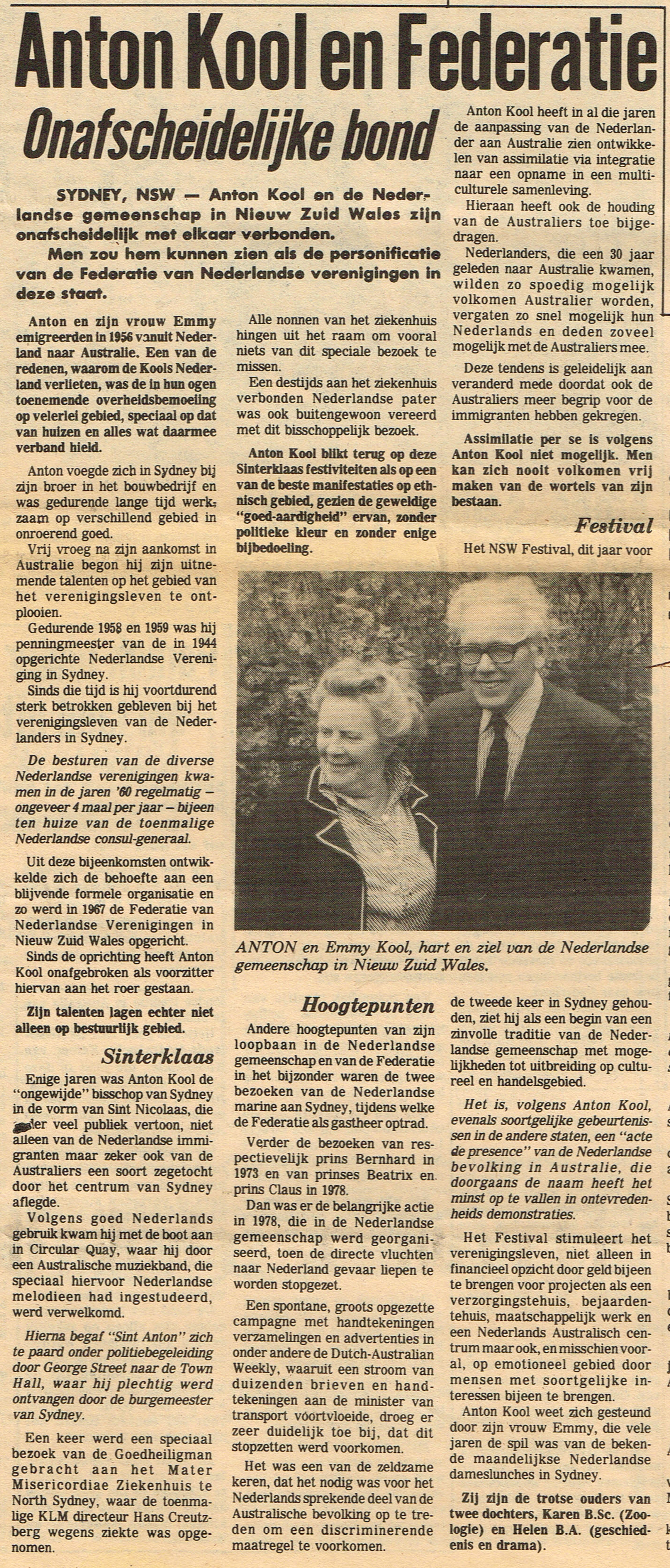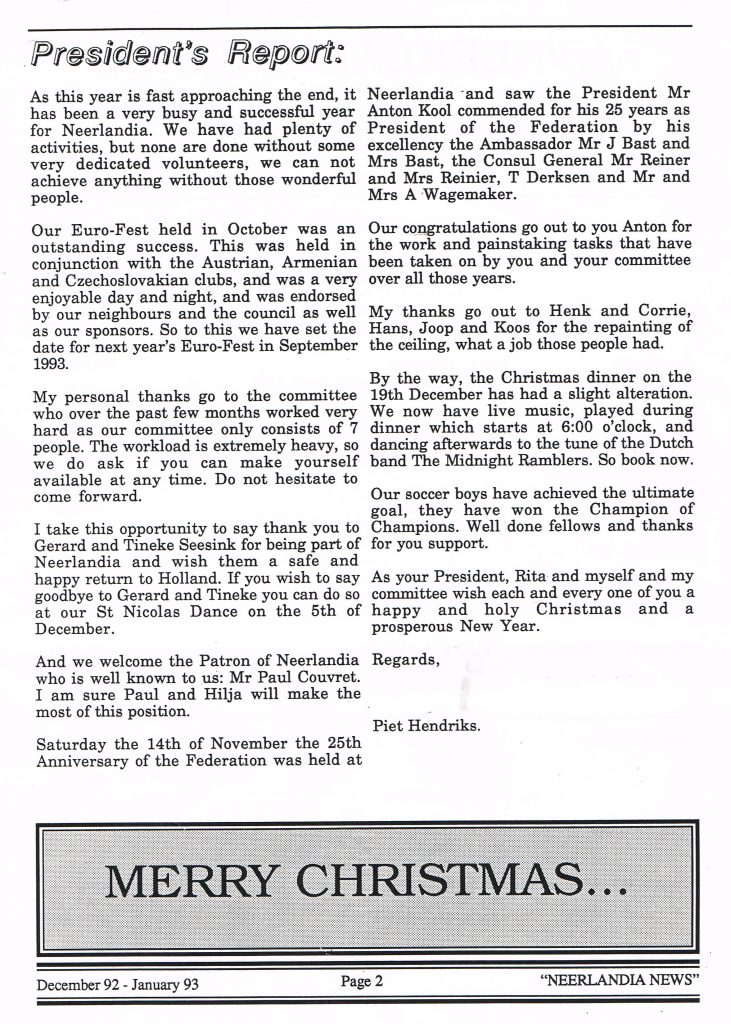 The following article is interesting as it also mentions Dr Cornelis Wouters, another absolute stalwart of the Dutch community in Australia.