Dr. Cornelius Willebrod Wouters (18 August 1896, Waspik -20 January 1978, Brunssum). During his youth and early adulthood he moved around the Netherlands. He met his wife in Waalwijk and after several other jobs became a translator for the Dutch National Mines (Staatsmijnen) in Heerlen. He migrated to Australia in 1948. Here he took up his previous profession and became a translator at the Commonwealth Scientific and Industrial Research Organisation (CSIRO) in Sydney, where he worked till his retirement in 1961. He spoke a significant number of languages, sources are mentioning anything between 7 and 20 languages. After his retirement he established his own translation business. He was also a competent philologist and is the author of poems.
The Limburgs Dagblad had two articles (see below) on Dr Wouters that includes information on his work as a translator. The pdfs can be downloaded for better viewing.
More articles on Dr. Wouters activities.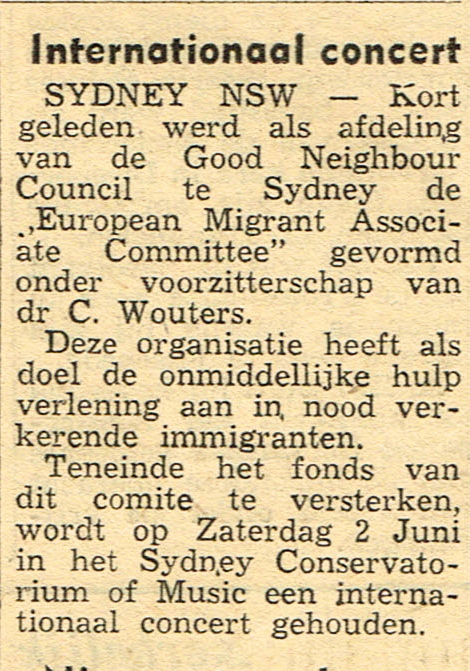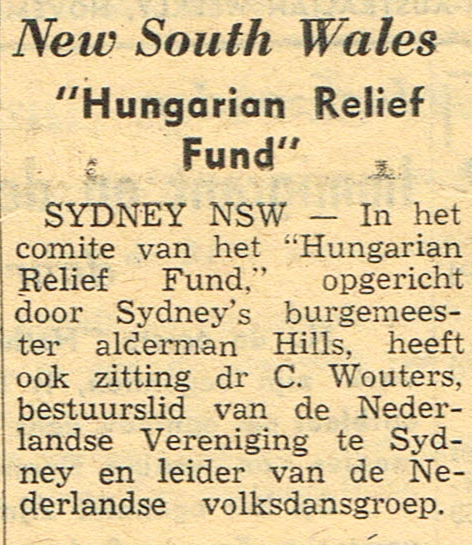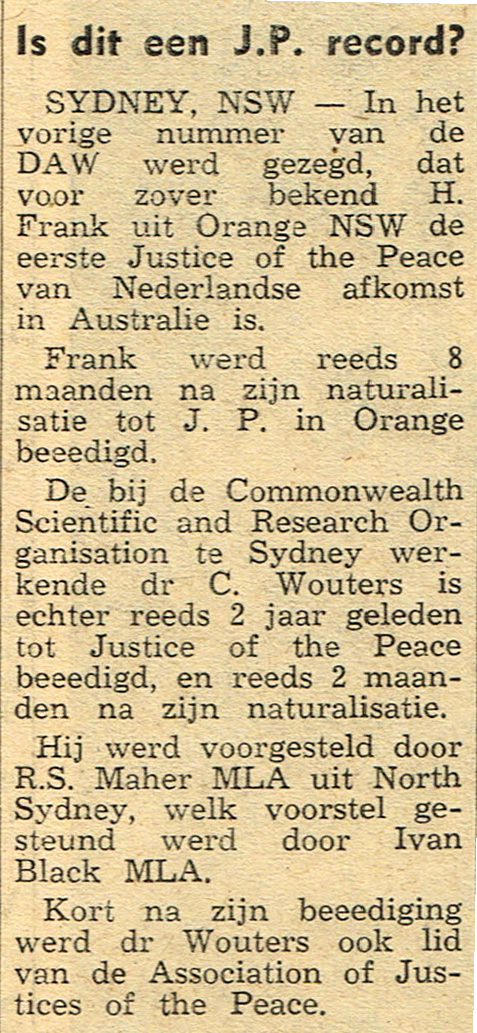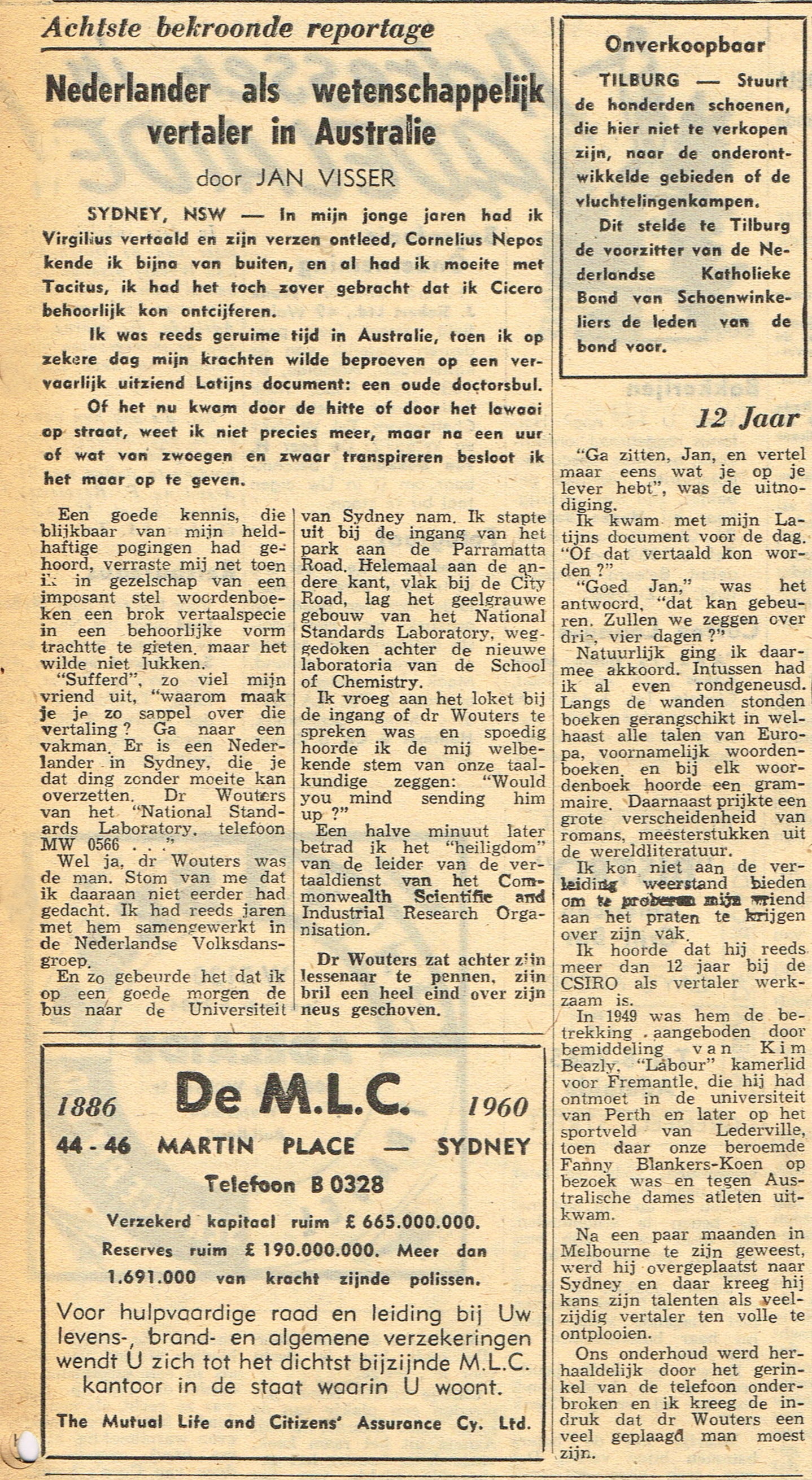 In 1948, Dr. Wouters emigrated to Australia. In his free time, he dedicated his life to promoting Dutch culture and heritage in Australia. He did not shy away from controversial issues. He refused to swear allegiance to the Queen during his naturalisation ceremony, instead he was allowed to swear on the Bible, something that since that time has been accepted by the Australian Government. He advocated for equality for migrants within various Australian laws and he successful advocated for emigrants not to be called up for conscription. Rather that trying to hide your native language he strongly advocated for emigrants to keep up their language as the most critical part of their culture. He tireless promoted the teaching of the Dutch language at schools and universities.
The many 'Letters to the Editor' provide a good indication of his active advocacy activities.
See: Articles, Poems and Letters to the Editor from Dr. C Wouters. His activities also reached the press in the Netherlands.
He was also passionate about promoting Dutch culture and heritage through his (board) membership of various Dutch organisations as well as national immigration organisations.
In 1951, he founded The Dutch Folk Dancing Group in Blacktown, Sydney, Australia.Through his efforts, The Dutch Folk Dancing Group became a well-respected and popular cultural group in Australia, and Dr. Wouters' legacy as a dedicated promoter of Dutch culture through traditional folk dances continues to be remembered and celebrated by the members of the group and the wider Australian community.
Dr Wouters was among his many other functions one of the co-founders of the Catholic Dutch Migrant Organisation (CDMO) in Australia (Katholieke Nederlandse Migranten Organisatie – KNMO) in 1950, which aimed to support Dutch migrants and promote their cultural identity in their new home country. He also served as an editor for the KNMO's publication, Het Kompas, which provided information and guidance to Dutch migrants settling in Australia. Dr. Wouters was actively involved in the KNMO and served as its president from 1956 to 1957. His contributions to the organisation helped to build a strong Dutch community in Australia and preserve the cultural heritage of Dutch migrants.
He was a strong advocate for equal rights for naturalised Australians (immigrants) in collaboration with Jan Rempt the then-Deputy Editor-in-Chief of the Dutch-Australian weekly newspaper De Nieuwe Wereld. This advocacy was settled in favour of immigrants when the Australian Citizenship Act was amended and the previously existing discrimination was abolished.
Furthermore, he was also involved with the New Australian Cultural Association (NACA) in Sydney, which was founded in 1954. He served as the vice-president of the organisation for several years, working to promote cultural exchange and understanding between Australian-born and migrant communities. The NACA organised a wide range of events, including music concerts, exhibitions, and lectures, and Dr. Wouters played an important role in shaping the organisation's cultural program. His involvement with the NACA was part of his broader efforts to promote multiculturalism and cross-cultural understanding in Australia.
He was also a representative of the Good Neighbourhood Council of NSW. This organisation was established in 1943 and aimed to promote social harmony and cooperation between different ethnic and cultural groups in New South Wales. The organisation played an important role in promoting cultural exchange and understanding.
Many awards bestowed on Dr Wouters
Dr. Cornelius Wouters was awarded the Knighthood in the Order of Oranje-Nassau. He also received the Silver Anjer from the Prins Bernhard Fonds in 1976 for his contribution to the preservation and promotion of Dutch culture in Australia.
He was made a Commander of the Order of the Star of Italy. The Order of the Star of Italian Solidarity.
For an extensive overview of his awards click here.
Throughout his life, Dr. Wouters remained committed to his passions for migrant issues and Dutch culture.
He went back to the Netherlands in 1974 and passed away in Brunssum in 1978 .
See also:
Dr. Cornelis Wouters, een voorvechter in Australië