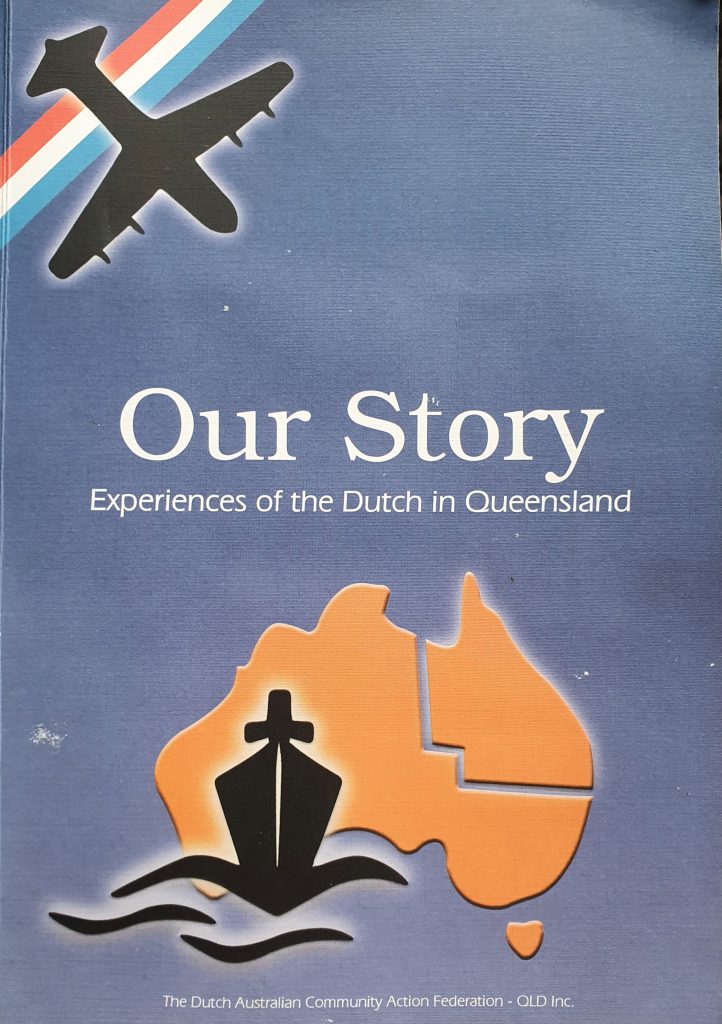 To ensure that the stories of Dutch migrants would be preserved for future generations, the former Dutch-Australian Community Action Federation Qld Inc. (DACA) published a 208 page book 'Our Story — Experiences of the Dutch in Queensland' in 2001. Editors: Annelies Zeissink, DACA-President and Rob-Jan Mynarends.
The book presents personal experiences stories of 68 Dutch emigrants in Queensland
For further research, the book itself is available from the following libraries: DACC, Sydney, Koninklijke Bibliotheek, Den Haag, National Library of Australia, Canberra. Below are the pdf files of the book.
To make the names of the authors searchable we have listed them below.
| | |
| --- | --- |
| TITLE | AUTHORS |
| Via Iceland to Queensland | Henk Kylstra |
| Moving to Queensland across three continents | Dimmen de Graaff |
| From Rotterdam to Queensland | Piet & Grada Korevaar |
| Some of our experiences | Nelly Boerdam |
| Anne's Story | Anne van Riel (Sauer) |
| Man proposes — God disposes | Louise Groen in 't Woud |
| We came here by choice | Sabina van Baarskamp |
| Minke's story | Minke Koch |
| Paula's story | Paula Knudsen |
| Henriette's story | Henriette Kinnane |
| We had a good run | Ninette Floris |
| A life in three countries | Willy Hoog Antink |
| Starting a new life | Lisa de Graaf |
| Don't look back-go forward | Cor Frederiks |
| Wilhelmina's story | Hanny van der Mark |
| Migration as Hanny remembers | Hanny van der Mark |
| A cameo story of our emigration | Johanna Bumet |
| Getting to know Queensland | John van Riel |
| My reason for coming here | Bob van der Zijpp |
| Proud to be Dutch and Australian | Lenie van Wijk |
| Going abroad | Dorothy Philipoom |
| Doortje's story | Wilma Philipoom |
| Au revoir Paris | Trudy Peterse |
| Captives, coffee, cakes and carpe diem | Jacobien & Anneke van Kammen |
| From Dutchies to Aussies | Jean van Eyk |
| From windmills to 'neat tool sheds' | Elsa Hansen |
| A difficult decision to relocate | Aafke van Klaveren |
| About flowers, good friends dogs and Mr 3.8 | Betty Deen (Vischer) |
| Full circle — integration and fulfilment | Joseph Oudeman |
| Things were not always easy | Annie Vierveyzer |
| The singing carpenter | Martha Fuchshuber |
| A life of service for social justice | Ben Dokter |
| Another winner | Jeanette Jilleson |
| Joy, hardship and blessings | Hermina Dijk |
| Memories of a migrant | Betsy Meulenbroek |
| Did we do the right thing? | Theo Sloots jnr |
| Our past | Nel Bruyniks |
| Life beyond our expectations | Han Spykerboer |
| C'mon son we're running late for the medical | Rolf Bierman |
| The road ahead — a migrant's tale | Toos and Harry Vullers |
| A place in the sun | Corry de Haas |
| Dutch products find appreciation in Queensland | Herman Wichger |
| Searching for the sun in our life | Rob-Jan & Jacomien Mijnarends |
| Carried away | Liesje Grieve |
| No time to cry | Frans Clemenkowff |
| The early years | Hans Bierenbroodspot |
| Our transition from the Netherlands to Australia | Kitty Cillekens |
| The lure of the tropics | let Haites |
| The best of both worlds | Annelies Zeissink |
| Emigration – never! | Hans Geissler |
| Old friends meet again | John Gyzemyter |
| Immigration 1, II & 111 | Harry Rynenberg |
| Our blessed decision | Anna Kuiper |
| Snow to fire | Lily Podger |
| Selarnat tingal Indonesia Selamat datang Australia | Tes Eeltink |
| About Languages and sailing around the world | Carel Vogelsang |
| I followed my heart | Marleen Hengeveld |
| The Australian aunt with the Dutch accent | Nelly Smets |
| Why Australia? | Andreas Flach |
| Migrant or reincarnated aboriginal? | Hendrika Johnson |
| Twenty years here and still not sure | Hette Kingma |
| The Unknown | Henny Kingma |
| Cherished memories | Jettie Zigas |
| Back home | Rinus Lagerwaard |
| Far away from everything | Hein & Erica Bouwknecht |
| Not as difficult | Ingeborg Kuiper |
| Retirement in Queensland | Nel de Bruyn |
| Say it with flowers – a love affair | Bas Kamp |
See also:
Historical overview of Dutch Consular Services in Queensland
Some names of ships on which many of us came
The Federation of Netherlands Organisations
Dutch Specific Aged Care Services
The former Dutch Australian Community Action Federation and DACA activities
'Birds of a Feather flock together'
Some of the stories listed above are fully published in 'Wacol Remembered"