Like everywhere else in Australia there is also a rich history of the Dutch in Queensland. Many Dutch people settled here after WWII. The Netherlands East Indies Government-in-Exile was based in Wacol, Brisbane and that also resulted in Dutch people staying or coming to Brisbane immediately after the war. In the following decade other Dutch people also migrated from Indonesia to Queensland.
Dutch organisations were established in the 1950s and 1960s. The Federation of Netherlands Organisations in Queensland (FNOQ) became the umbrella organisations for these clubs.
A serious problem that arrived in the following decades was the care for elderly Dutch migrants. A massive undertaking took place by the Dutch community to address this problem, led by FNOQ with as the end result the building of the Prins Willem Alexander Retirement Village in Birkdale.
DACA – 1996 – 2015
The beginnings of these activities date back to the 1973 floods in Brisbane. At that time Jan and Titia van Riel, where active at the Prinses Marijke Fonds, with the aim of distributing financial and other support to affected Dutch immigrants. This 'fonds' was later changed into the Dutch Australian Welfare Association (DAWA), to maintain charity status. Within a year it was eventually restructured into the Dutch-Australian Community Action Federation Qld Inc. (DACA).
They focusing on a broader range of social services for the Dutch community. When the issue of elderly care became more prominent It was decided that in order to address the issues for these people more effectively it would be better if the organisation would be an umbrella organisation, representing the Dutch Australian community in Queensland. At that point DAWA was renamed DACA. Over time most of the Dutch organisations in Queensland became members of DACA.
Annelies Zeissink, who was doing her Honours degree in Nursing at that time, decided to do her thesis on the elderly Dutch in Brisbane and this provided excellent information to DACA on the needs of this community and on how to best address these issues. The initiative was also supported by FNOQ.
Together the two umbrella organisation organised the Dutch Australian Community Care Conference held in Brisbane in 1996 of which Annelies Zeissink (both see below) became the convener.
While it was tried to merge the two umbrella organisations this didn't eventuate.
Overtime DACA incorporated sixteen Dutch clubs and associations. This "umbrella' body also brought together volunteers from its member organisations to help with key issues concerning elderly Dutch people in Queensland and to raise funding for its projects.
The DACA's three main programmes included:
Friendly Visiting Network
Dutch Helpline
Resource Centre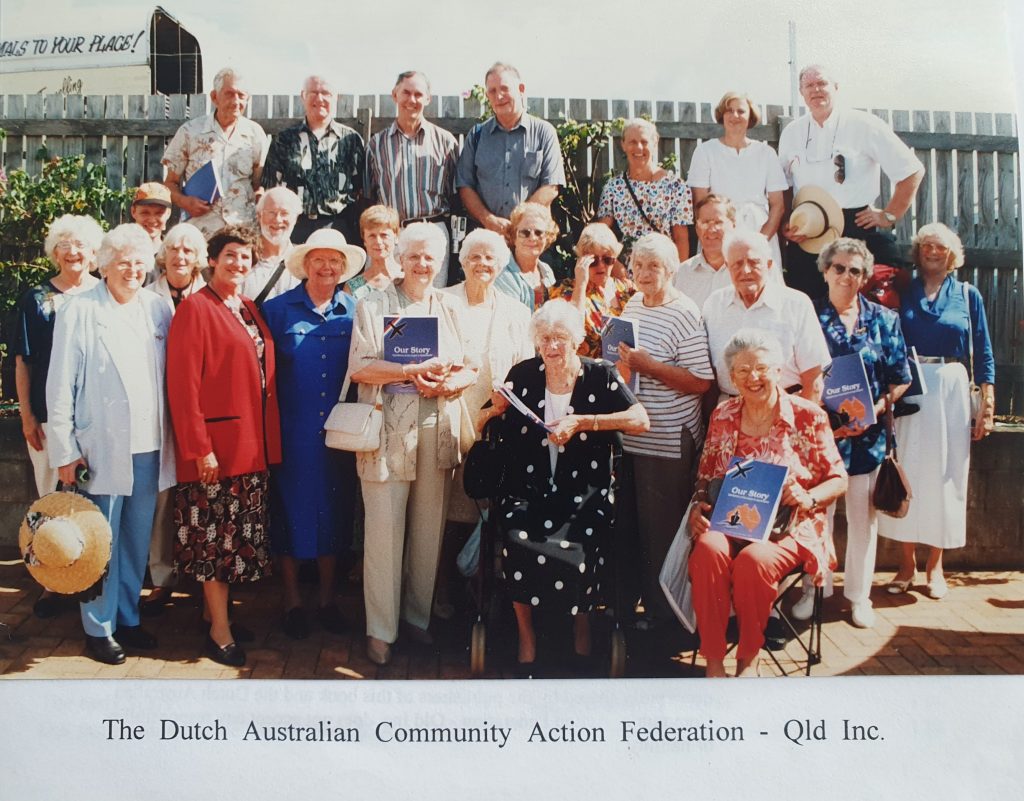 The 'Dutch Helpline' was operated by volunteers twenty- four hours a day, to provide immediate help should the need arise. This initiative especially targeted the elderly living by themselves, and who were socially isolated from the rest of the society, a situation exacerbated by language restrictions. The 'help line' also functioned as a community service disseminating Dutch-specific information.
The 'Friendly Visiting Network matched volunteers with elderly people who required visits.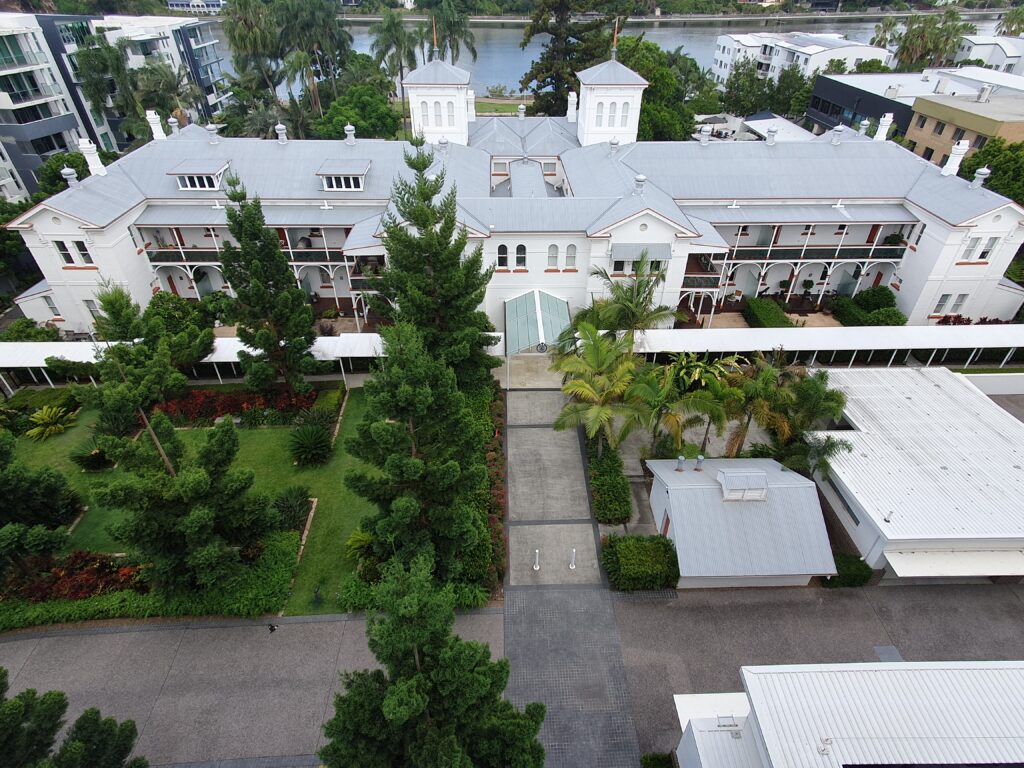 DACA was instrumental in making large letter books in the Dutch language available for those interested. The Federation also established at Yungaba in Kangaroo Point, a Resource Centre with Dutch-specific material. In 2002, the centre was moved to the Prins Willem Alexander Village.
Finance was another key issue and to assist the financially less fortunate, DACA provided funds, for instance, to help with the purchase of wheelchairs. Thus, to keep the running of the organisation viable, time-consuming funding applications had to be made on a regular basis.
DACA was also the representative organisation for Queensland in the Netherlands Benevolent Trust Fund.
As the aim of DACA had been achieved, the care activities became more mainstream and the DACA members themselves became older the organisation was discontinued in 2015.
The 16 groups associated with DACCA (2001):
(many of these organisations do no longer exist)
Australian Netherlands Chamber of Commerce (ANCOC) – Queensland Branch
Catholic Dutch Migrant Association
Dutch Alumni group
Dutch Australian Social Club of Townsville
Dutch Care Supporters
Jongeren Borrel – Brisbane
Gold Coast Dutch Community Association
Holland House Dutch Bridge Club
Nederlandse Gemeente in the Uniting Church
Netherlands Ex-Servicemen and Women's Association – Queensland Branch (NESWA-Qld)
Netherlands Retirement Village Association of Queensland (NRVAQ)
Netherlands Sunshine Club
Queensland Community Credit Union
The Stirrers; Limburger Karnavals Club
Some other Dutch community-groups and organisations (2001):
Algemene Vereniging Oud Marine-personeel (AVOM)
Contact Oud Mariniers (COM)
De Instuif
Dutch Friends Group (Wide Bay)
Dutch Language-group of Radio-station 4EB
Dutch-Ossy Friendship Association (Bundaberg)
Dutch Over Fifty groups (Birkdale, Brisbane North, Brisbane West, Redcliffe Peninsula)
Federation of Netherlands Organisations in Queensland
Netherlands Association of Queensland (NAQ)
Netherlands Folkloric Dance Group
Queensland Holland Festival Association
Our Story – Experiences of the Dutch in Queensland
To ensure that the stories of Dutch migrants would be preserved for future generations, DACA published a 208 page book 'Our Story — Experiences of the Dutch in Queensland' in 2001.
Publications Multicultural Queensland
In 2001 and 2015 the Queensland Government published two books about Multicultural Queensland. Annelies Zeissing wrote the Dutch section for these books.
Book presentation – 2001 Annelies Zeissink in red coat, front row
Annelies Zeissink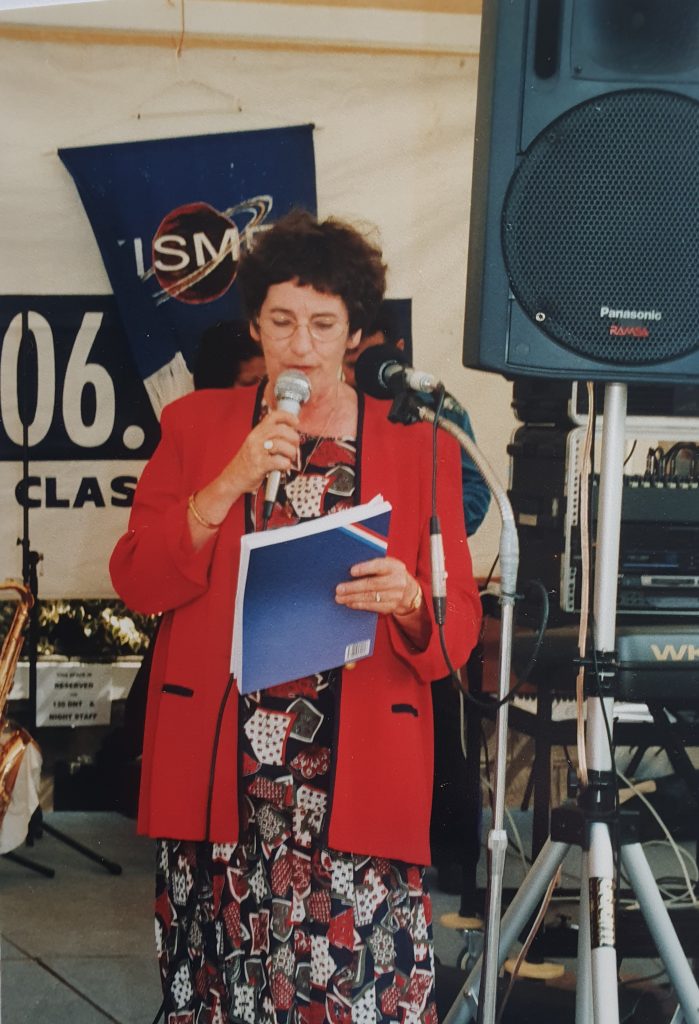 Annelies Zeissink was born in Frederiksoord, in the Dutch province of 'Drenthe. ln 1962, she migrated to Brisbane. In 1990 she commenced tertiary studies at Griffith University, Graduation leading to a B.Nurs (Honours) degree in 1995. Through her research project about the Dutch elderly in Brisbane, she became involved with the Dutch community and served as Convenor of the Dutch Australian Community Care Conference held in Brisbane in 1996.
This marked the start of her interest in community affairs. Annelies became the second President of DACA, in 1998, a position she held until the Federation was dissolved in 2015.
She also served for ten years as board-member of the Netherlands Retirement Village Association in Queensland (NRVAQ). (NRVAQ operated the Prins Willem Alexander village and eventually merged with Dutch Care Victoria into the current 'Micare'). She also represented DACA in the Netherlands Benevolent Trust Fund.
Study of elderly people in Queensland with a Dutch background (Thesis Annelies Zeissink)
Thesis written by Annelies Zeissink. Copies of the thesis are available from the following libraries: DACC, Sydney, Koninklijke Bibliotheek, Den Haag, National Library of Australia, Canberra and the Prins Willem Alexander Village in Birkdale, Qld
National Dutch Australian Community Care Conference in Brisbane
In 1996 the FNOQ and DACA organised the National Dutch Australian Community Care Conference in Brisbane
See also:
Prins Willem Alexander Village