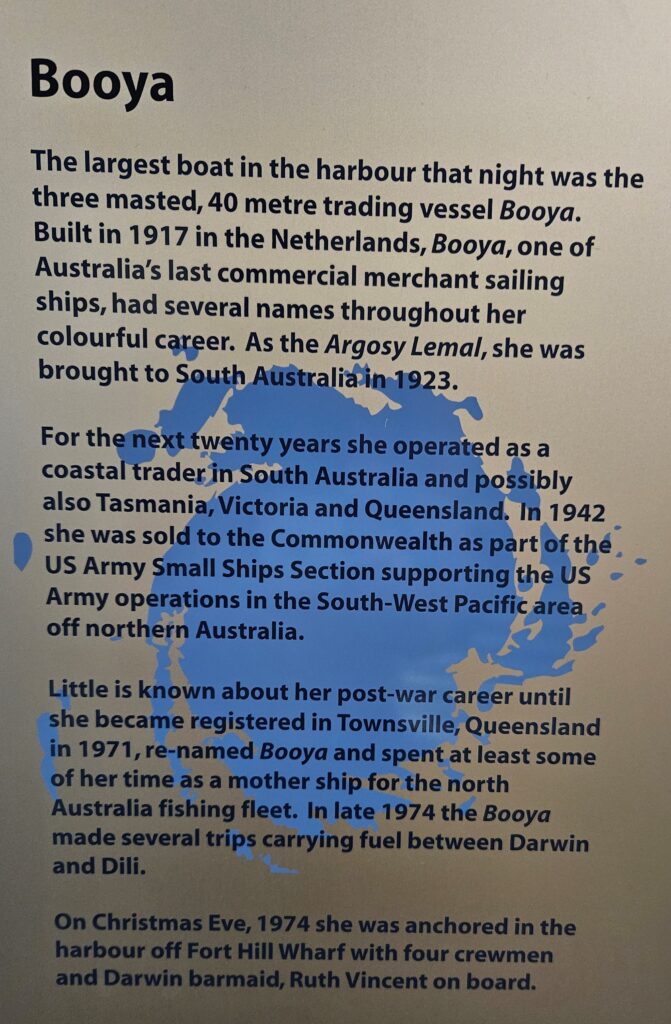 Booya was built in Waterhuizen, the Netherlands in 1917 by Gebroeders van Diepen, under her original name, De Lauwers. She was a three-masted auxiliary schooner with a steel hull and a 130 bhp engine.
In 1920, she became known as the Argosy Lemal after she was purchased and registered by the Argosy Shipping and Coal Company in Newcastle-on-Tyne in England. In 1923, she was brought to Australia and was purchased by Yorke Shipping Pty Ltd and subsequently played an active role in coastal shipping working numerous ports including Port Adelaide and Hobart. That company later became a subsidiary of the Adelaide Steamship Company.
The ship served as one of the early United States Army communications ships from 1942–1949. As operations against the enemy began in the island and ocean areas northward from Australia in 1942, amphibious communications became necessary. The SWPA chief signal officer, General Spencer B. Akin, created a small fleet that served as relay ships from forward areas to headquarters. The ship was involved in the New Guinea operations of Oro Bay and Milne Bay.
In 1949, on return to civilian use, the vessel was renamed Ametco, Clair Crouch and finally Booya in 1964. Booya was last seen anchored off Fort Hill wharf in Darwin Harbour at about 8.00pm on 24 December 1974, the evening Cyclone Tracy hit Darwin. Nearly twenty-nine years later, in October 2003, she was discovered by chance in Darwin Harbour, lying on her starboard side in about 20 metres of water. (Source Wikipedia)