We are looking for more information on Alex Rotteveel.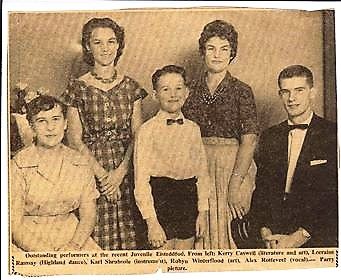 Alexander Johannes Rotteveel was born August 11, 1916 at Assen, Assen, Drenthe, Nederland, he died in Toowoomba Qld December 18 1993.
He was married to Bouwina Fekkes, born January 10th, 1919 at Assen, Assen, Drenthe, Nederland. She died in Brisbane in March 2006
There were six children from this marriage, three boys and three girls. By 2023, all males descendants were deceased and two of the three daughters.
The family migrated from the Netherlands in the early 1950's and were initially at a migrant camp (in NSW?) From NSW they moved to Maryborough Qld then to Toowoomba, it is uncertain if that was all the family or just Alex senior.
In Maryborough Alex became an art teacher at Maryborough Girls High in the 1950s and established the Little Theatre in Maryborough, Queensland, Australia. He was a driving force behind the creation of this venue and worked tirelessly to ensure its success. The Little Theatre became an important part of the Maryborough community, hosting a wide range of theatrical performances and cultural events.
the Little Theatre continued only for a short period after Alex moved to Toowoomba. However, soon after that, the Maryborough Players became the dominant theatre group in the town from the late 1960's.
Alex was also involved in theatre productions in Toowoomba and possibly taught art there as well. By that time he had separated from his wife Bouwina and had formed a new relationship.
---
Little Theatre Production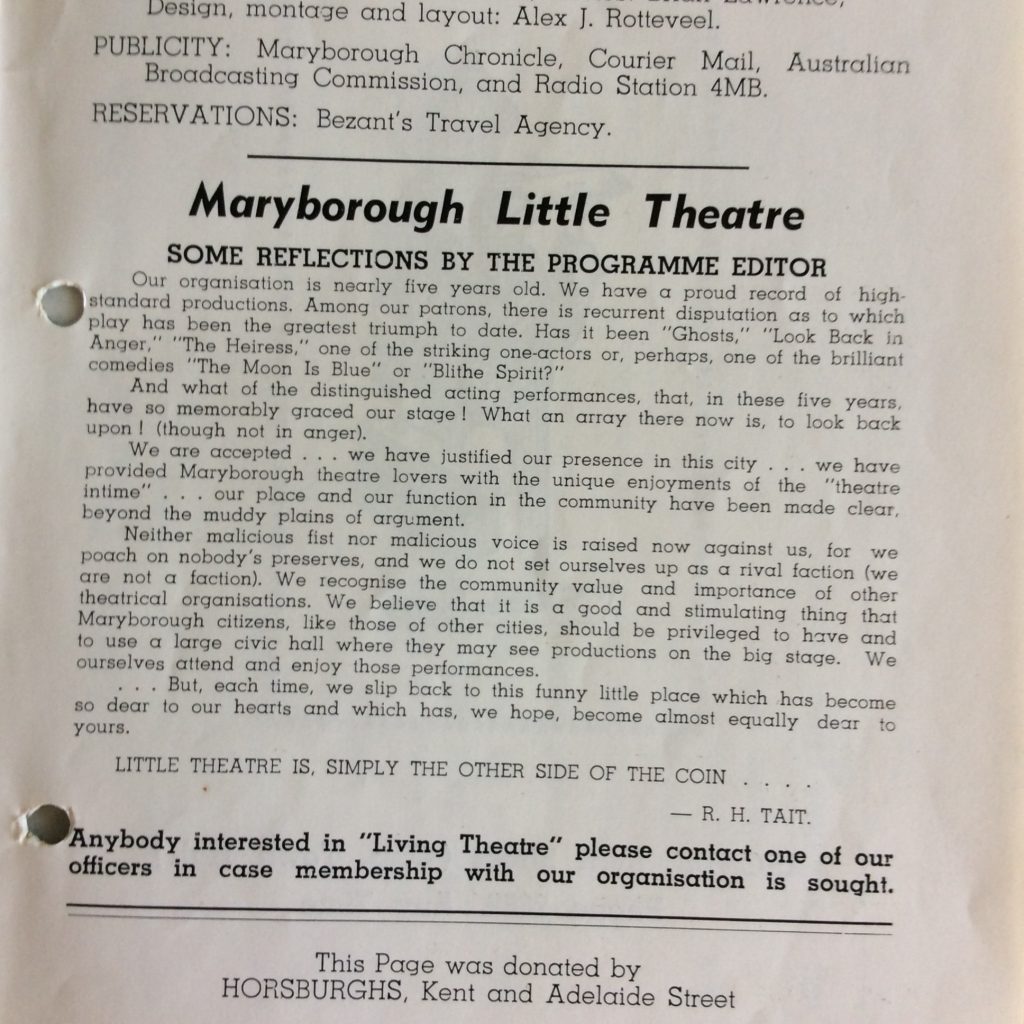 Personal Recollections
Marolyn Williams
He rented our holiday flat attached to our house at Tuan every school holidays. We spent great times with him and his family, fishing, crabbing, swimming etc. His daughter and I became great friends.
He did a pastel drawing of me at 12 in the Dutch style of dark foreground and light background. We enjoyed his company a great deal… a very learned man and inspirational to me as a teen. I was also in his art class at high school, but felt completely out of my depth!
She also send the following info and link. Check out the material on Alex in our class of 1968 Memories and Perspectives – https://mgshs1968.wordpress.com/
Jessica Randle-Young
He was my art teacher at MGHS about 1965,66,67. I also had private art lessons from him at his house at two addresses. One of his daughters acted as a model for one of my paintings, which I recently framed and sold.
Beryl Swan
Remember Mr Rotteveel being our art teacher at girls high school he used to say close your eyes and picture the scene you are going to paint. My scenes were usually black outs. A nice man