Sydney launch of Clogball
The Sydney launch of Clogball, Adam Muyt's new book on the Dutch and their contribution to Australian football, took place at Berkelouw Books in Paddington on 21 September 2023.
Netherlands Consul-General, Hugo Klijn, spoke about the Dutch love of football and the Netherlands Embassy's International Heritage Program that provided Adam with a grant to help him research the book.
Launching the book was former Labor NSW Treasurer, Eric Roozendaal, whose father John features in Clogball. John joined Australia's first Dutch migrant football club, Sydney Austral, at 16 and ended up playing for the club for 15 years.
MC for the event was well-known sports journalist and presenter, Stephanie Brantz. Stephanie is the daughter of Dutch migrants and wrote the foreword for Clogball.
For those unaware, Berkelouw Books was founded in Rotterdam in 1812, before relocating to Sydney in the late 1940s. Those in Sydney can purchase Clogball through Berkelouw Paddington and online at www.clogball.com
Pictures below
Left to right. Trixie Tagg with John Roozendaal on left and his son Eric on right. Trixie is Dutch-born (Amsterdam) and played for the first Australian women's representative team in 1975 in a tournament in Hong Kong. John is originally from Arnhem and played for Dutch club Sydney Austral for 15 years. His son Eric launched Clogball. Eric is the former Labor NSW State Treasurer. The middle one is with the consul general, the mc Stephanie Brantz Adam and Eric again. The third is Adam Muyt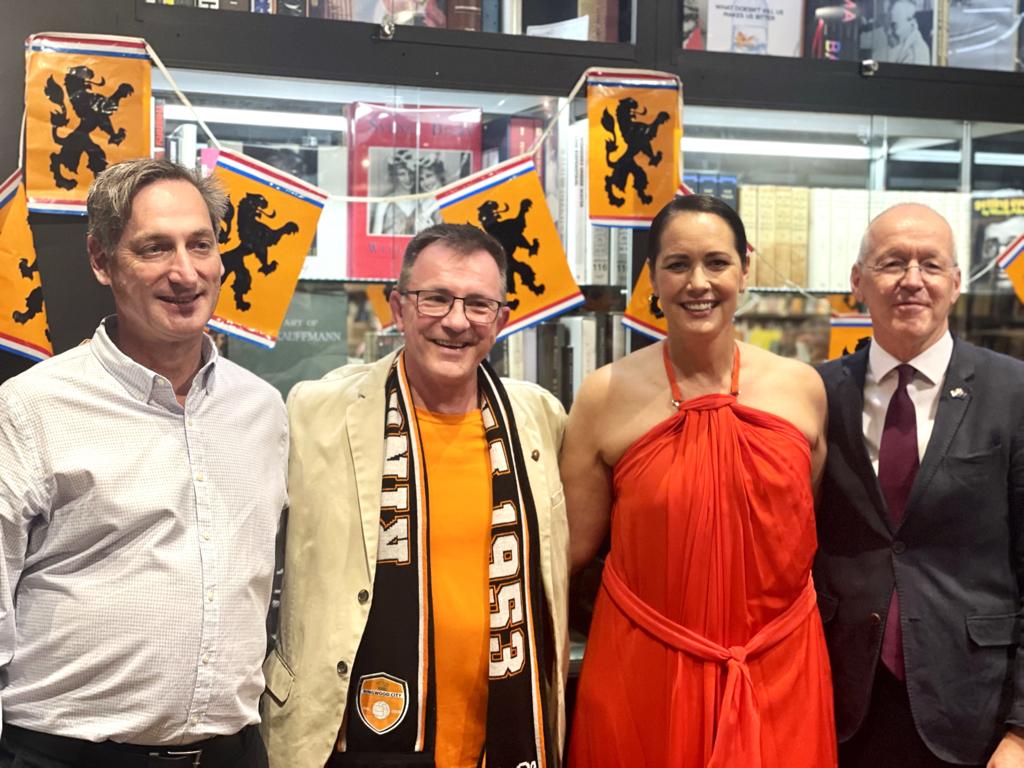 Clogball: Remembering the Dutch football clubs of Australia
The rich history of Dutch football clubs in Australia
By Adam Muyt · On November 12, 2015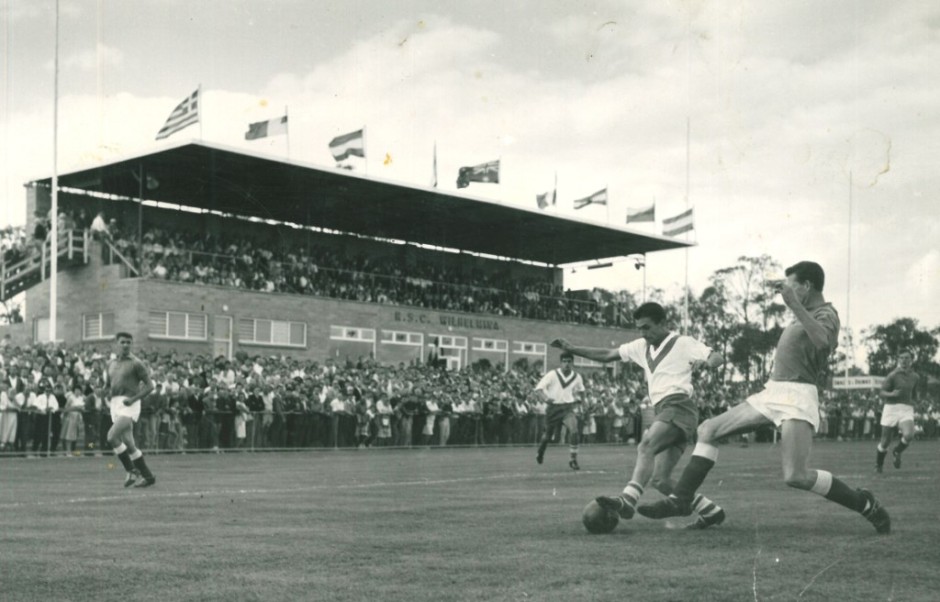 If you think the Dutch have never won a World Cup you're mistaken: Holland won a World Cup back in the 1950s. Huh?
More than 1.25 million European immigrants poured into Australia in the late 1940s and 1950s, including 100,000 from the Netherlands. Football was a major way for the different migrant communities to express themselves: by the late 1950s several Italian, German, Austrian, Hungarian, Yugoslavian, Czech, Polish, Maltese, Greek and Dutch teams had formed across the country, most adorned in national colours, symbols and emblems of the 'homeland'.
These so-called 'New Australian' clubs revitalised and transformed football in Australia, changing it forever with new skills and ways of looking at, and playing, the game. They brought in new players, officials, backers and spectators to a game that had at times struggled to emerge from the shadows of Australia's other three football codes.
With football energised by this population influx, a 'World Cup' tournament became a fixture of the football landscape in Melbourne throughout the 1950s and early 1960s. The Dutch side thrashed Italy 5-1 in the 1956 Final before reverting to type and losing the 1961 Final, 1-0, to Poland.
Dutch migrants established teams in every capital city and several regional areas across Australia in the 1950s and early 1960s. At least twenty sides formed in this period with a specifically Dutch identity, with suggestions that the actual number may have been more than twenty five.
The earliest Dutch teams formed in 1950. One was established in Sydney with the backing of a colourful Dutchman, David Bos, who ran the Black Tulip Cafe in the heart of the city – and sold sly grog on the side.
Originally named Hollandia, the club soon changed its name to Sydney Austral. Successful in local competitions in earlier years, they struggled in later seasons and eventually merged with Western Suburbs in 1966.
Informal scratch matches amongst Dutch migrants in Perth in 1950 led to the formation of the Windmills. Celebrating their 65th anniversary this year, the club is known today as the Morley Windmills and plays in Division 1 of the West Australian State League.
The Brisbane Roar, one of the A-League's most successful sides, trace their roots back to Hollandia-Inala, founded in the south-west of Brisbane in 1957. Despite changes in name, structure and ownership, the team has stuck with orange over the years. The outfit this last season could easily have passed for the Oranje; even the rampant lion crest appeared to mirror that of the KNVB.
Today three clubs in South Australia acknowledge Dutch foundations, the Mt. Gambier Centrals Soccer Club, and Sturt Marion and Sturt Lions, who both trace their history back to Orange, Adelaide's top flight Dutch side founded in 1954.
In the 1950s Wagga Wagga was home to the Clogs while Canberra had two Dutch sides, Be Quick and Hollandia. In their first clash (in 1958), the Canberra Times couldn't resist describing the match as "the clash of the clogs".
Several Dutch teams emerged in Victoria in the 1950 s. Three sides were established in Geelong in quick succession, Shell, Olympia and DSG (Dutch Society Geelong). Over in the La Trobe Valley, Morwell Soccer Club was apparently 'taken over' by Dutch migrants in 1954. A few years later Werkspoor formed as a junior club in Morwell then morphed into the Fortuna '60 Soccer Club. Fifty five years later Fortuna '60 continues on, still playing in orange.
Undoubtedly the heart of Dutch soccer in Victoria was Wilhelmina DSC, established in 1953 in Melbourne by former Dutch East Indies businessman, John van Hoboken. The team began life in the lowly Victorian Fourth Division Reserves competition and within four seasons had made it to First Division where they won the Dockerty Cup, the prestigious state-wide knockout competition. And then in 1959 they took out the State League premiership.
Players from the Netherlands could earn almost as much here, if not more, as they could in the semi-professional Dutch league, a huge incentive for encouraging a move to Australia. The most prominent players to go to Wilhelmina were Dick van Alphen from De Volewijkers of Amsterdam and Sjel (Mike) de Bruyckere from Willem II. Van Alphen had played for the Dutch 'B' side while De Bruyckere was capped seven times for the Netherlands in the 1950s. (Sjel later became a major figure at Wilhelmina and in the broader Victorian football community, eventually being inducted into the Football Federation of Australia's Hall of Fame. Van Alphen went on to represent Australia nine times, including seven games in 1967).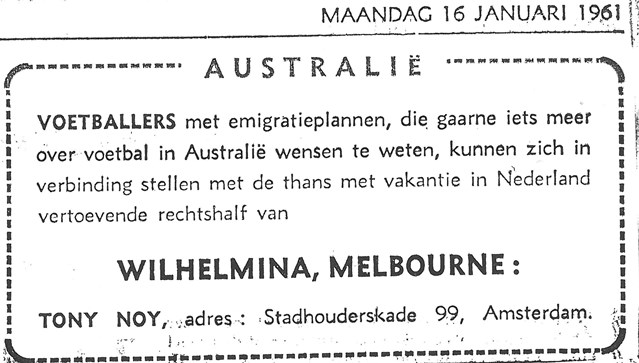 Wilhelmina was so prominent in eastern Melbourne soccer circles in the late 1950s and early 1960s that the club helped spawn a cluster of local district clubs too, each with significant Dutch backing, involvement and leadership. These sides included Hollandia, Fern Tree, Ringwood United and Mooroolbark. The latter club eventually played in the 1977 season of the National Soccer League, the forerunner of the A-League, meaning two sides (out of fourteen) had significant Dutch connections in that inaugural first season of the national competition (Brisbane Lions were the other).
Success for Ringwood Wilhelmina proved elusive in subsequent decades and in 1990 the club played its last match at senior level. The club continues today as Ringwood City FC, taking the field in one of the lower Melbourne metropolitan divisions. Its teams still play in orange tops adorned with a crest featuring a crown over a football, just like that used by Wilhelmina all those years ago. And Jubilee Park is still their home ground, with the Wilhelmina Room a major feature of the recently refurbished facilities.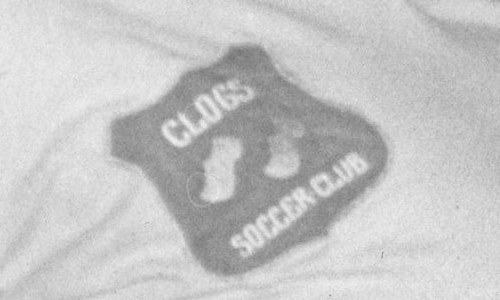 In this period a huge number of Dutch-born players took the field for district and non-Dutch sides across Australia, a reflection that not all Dutchmen could, or even wanted to, play for Dutch teams. And recognising the limitations of relying solely on the Dutch community for players and support, within a few years most Dutch sides were actively recruiting players of any background and nationality to play for them.
These days, if you ask those with an interest in football about Dutch connections with the game here, many will probably think of managers Guus Hiddink, Pim Verbeek or John van 't Schip, or perhaps players like A-League premiership winner Patrick Zwaanswijk and Orlando Engelaar from his time at Melbourne Heart.
But there's another, arguably more significant, connection: those thousands of post-war migrants from the Netherlands, and their offspring, who have added a rich splash of oranje to the game here. They, together with other migrant groups, helped revive and revolutionise football in this country. Hup Socceroos Hup!
Adam Muyt is the author of Maroon & Blue: Recollections and Tales of the Fitzroy Football Club. He is doing further research on Dutch football teams in Australia in the 1950s and 60s and welcomes any information and insights you may have on the subject.
The Morley Windmills (WA), one of the first Dutch football clubs established in Australia and is now the oldest surviving club with Dutch roots/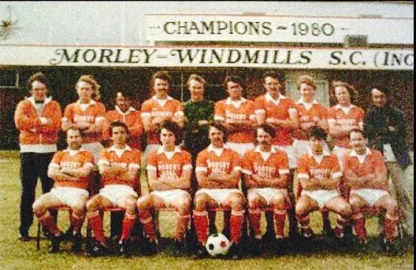 In the Dutch Australian Weekly newspapers in the DACC archives we also have some interesting football stories.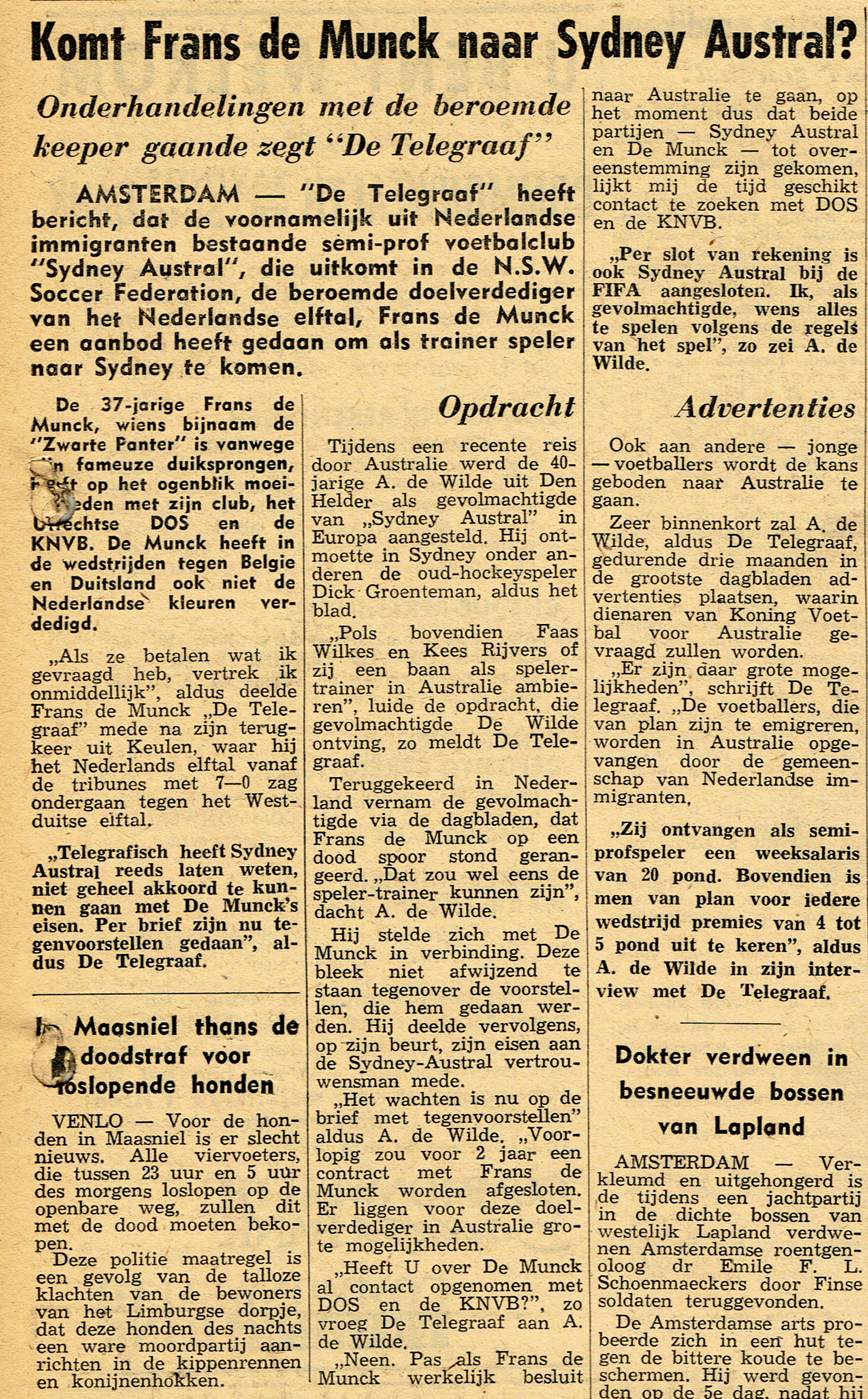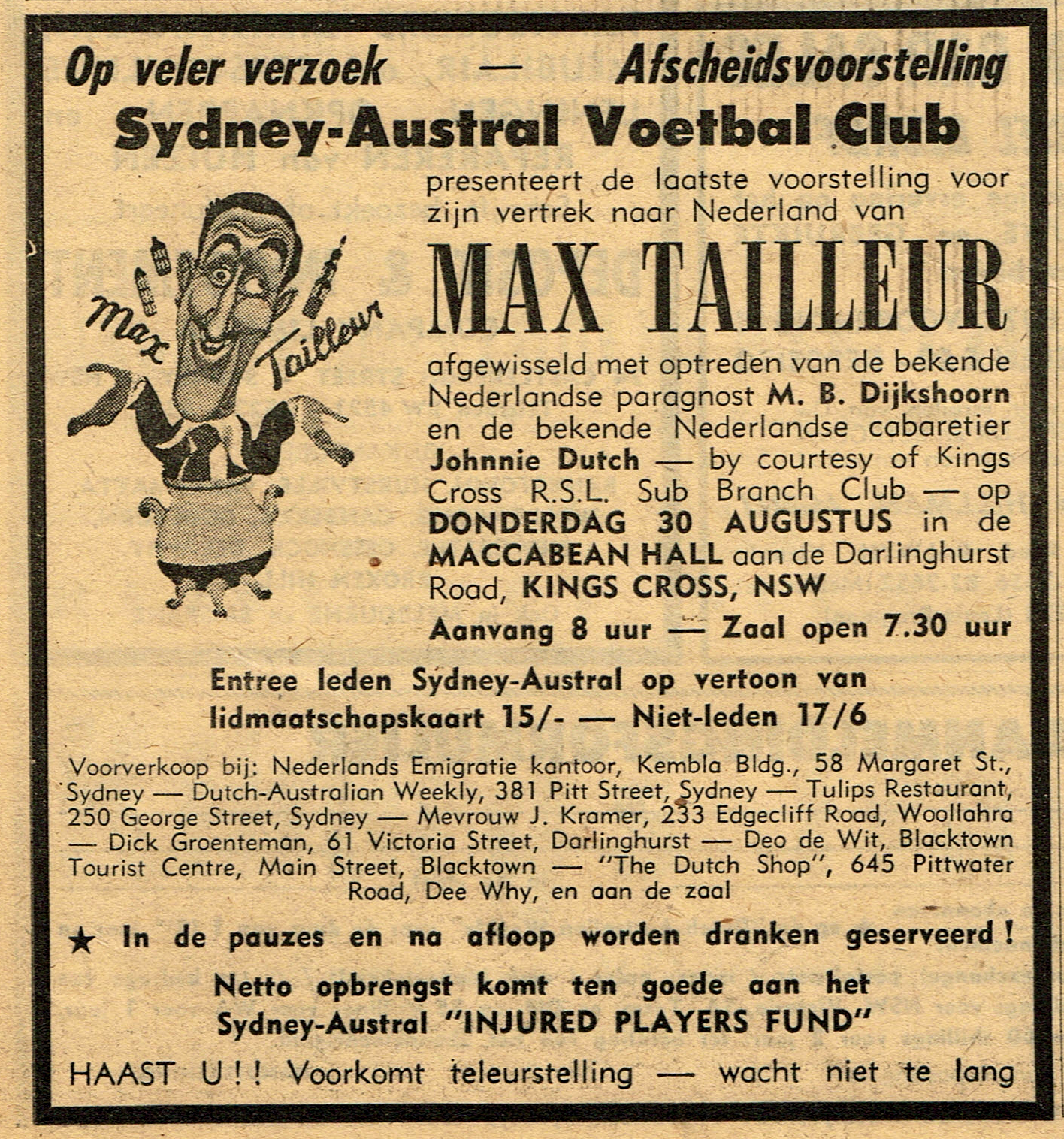 See also:
Rose van Bruinessen, Matildas Footballer #10
Brisbane Lions and its Dutch heritage
Footballer Graeme Rutjes – Born in Sydney, played for Oranje
Other sources:
Almanac Soccer: Klompen across the Riverina
Hi-Ha-Hondelul: My family's part in the moral downfall of Dutch football
Reaction from people who read the article:
In the 50s Lilian Richardson's husband played in Frankston even though he was English. Her brother Don Albers was in the goal and he was Dutch.
Jack Blom played in Brisbane in the late 1950's in Inala .