More individual information is available on the DACC database (see links below).
The major ships bringing Dutch migrants to Australia include:
De Groote Beer
Nelly,
Skaubryn
Waterman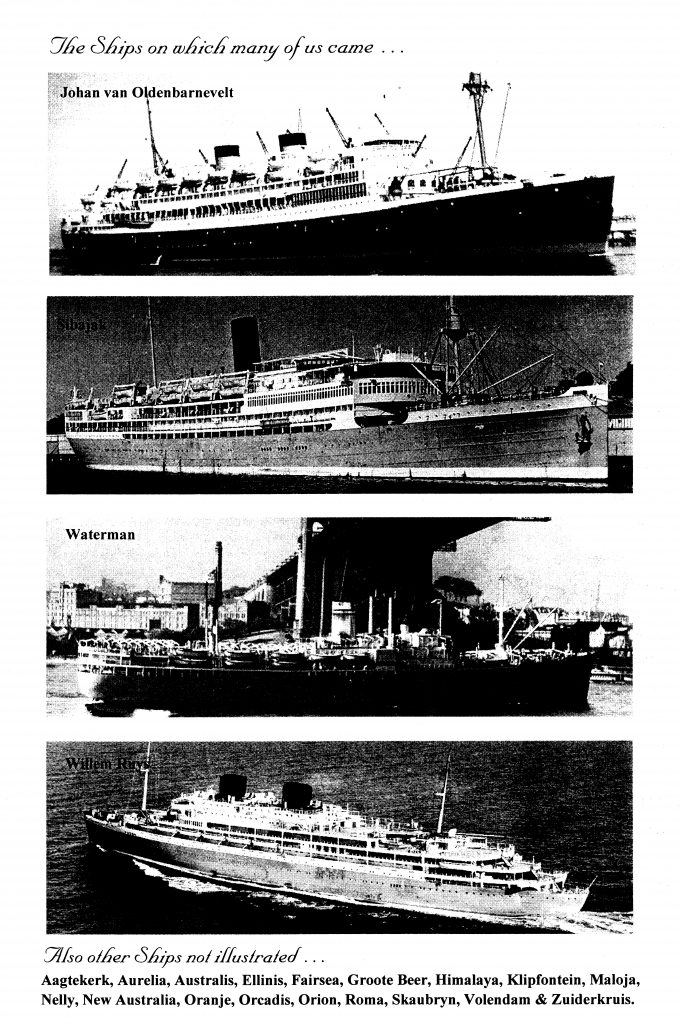 Remembering the Dutch Ships contribution for the defence of Australia.
Dutch passenger liners such as the MV Johan van Oldenbarnevelt, Oranje, Nieuw Amsterdam, and Volendam to name just a few were used to transport Australian troops to the Middle East and back during World War II. The ships were owned by the Netherlands' largest shipping company, the Koninklijke Rotterdamsche Lloyd, and were requisitioned by the Dutch government-in-exile for use by the Allies.

The Oranje, in particular, was given to the Australian government as a fully manned hospital ship in 1940. It was one of two hospital ships used by the Australian military during World War II and was manned by a crew of Dutch and Australian personnel. The ship was used to transport wounded soldiers from the Middle East and New Guinea back to Australia for medical treatment. The ship had a capacity of 420 patients and was equipped with state-of-the-art medical facilities.

The other Dutch passenger liners were also used to transport troops, equipment, and supplies to and from the Middle East during the war. The ships played a crucial role in supporting Allied operations in the region and were often under threat from Japanese submarines and surface raiders while sailing through the Indian Ocean. The Johan van Oldenbarnevelt was even damaged by a Japanese mine in 1942, but managed to make it back to port for repairs.
By Keith Paulusse
See also:
Steam Shipping Lines Australia – Netherlands – starting in 1864
Other Research information:
Passengers list: National Archive of Australia