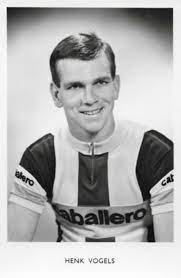 Henk (Hendricus) Vogels (Haarlem, 1 November 1942 – 9 August 2019) was a Dutch professional cyclist who immigrated to Australia with his parents and siblings in 1955. His father, a plumber, settled the family in Riverton, Western Australia.
His father supported him in establishing his cycling career and this resulted eventually in Henk jr. represented Australia at the 1964 Summer Olympics held in Tokyo.
During his cycling career, Vogels senior achieved numerous victories in both Australia and Europe. He won the West Australian Road Race Championship three times, the Australian National Road Race Championship twice, and the Australian National Time Trial Championship once. He also won several stages of the Herald Sun Tour, one of Australia's most prestigious cycling races, and competed in several international cycling events, including the Tour de France and the Tour of Spain.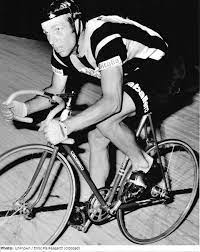 He was awarded the Order of Australia Medal in 2007 for services to cycling. He created the Henk Vogels Cycling Foundation to assist young cyclists in Western Australia.
The next Henk Vogels junior, also became a professional cyclist and represented Australia at the 1996 and 2000 Summer Olympics. The younger Vogels had a successful career in both track and road cycling, winning multiple national titles and competing in numerous international events. He also founded a successful cycling coaching and training business after retiring from competition.
The Vogels family's legacy in Australian cycling is significant, with both Henk Vogels senior and his son Henk Vogels junior making important contributions to the sport at the national and international level.
See also: