Jean Orval was born in Tegelen, Holland in May 1911 and died in Hamilton, Victoria in March 1987.
As early as 1926 his emerging talent won him 1st prize in drawing at a Home Industry Expo in Helden-Panningen, Holland. In 1927 a National newspaper honoured him with 1st prize for a composition in pen and ink of Rotterdam Harbour. The other sketches he submitted at that time also received high acclaim.

After graduating with a diploma of art in Venlo, Holland, he worked for three years as a painter and sign writer followed by employment as a decorator and display artist from 1930-1942. He has worked and trained with famous Dutch artists such as Marius de Leeuw, Daan Wildschut, Jan Dyker, Charles Eyck and sculptors Frans Timmermans and Piet Killaars amongst others. In 1942 he was forced to work in Germany during World War II.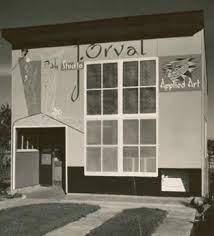 In 1953, he immigrated to Australia with his wife Josefine and nine children and settled in Port Fairy before moving to Hamilton, where he worked as a sign-writer and window display artist. He also taught art at Hamilton High and Technical Schools and gave many lectures on stained glass art in South Australia and Victoria. Orval was described as one of the top six stained glass artists in Australia in the 1970s.
He exhibited his works in many parts of Australia, including 20 exhibitions in the Western District, South Australia, and Melbourne. His works are listed in the Lexicon of Dutch Artists 1750-1950, and he designed and made windows for 38 churches in the Western District, Wimmera, Melbourne, and South Australia. Some of his best works can be seen in St Mary's Hamilton, St Stephen's and Scots Churches in Portland, the Hamilton Art Gallery, and the Mother Mary MacKillop composition in glass at St Joseph's Convent, Penola (SA). Mr Orval's first exhibition of stained glass art was recognised as the first of its kind in Australia, held at Hamilton Art Gallery in 1962, with a further exhibition in 1967. Orval died disillusioned at the lack of critical acknowledgement of his art in Australia, despite having been acclaimed in his homeland and other parts of Europe.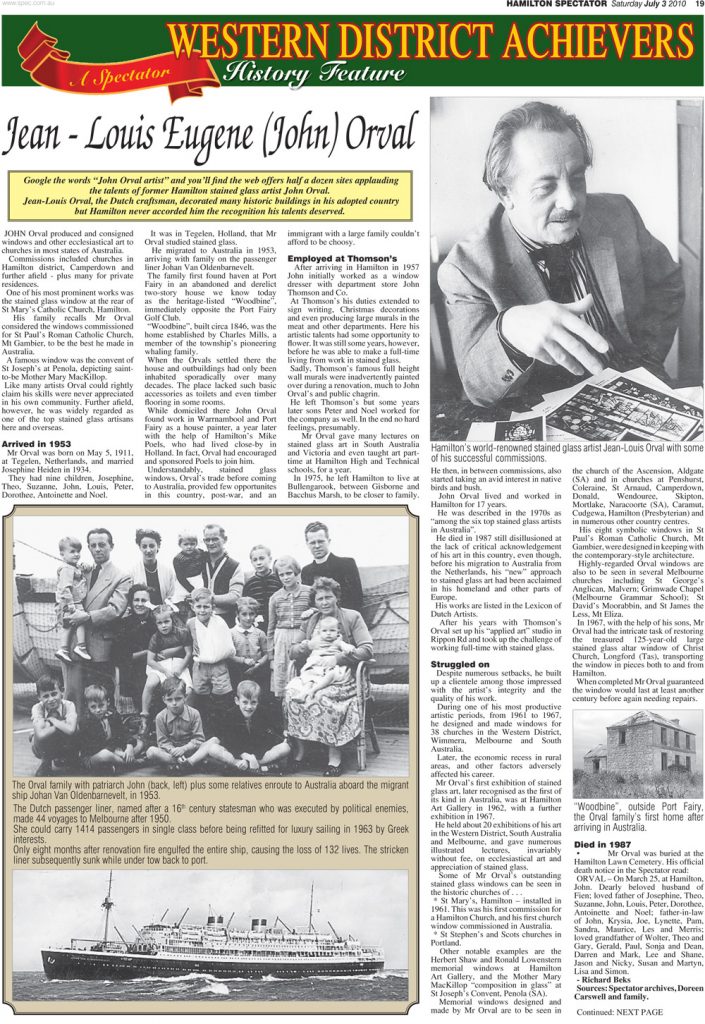 See also: