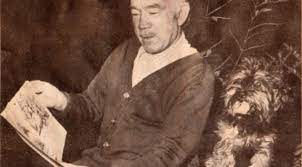 Marinus "Rein" Slagmolen (7 November 1916 – 29 January 1999) was a Dutch-Australian artist and sculptor with a background in chemical research. Slagmolen was born in the province of Utrecht, Netherlands, as the youngest son of Gijsbertus Slagmolen and Mathilda Maria Slagmolen-Jacobs. As a young man, he spent some years in Africa before enlisting in the Princess Irene Brigade in England in 1943 during the Second World War, he also served in Australia in 1945. Slagmolen studied art in Europe and Africa before he moved to Australia.
Rien emigrated to Australia with his then-wife Hilary Prudence "Prue" Reynolds Slagmolen in 1949 to establish himself as an artist and sculptor.
In the early 1960s, Slagmolen partnered with Rex Jones to establish Vetrart Studios, which designed and made lead light windows and other artworks. Their studio recognised the need for architects, artists, and industry to work collaboratively in the design and construction of new church buildings. Slagmolen's background in chemical research led to the creation of materials such as 'Polylite' panels and a matrix for concrete glass windows that were dimensionally stable and overcame the problem of windows leaking due to the shrinking of the concrete matrix. Slagmolen worked with the CSIRO to develop innovative techniques to hold and strengthen glass panels.
Slagmolen worked in various mediums such as bronze, aluminum, concrete, plastics, enamels, and stained glass. He was among the artists exploring the possibilities of dalle de verre glasswork. Slagmolen's notable works include stained glass windows at St Andrew's Anglican Church in Brighton, Melbourne, and St Boniface's Anglican Cathedral in Bunbury, Western Australia. He also created the glass mosaic wall in the foyer of Qantas House in Melbourne and worked with architects Godfrey & Spowers, Hughes, and Mewton & Lobb. During the 1960s, Slagmolen developed an artist colony at the former convent, Casa Maria, in Melbourne.
Rien died on 29 January 1999.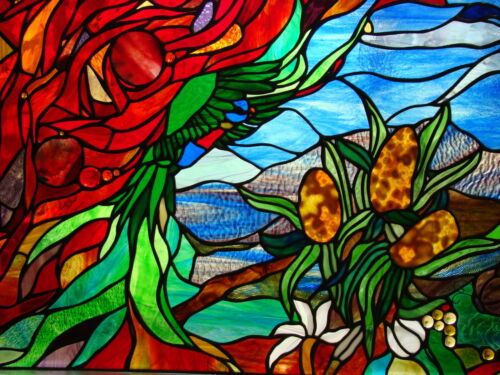 See also:
The past is not such a foreign country